Election 2012: March 2012 Archives
Although the Oklahoma primary is behind us, Oklahomans who support Rick Santorum can still make a difference, through the miracle of modern technology. The Santorum HQ at 6969 E. 71st St. in Tulsa will be open for volunteers to make calls to voters in Tuesday's primary states. Alabama and Mississippi are both considered too close to call, with a danger that conservative votes split between Santorum and Gingrich would allow Romney to finish first. For more information on helping call from Tulsa, phone 918-928-7776.
You can also make phone calls from home into primary states via callfromhome.ricksantorum.com.
Here is a spreadsheet with the results by congressional district, as reported on the Oklahoma State Election Board election night results website. I've combined the results into a workbook with two tabs, one for Republicans, one for Democrats.
Final Republian delegate tally appears to be Santorum 14, Romney 13, Gingrich 13. In the Democrat primary, the delegate result is Barack Obama 35, Randall Terry 7, Jim Rogers 3.
Turnout was way off from 2008 in both primaries. This wasn't unexpected in the Democrat primary with an incumbent president on the ballot, but Republican turnout dropped from 335,054 in 2008 to 286,523 in 2012 -- about a 15% drop in a more exciting primary. Perhaps it was the barrage of negative ads, mainly from Romney and Paul attacking Santorum, and from Gingrich attacking Romney. (I never saw a Santorum ad in Oklahoma.)
Originally published March 5, 2012. Bumped to the top on March 9.
The presidential election is at the forefront for anyone who pays attention to politics, but what happens with state and local elections has as much of an impact on your daily life as the current Occupier of the White House. Filing for this fall's elections in Oklahoma is only about one month away.
One week after the presidential primary, American Majority will hold a candidate training seminar at Reasor's in Jenks, Tuesday evening, March 13, 2012, from 6:30 pm to 9:00 pm.
Details and registration info after the jump.
First Love, a local band featuring the singing and songwriting talents of Camille and Haley Harris, wrote a fight song for the Rick Santorum campaign. The song "Game On!" came together in the wee hours of this past Sunday night / Monday morning, after they heard Rick Santorum speak and met him at Grace Church in Broken Arrow on Sunday evening. It's a catchy song, and the girls have great pop voices with a bit of a folk edge.
The song has received some national attention, earning a thanks from Rick Santorum on his campaign blog:
What a great anthem for our campaign -- I haven't been able to get the song out of my head! I feel so blessed to have such ardent supporters of our vision for America's future, and am grateful to the entire Harris family for their continued faith in our campaign.
The song has been mentioned by bloggers for Time, The Hill, the Houston Chronicle, Buzzfeed.
I met the Harris girls and their parents Tuesday night at the Santorum watch party. They were being interviewed on an online radio talk show as I sat nearby uploading the latest results by congressional district to the Santorum national campaign team. I thought I remembered seeing another video by First Love, a western swing song.
Sure enough, Haley and Camille sang "Blue Bonnet Lane" (one of my favorite Bob Wills tunes) with the Tulsa Playboys back in January:
Timestamp set to keep this post at the top until the polls close at 7 p.m.
It's presidential primary election day in Oklahoma, with polls open across the state from 7 a.m. to 7 p.m.
Both parties have a primary today. Click here to see the full list of candidates. Republicans have a choice of seven candidates: Santorum, Gingrich, Romney, Paul, Bachmann, Huntsman, and Perry. Democrats have five options, including President Obama, anti-abortion activist Randall Terry, and Midwest City resident Jim Rogers, who was the 2010 Democratic nominee for U. S. Senate.
Click "Continue reading" for details on today's municipal elections, how to find your polling place, showing ID at the polls, how delegates will be bound, and where to find up-to-the-minute election results.
I had decided some time ago that when Oklahoma's turn to vote came around, I would cast my vote as necessary to block Mitt Romney's progress toward the Republican nomination. Whoever was ahead of Romney in the polls or the closest to beating him would get my vote.
(Dan McLaughlin, aka Baseball Crank, in his recent entry "Mitt Romney, the Unconvincing Convert," details four of the problems with Romney -- "the unconvincing nature of his political conversion, the hazards of becoming enamored with candidates whose primary rationale for running is their money, the unprecedented difficulty of winning with a moderate Republican who lacks significant national security credentials as a war hero or other prominent foreign policy figure, and Romney's vulnerability arising from his dependence on his biography" -- and at that blog entry, you'll find links to McLaughlin's 2007 series on Romney's electoral liabilities.)
But as the presidential field narrowed and the Oklahoma primary approached, I've come to the conclusion that the last remaining conservative alternative, Rick Santorum, is not merely the best tactical vote, but the candidate closest to my views on economic, social, and defense and foreign policy issues and the best candidate to fight and win the general election against the incumbent.
On economics, Rick Santorum supports bold entitlement reform and immediate action to address the climbing national debt, not kicking the can down the road for another decade as some have proposed. He rightly identifies the importance of manufacturing to economic recovery, particularly for the middle class, and his corporate tax plan, combined with regulatory reform, would make it easier for manufacturers to bring jobs back to the US. His personal income tax plan is a significant simplification over the current complicated tax code -- two brackets, five deductions -- but it has the advantage of being politically plausible. It's not the sort of shocking departure that would be easy to demagogue. It retains the deductions that most taxpayers use and expect.
As a senator, Rick Santorum was a leader on the issue of welfare reform, understanding the moral and economic imperative of helping Americans by helping them move from dependency into self-sufficiency.
Energy is a major focus of Santorum's speeches. He sees the controversy over hydraulic fracturing, a practice that dates back to World War II, as nothing more than the Green Left's latest fundraising gimmick, now that manmade global warming has run out of gas. Santorum rightly identifies the political agenda behind the Obama administration's restrictions on energy exploration, production, and transportation. To Obama and his allies, higher prices are a feature of the Obama energy policy, not a bug.
On foreign policy, Santorum understands the essence of the threat faced by western civilization and is willing to give it its proper name. Santorum says the "Global War on Terror" is a misnomer. Terror isn't an enemy; it's a tactic used by the enemy, which he correctly identifies as radical Islamism. A President Santorum will not bow to foreign potentates.
When asked by an ORU student to contrast his foreign policy with that of Ron Paul, Santorum said, "I believe in peace through strength; he believes... well, maybe I'll just say, he doesn't. I believe that America is the source of stability in the world.... If we do what Congressman Paul has suggested.... there are forces in the world that would replace us, that would not have our best interests in mind. There wouldn't be a vacuum." He noted that radical Islamists, China, and Russia are poised to move in in response to American disengagement from the world.
The media has made Santorum out to be the social issues candidate, but social issues haven't been the focus of his campaign materials or his speeches. His thoughts on social issues line up perfectly with the majority of Oklahomans, and while other candidates (including President Obama) pay lip service to these issues but shrink back apologetically when challenged by the liberal media, Rick Santorum patiently defends his views, which are grounded in first principles. Santorum was a leader in the fight against the barbaric practice of partial birth abortion and in the effort, inspired by the plight of Terri Schindler Schiavo, to protect the incapacitated from being starved and dehydrated to death.
Yes, Rick Santorum has made some disappointing compromises during his 16 years in Congress. But so have the Oklahoma politicians who have endorsed Romney, a man whose entire political career has been about morphing his political positions for political expediency.
(When a planet wobbles from its predicted orbit, astronomers know to look for a hidden force pulling on the planet. It's how we discovered Neptune and Pluto.)
Some Republicans are laundry-list conservatives -- they can check all the right boxes on the candidate survey, but they miss the heart of the matter. As I wrote about the 2010 governor's race:
In my years of involvement in conservative and Republican politics, I've noticed that there are those politicians who profess support for the laundry list of conservative positions on the current list of hot issues and then there are those who understand the issues of the day in terms of the bigger picture -- a coherent philosophy of government, society, and human nature and a view of the long-term consequences of today's decisions. Elected officials in the latter group seem less likely to be led astray; when a new issue comes along, they have a philosophical compass to guide their decisions, while members of the former group are susceptible to lobbyist suasion.

I'd rather have a laundry-list conservative in office than the left-wing equivalent, but I'd much rather have a leader who sees today's issues in terms of our future liberty and prosperity, guided by a coherent conservative philosophy.
Rick Santorum is that kind of leader. It shows in his personal life and in the politically costly stands he has taken, common-sense stands that sent the nasty, radical Left into conniptions.
Like Ann Coulter used to believe, before she drank the Jim Jones powdered drink mix, I believe that Romney would be a disaster as the GOP's general election candidate. He doesn't provide enough of a contrast to Obama on the big issue that drove the big Republican gains in 2010: Obamacare and the need to repeal it before it comes into full effect. Back on September 7, 2011, the Wall Street Journal editorial board called Romney's economic plan "surprisingly timid and tactical."
The attempt by Romney fans to end things quickly and create a bandwagon through endorsements underscored his inability to withstand scrutiny. The best hope of the Romney camp was to dishearten conservatives, to crush their hope of a conservative alternative, to convince them to surrender early on to the inevitability of the Romney nomination and not waste their contributions and volunteer time on another candidate.
Romney is this year's "it's his turn" candidate, the latest representative of a 24 year pattern in which Mr. Second Place becomes front runner for the next go-around, attracting endorsements and cash from bandwagon-jumpers who like to bet on a sure thing. States leapfrogged each other on the primary calendar in hopes of having some voice in the process, but the plurality-takes-all delegate allocation rules in most states made an early win essential for all but the most well funded candidate. In 2008, the race was all but over by Valentine's Day. Romney threw in the towel the day after Tsunami Tuesday. Republicans then spent the next 10 months with a bad case of buyer's remorse, mitigated only for a week or two after McCain's vice presidential pick.
Despite brazen violations by a few states, the new GOP rules for 2012 have had the desired effect of slowing down the process, allowing for more states and more Republicans to have a meaningful say in the choice of a nominee, providing time for voters to take a close look at potential nominees before they have the nomination practically sewn up.
Back in December, when Rick Santorum was barely polling above Jon Huntsman and Buddy Roemer, I dismissed him as an also-ran, handicapped by the 2006 loss of his Senate seat and his unwise endorsement of Arlen Specter.
But as I wrote that, Santorum, accompanied by his wife Karen and their children, was working harder than any other candidate, campaigning in every county in Iowa. His persistence paid with a first-place finish on Iowa caucus night, a shoestring campaign finishing just ahead of the candidate with all the money in the world.
Unlike the other not-Romneys who emerged and faded under scrutiny, Santorum has shown staying power. I believe it's because his positions on the issues are really what he believes. They aren't calculated for the sake of political expediency. Santorum has thought through the big issues that challenge our nation.
Even if I haven't persuaded you to support Santorum on his own merits, I hope you'll consider the tactical case for a Santorum vote in Oklahoma.
If you're an Oklahoma conservative who doesn't want a nominee who has flip-flopped on all the big issues, who has rejected and embraced Reagan and the conservative movement on an as-needed basis, voting for Rick Santorum is the best way to block Romney's momentum and keep the Republican Party's options open. If you're an Oklahoma fan of Gingrich or Paul, voting for Santorum is the best thing you can do to block Romney and keep your man's candidacy viable.
Tactical voters have to begin from the starting point of the latest polls. Who is in a position to finish first? Who is in a position to win delegates? The number of tactical voters is small enough that you can only hope to tilt a closely balanced race. In a recent poll, Santorum was leading statewide and in each congressional district. Right now, what's in the balance is a win for Santorum big enough to deny Romney any Oklahoma delegates under Oklahoma's proportional delegate allocation rules. It's an important step toward knocking out Romney and opening up the race.

In Georgia there's a different answer to that question, and if I lived in Georgia, I'd cast a tactical vote for Newt. If I lived in Virginia, where only Romney and Paul are on the ballot, I'd vote for Ron Paul. But in every other Super Tuesday state, including Oklahoma, Ohio, and Tennessee, Santorum is the best tactical choice.
But I think that if conservative Oklahoma voters will listen to his speeches and compare his record to the other candidates, you'll come to the same conclusion that I've reached: Rick Santorum is the best candidate to carry our conservative Oklahoma values into the general election and on to the White House.
EARLIER BatesLine ARTICLES:
This is a preliminary report, mainly so I can get the audio and some photos online. I plan to transcribe additional quotes as I have opportunity.
Sen. Rick Santorum spoke to a standing-room only crowd of about 1000 people at Grace Church last night, March 4, 2012, focusing attention on his energy and tax plans and the importance of Republicans nominating a candidate who presents voters with a clear choice in November.
The backdrop for the event were big video displays with the slogan, "The courage to fight for American jobs." At the heart of the speech was Santorum's emphasis on promoting job growth by supporting the development of domestic energy resources and a simpler tax system.
Santorum called for throwing out the tax code and replacing it with two rates, 10% and 28%, and retaining only five deductions: children, charities, pensions, healthcare, and housing. "Maybe I'm for a simple tax code for a selfish reason.... Unlike everyone else in the race, I actually do my own taxes."
Corporations would be a simple net profit tax with a single rate of 17.5%, half the current maximum rate. (The US maximum rate will be the highest in the world as of April 1 when Japan is set to cut their rate.) In order to bring manufacturing jobs back to America, Santorum proposes a rate of 0 for manufacturing and processing.
He noted that the complex tax code puts small businesses at a disadvantage to larger rivals, as it's harder for a small business to find the loopholes that big companies use.
On energy, Santorum focused on Obama administration obstruction of energy exploration. He mentioned a visit to a shale oil well-head Tioga, N. D., and the hindrance caused by the lack of a pipeline that could bring that oil more efficiently to market.
Santorum, accompanied by his wife and three of his children, expressed his appreciation for the warm welcome they've received in Oklahoma. Noting that Gingrich and Romney both have home states with primaries on Super Tuesday, while his home state of Pennsylvania won't be voting, "if I feel like I have any home state up on Super Tuesday, it's here in Oklahoma."
After the speech, Santorum worked the rope line taking pictures with everyone who wanted one. Later, he and his family posed with Jim Bob Duggar and family, here from Arkansas to campaign for Santorum.
Shortly after Santorum began to speak, he was interrupted by a heckler, who, I was told, was an Occupod. (I mistakenly tweeted that the heckler was a Paulbot, which was not the case.) The heckler was shown the door. From my side of the auditorium it was impossible to make out what the heckler was shouting.
1170 KFAQ morning show host Pat Campbell kicked off the event by explaining his break with usual practice in endorsing Santorum, rather than revealing his choice after the election. (Co-host Eddie Huff has also endorsed Santorum.) Campbell was a new talk show host in Erie, Pa., in 1994, when Santorum ran against an appointed incumbent Democrat to win a seat in the Senate. Campbell said Santorum is the only politician he's ever endorsed.
Campbell spoke about the mockery being directed by the mainstream media at Santorum's faith, specifically comments he made in a 2008 speech at Ave Maria University:
But the reality is those things that Rick Santorum talked about at Ave Maria -- I believe them, you believe them. When they laugh at Rick Santorum, they're laughing at us. They don't get us. We're flyover country.... If Rick Santorum, his wife Karen, and their children were to move to Tulsa, Oklahoma, tomorrow, they'd fit right in, because he is one of us. He gets it. All of the things that we cherish and hold true and sacred, Rick Santorum holds true and sacred.
Campbell stated that Santorum presents the strongest contrast in the general election to Barack Obama, noted the endorsement Santorum received from Jim Inhofe, and called on the audience to volunteer, explaining the importance of getting Santorum over the 50% mark to win all of Oklahoma's 40 delegates.
In her introduction, Rep. Peterson called Santorum "the real deal... the most authentic conservative that is running today... a sincere, authentic, genuine conservative, and he's been that way for years, and he hasn't changed."
Peterson recalled meeting Ronald Reagan in Tulsa in 1976, when the conventional wisdom said that Ronald Reagan was too conservative to be elected, and Gerald Ford was nominated because he would be electable. Ford went on to lose to Jimmy Carter. "We had to wait four years for a real conservative" to be the Republican nominee in 1980. This time around, Peterson said, "we do not have four years to wait for a real conservative to run for president." She concluded by calling on the audience to "stand to your feet, cheer, shout, and welcome the best choice for president of the United States, Rick Santorum." The audience complied enthusiastically.
AUDIO:
I started recording in the middle of Pat Campbell's introduction -- sorry, forgot to start the recorder before the meeting began. For the sake of completeness, I have my recording of Santorum's speech below, but KFAQ has much better audio at this link. (Unfortunately, they don't have the introductory material.)
20120304_A_Pat_Campbell_Intro.mp3
20120304_B_Pam_Peterson_Intro.mp3
20120304_C_Santorum_Speech.mp3
MORE COVERAGE:
Pat McGuigan reports for Capitol Beat OK on Santorum's visit to the State Capitol earlier in the day.
State Rep. Mike Reynolds, an Oklahoma City Republican, introduced the former Pennsylvania senator at the rally, at one point recalling Santorum's vigor in defending the U.S. against "radical Islam" in an appearance at the University of Oklahoma in Norman several years ago. Santorum remembered, "Mike Reynolds was talking about that event I did in Norman some five or six years ago I think it was. Gosh, here were all sorts of protestors. It was very hostile. I never expected that in Oklahoma."
The Occupods were in OKC, too, but they were harder to budge there:
A group of a dozen demonstrators disrupted the first half of Santorum's speech with a "mic check" -- the prelude to a verbal attack on the candidate. The group tore Santorum signs, screamed at him as he gave his speech, and denounced his views repeatedly. After about 20 minutes, Capitol police met quietly with the demonstrators and encouraged them to leave, which they did.
KOTV News on 6's Emily Baucum has a good video synopsis of Santorum's Tulsa speech. You may be able to spot me snapping some of the pictures you see above. (Hat tip to reader Art Fern.)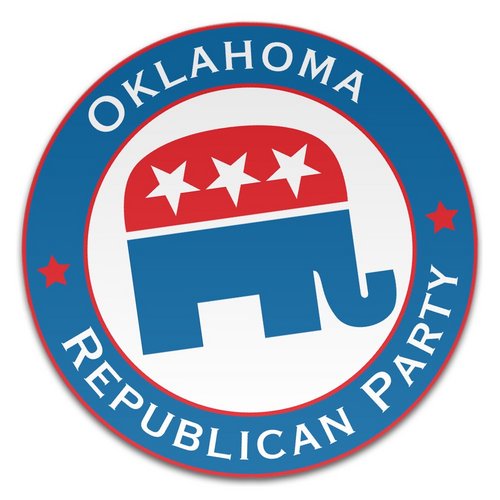 In the wake of the Michigan Republican presidential primary, in which Rick Santorum and Mitt Romney won an equal number of congressional districts, each worth two delegates, there was a dispute over whether the two at-large delegates should be divided between Romney and Santorum (since no candidate received a majority of the statewide vote) or both given to the candidate who received the plurality. Had the Michigan Republican Party published its delegate allocation rules in advance of the primary, the dispute and the consequent accusations of bad faith could have been avoided.
In doing my own research on delegate allocation in each state, I have noticed that state party websites rarely have updated information about anything, and they're especially bad about not posting rules, resolutions, and other "party business" documents.
In light of that problem, and in order to avoid a repeat of the Michigan mishegoss, I urged Oklahoma Republican Party leadership to publicize Oklahoma's allocation rules in advance of Tuesday's primary. This evening, Oklahoma GOP vice chairman Pam Pollard sent me the official 2012 National Delegate Award Methodology (PDF). This methodology was approved last year by the Oklahoma Republican State Committee, which is the governing body of the state party, consisting of the County Chairman, Vice Chairman, State Committeeman and State Committeewoman from each county, and all Republican state and federal elected officials.
Some key points (my paraphrase of the official rules):



The three Republican National Committee members (Chairman Matt Pinnell, National Committeeman James Dunn, National Committeewoman Carolyn McLarty) will not be bound by the primary result.


It takes a majority (50% + one vote) to win all the delegates in each congressional district (3 each) and statewide to win all 25 at-large delegates.


If no one has a statewide majority, the 25 delegates will be split among all candidates with at least 15% of the statewide vote in proportion to their share of the vote among the candidates with at least 15%. If rounding results in an unallocated delegate, it will go to the top vote-getter.


In any congressional district, if three or more candidates get 15% of the vote, the top three candidates get one delegate each. If only two get 15% of the vote or more, the top candidate gets two and the second-place candidate gets one. If only one candidate breaks 15% or if a candidate gets 50% or more, he will get all three delegates


After the jump, the full text of the document:

Fellow Rick Santorum supporters, your help is needed today. From Oklahoma Santorum HQ:

The Duggars Are Coming Back To Tulsa

Jim Bob and Michelle Duggar want your help.

The stars of TLC's reality television series invite you to come help this Sunday afternoon. We will be reaching out to Oklahomans, to get out to vote this Tuesday for Rick.

Teams all across Green Country are organizing to impact the state with sign-waves from 3-5pm. Others are manning the phone banks in our headquarters from 2-5pm.

The many volunteers of the Santorum Oklahoma campaign are thrilled to see so many great people coming to Rick Santorum's side during this important election for the future of our nation.

Tulsa area volunteers; please meet at the headquarters at 2pm.

Santorum Tulsa HQ is at 6969 E 71st Street, just east of Mai's Tailor Shop and behind Señor Tequila's Restaurant.
You may be thinking that because the polls show Santorum with a big lead in Oklahoma, you don't need to help, but you'd be wrong. If Santorum can win 50% statewide and 50% in each congressional district, he gets all of Oklahoma's 40 delegates at stake. Less than 50% only wins a share. And a shellacking of his rivals -- winning by large margins -- would help him win big in the next round of primaries.

Some friends of mine, long-time local conservative activists, have endorsed Rick Santorum in next Tuesday's Oklahoma presidential preference primary. They've notified their friends of their endorsement, but for their own reasons can't make the endorsement public. They are however willing to share their rationale, and I think it's worth your time to read.
They also remind that early voting ("absentee in person") is available at your county's election board at the following times.
Friday, March 2, 2012: 8 a.m. to 6 p.m.
Saturday, March 3, 2012: 8 a.m. to 1 p.m.
Monday, March 5, 2012: 8 a.m. to 6 p.m.
Whether you vote early at the county election board or on election day at your precinct's polling place, you must bring a government-issued form of identification -- either your voter ID card or some government issued ID with your photo and an expiration date after the date of the election. The state election board explains what kind of ID is allowed by law.
The Santorum campaign in Oklahoma could use your help. They are making personal phone calls to Oklahoma voters and need more workers to reach all the people they hope to reach. Phone the Oklahoma HQ at 918-928-7776 to find out what you can do. There are opportunities all over the state. A team of Texas volunteers is coming up to work along the southern tier of Oklahoma. (Texas's primary has been delayed until May 29, the result of a court battle over congressional redistricting.)
If you're a homeschooler, by volunteering for Santorum you'd be supporting the first homeschool dad to serve as president since perhapsTeddy Roosevelt. And what better way to teach the importance of civic involvement and how our election process works than to spend a few hours as a campaign volunteer.
I've put the full text of the activists' endorsement after the jump, but here are some of the key points:
Santorum has signed the Americans for Tax Reform's Taxpayer Protection Pledge
Santorum's endorsement by the Susan B. Anthony List, a political action committee devoted to promoting pro-life candidates: "Among the field of strong pro-life candidates in the GOP primary, one stands out as a proven leader in this great human and civil rights cause of our time. Rick Santorum communicates the vision and has exhibited the strategic and tactical prowess the pro-life movement must have in order to succeed. Women and children deserve his leadership, grounded as it is in affirming the dignity of every person. At this inflection point in the primary process and a tipping point in history on the abortion issue, the Susan B. Anthony List endorses Rick Santorum for the Republican nomination for President."
Santorum's A+ lifetime NRA rating and strong career ratings from many other conservative organizations.
In line with the mainstream of conservative activists on 2nd Amendment rights, energy production (a major theme of his Tulsa speech), illegal immigration, national defense and foreign policy, and cultural issues in military policy.
My friends weren't sure about Santorum's position with regard to Israel, since he didn't address it in his ORU speech, but here's an oped he wrote for National Review in May 2011: Israel in Peril. His concluding paragraph:
Israel has long enjoyed the support of the United States. Our mutual ties have been historical, cultural, religious, and strategic. Today those ties have been put in more doubt than at any other time in the history of our relationship. Israel hasn't changed, the United States has. But the United States, a large and powerful country, is not in danger of disappearing. The same cannot be said of Israel and it is to our shame that we have increased that risk for the Jewish state. One can only hope this dangerous turn in our foreign policy will change. In the meantime, it is the duty of each and every American citizen who abhors terrorism and supports freedom to stand up and say, "I support Israel."
Now here's the full endorsement from my activist friends:
The nice thing about running your own website is you get to decide which ads run alongside your words.
This morning I received notification from BlogAds of an ad submission "paid for by the Ron Paul Presidential Campaign Committee, Inc." (Saber Communications submitted the ad.) They wanted to run the "Rick Santorum is a Conservative Fake" ad on BatesLine through the primary. It would have been worth $200. I turned it down. I'm not going to run Ayatollah Ron Paul's garbage on this website, not for $200,000.
Ron Paul is in no position to judge anyone's conservatism. Although he is pro-life, he's a liberal on most social issues and an appeaser on foreign policy. I believe the culture of a campaign is a reflection on the candidate, and his followers' practice of taqiyya (lying for the sake of advancing the cause) and their messianic devotion to him says much, none of it good, about the man.
The modern conservative movement has been described as a three-legged stool -- social, fiscal, and defense. Santorum and Gingrich are the only candidates who are consistently conservative in all three areas, and Santorum is the most conservative candidate in the race with a chance of winning the nomination and beating Obama.
Here's the only Ron Paul ad you'll ever see on BatesLine.