Travel: January 2004 Archives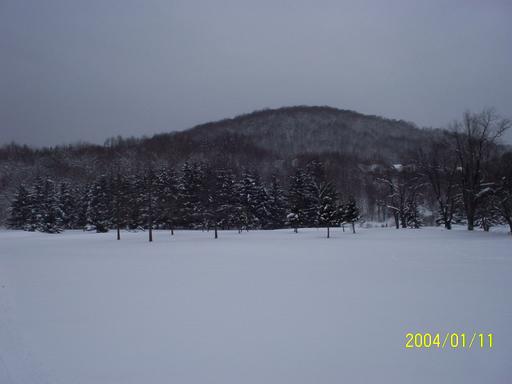 I had a free day yesterday and decided to go cross-country skiing. I had enjoyed the sport a couple of times in college, but had never had the opportunity since. Western New York has several ski resorts that take advantage of the hilly terrain and lake-effect snows. I headed to the Holiday Valley resort near Ellicottsville, New York, about an hour and a half south of Buffalo. The drive took me through beautiful country and pretty villages -- places built when people took pride in what they built, places preserved by their successors who could appreciate the value of what they inherited.
The resort's parking lot was packed. It was evident that the resort, probably the largest in the area, was geared for downhill skiing and snowboarding, with cross-country accommodated but not emphasized. When I asked a staffer where I could ski, the staffer had to find someone else to answer the question. I could take a lift to the top of the mountain and ski along the ridge trail, then take a lift back down, or I could go down to the golf course, which serves as a cross-country course during the winter.
I opted to avoid the crowds waiting for the lift and headed to the golf course. I had the place to myself. It was wonderfully quiet, with a light snow falling. I spent about an hour and a half, a good workout, but not so much that I'd be racked with pain the next day.
Why not downhill? I tried it once, at Keystone, about 10 years ago. It took three days to get boots that didn't kill my feet. (I have a high tolerance for pain, so that's saying a lot). It was only on the third day that I finally got all the way through a lesson, and I decided to go ahead and go with my wife up the lift and down an easy slope. I still didn't have the hang of controlling my speed, got moving too fast, so I sat down. One ski didn't pop off and I wound up with a sprained MCL. It might have been better this time, but with only part of a day to spend, I thought I'd better do something with less of a learning curve and lower odds of injury.