Travel: June 2004 Archives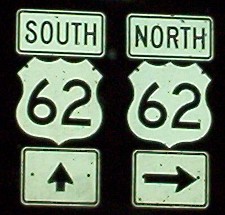 Charles of Dustbury lists some of his life's ambitions (them that are printable, or nearly so). One of them is to drive a couple of the diagonal U.S. highways that are still official: US 62 from El Paso, Texas, to Niagara Falls, New York, and US 52 from the Canadian border in North Dakota to Charleston, South Carolina.
Never thought about 52, but US 62 has fascinated me for a long time. It is the only even-numbered U.S highway that stretches from border to border. It isn't coast to coast, but it does begin and end at a water boundary -- the Rio Grande and the Niagara River.
It passes Carlsbad Caverns and near Mammoth Cave. It covers the flat arid lands of the Texas panhandle, the Ozark mountains, and the hills of Ohio. It passes through ten states -- the shortest segment is in Illinois, through the town of Cairo, at the confluence of the Mississippi and Ohio Rivers.
In Oklahoma alone, it passes through diverse terrain -- cotton fields and the Quartz and Wichita Mountains in western Oklahoma, Green Country and the Cookson Hills in eastern Oklahoma. Two state capitals are on 62 -- Oklahoma City and Columbus, Ohio, as are at least two tribal capitals (Tahlequah and Okmulgee). (Anadarko is home to Indian City USA, but is it a tribal capital?)