Travel: April 2009 Archives
Yesterday, while catching up on yard work, I wished that I had had a chance to look through the appropriate Federal Writers' Project guidebook prior to a recent business trip. When I have free time during a trip I try to see the unique places around me, to get away from the interstate and the suburban hotel. The older neighborhoods (Tulsans, think Cherry Street and Brookside) usually have the most interesting, locally owned restaurants and most interesting streetscapes. If I have a car, I like to figure out where the main highways into town used to run and follow them, looking for old neon and roadside architecture. The Federal Writers' Project American Guide Series books, one for each state, mostly published in the late 1930s, provide a wonderful, detailed snapshot of American travel before interstates and chains and are useful today in figuring out where the interesting local stuff can be found.
It hit me that since the original editions are out of copyright and were funded by the taxpayers anyway, the Federal Writers' Project books ought to be fully available on Google Books. That isn't fully the case yet, but many of the state books are online.
Here's an interesting snippet from North Carolina: A Guide to the Old North State, tour 28 (U. S. 70 from Durham to Atlantic):
At CROATAN, 157 m. (28 alt., 29 pop.), a FOREST FIRE TOWER (R) affords a wide view of the surrounding forest and marsh.

The SELF-KICK-IN-THE-PANTS MACHINE (public invited; no questions asked), set up by Tom W. Haywood in front of his filling station in July 1937, has worn out four shoes in its service to tourists and citizens. If you feel that you deserve "a good swift kick," turn the handle; the cable will be pulled and a huge shoe laced to an iron "leg" will administer the boot.

When you come across something like that in an old guidebook, the next step is to see if it's still there.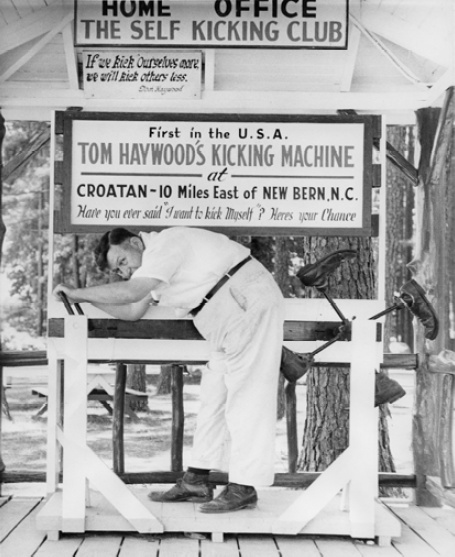 Haywood's machine was donated to the North Carolina Museum of History, but a replica stands on the old spot. From the Fall 2008 issue of Tar Heel Junior Historian (48:1):
Ever do something so dumb that you just wanted to kick yourself?

Tom Haywood, of Croatan, knew that feeling and figured other folks might sometimes feel that way, too. So during the summer of 1937, he and local handyman Wilber Herring built a contraption that would deliver a good, swift kick to the seat of the pants of any willing recipient.

The simple machine consisted of a hand-operated crank connected by a belt and pulleys to a wheel. Four spokes, each with an old shoe attached, jutted out from the wheel. To get the boot, the operator just bent over and turned the crank.

A Craven County commissioner, Haywood said he intended the kicking machine for his personal use, "to perform the needed rebuke to my conscience." He kept it behind his house. But so many folks heard about the machine and wanted to use it that Haywood finally moved it to a shelter in front of his general store. The shelter stood at the roadside on U.S. 70, about ten miles east of New Bern.

According to old newspaper accounts, the kicking machine got a good workout on Sunday afternoons from motorists going home from the beach. But at nighttime, the machine really got cranking. "A lot of folks don't want people to know they need a kick, so they wait until I close up at night and then come around," Haywood said. "Late at night I can hear the machine just a squeaking outside."...


These days a replica of the original kicking machine stands in front of Haywood's old store, now an antiques shop. Heading east toward the coast, it's on the right side of U.S. 70 just before its intersection with Catfish Lake Road in Croatan. So if you ever feel like you need a kick, go give it a try.

This looks like it might be the home of the self-kick-in-the-pants machine.