Travel: June 2009 Archives
There are a couple of tours happening in and around Tulsa this weekend that may tickle your fancy:
An all-day bus tour of historic all-black towns will take place this Saturday, from 7 am to 5 pm. Freed slaves from the Muscogee (Creek) Nation founded a number of towns south and east of Tulsa around the turn of the 20th century. Other towns were established in the newly opened Oklahoma Territory at the end of the 19th century as part of a black statehood movement.
The tour is $30. For information and to make reservations call 918-596-7280. (Found via TheMidtowner.)
This New York Times story is a good introduction to Oklahoma's all-black towns. Alison Zarrow has made her photoessay on Oklahoma's black towns, Wish You Were Here, available online.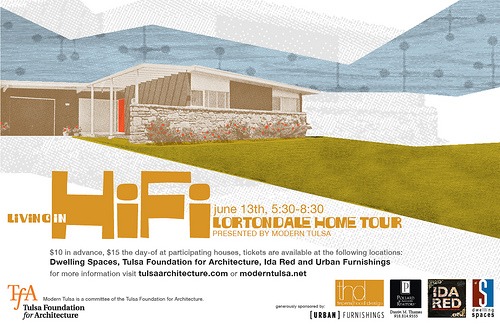 This Saturday evening, 5:30 to 8:30 pm, the Modern Tulsa committee of the Tulsa Foundation for Architecture is hosting a tour of homes in the mid-century modern neighborhood of Lortondale, east of Yale Ave. between 26th and 28th Streets.
Designed and built in 1954 by Tulsa duo Donald Honn (architect) and Howard Grubb (builder), the Lortondale Neighborhood was the recipient of a multitude of national design awards. The neighborhood was featured in an array of magazines including House and Home and Better Homes and Gardens.

In recent years Lortondale has experienced something of a rebirth. A new generation of homeowners, interested in modern design, are snapping up the houses just as fast as they come on the market. After decades of neglect, many of the houses in the neighborhood are being restored to their former modern glory. Most importantly, the Lortondale Community is experiencing the same restoration.

This year's tour seeks to convey the energy that is the Lortondale Neighborhood today. Featured are 6 houses in various stages of completion. From the beginning stages of a restoration to a virtually complete example of HiFi-modern bliss, this tour of Lortondale will show you what all the buzz is about.
Tickets are $10 in advance, $15 the day of the tour, and available at Dwelling Spaces, Urban Furnishings, Ida Red Boutique, and the Tulsa Foundation for Architecture office. All the details are available at the Modern Tulsa website.
The tour is self-paced. You can start at any home and purchase a ticket at the first house you visit:
4912 E. 26th Terrace
5331 E. 26th Pl.
5342 E. 26th Pl.
4953 E. 27th St.
4958 E. 27th St.
5312 E. 27th St.
There's an ongoing online tour you can follow vicariously. A family is visiting all 77 of Oklahoma's counties, taking photos, and recounting their travels. You can follow their progress on the 77 Counties blog. (The latest entries will also be linked on the BatesLine Oklahoma headlines page.)