Tulsa: January 2012 Archives
Once in a while I come across a phrase that captures in 20 words what I've tried and failed to say in 2,000. It's an aphorism by cartoonist Hugh McLeod (@gapingvoid on Twitter), tweeted by former Louisiana Governor and dark-horse presidential candidate Buddy Roemer:
"Real success comes not from being invited into the yacht, but from being able to paddle one's own canoe." -- Hugh McLeod
I replied to Roemer: "Tulsa has an entire subculture devoted to getting on the yacht and staying there. Boat-rockers aren't welcome."
The members of this subculture would utterly disagree with McLeod's definition of success. Riding on the yacht is far more comfortable than paddling your own canoe, and all you have to do is to stay in the good graces of the yacht's owners.
Paul Allen's yacht at Venice, by Anton Porsche, on Flickr (Creative Commons attribution)
McLeod's metaphor of the yacht guest fills a gap in my description of Tulsa's power structures. I've written extensively about Tulsa's "Money Belt" -- a geographic pattern in voting that correlates strongly with wealth as measured by home value. I've written about the Cockroach Caucus, a coalition of various interests with a great deal of control over Tulsa, a group that has been working particularly hard to recapture lost power and hang on to it. But the very wealthy can't control Tulsa's city government and civic institutions on their own.
That's where the Yacht Guests come in. They staff the non-profits and the quangos, they run small service-oriented businesses that cater to the yacht owners, they're professionals who have the yacht owners as clients, they work as managers for the yacht owners' businesses. They may not be wealthy, but they're comfortable, and they have access to opportunities and perks that are out of financial reach for the folks who aren't on the yacht. Their main job is not to rock the boat, but from time to time, they're called upon to defend the yacht and its owners against perceived threats.
Imagine you're the executive director of a small non-profit. You have a big office with windows, an administrative assistant, and you oversee a staff of a dozen or so. A couple of times a year you represent your organization at a national conference in Las Vegas or New York or Orlando -- all expenses paid by your organization. The organization has season tickets for the Drillers and club seats at the BOK Center, purchased in the name of entertaining clients, donors, and business partners, but most of the time, you can use them for yourself. During the work day, you come and go as you please, taking long lunches, playing golf, and volunteering and serving on the boards of other non-profits, all of which you can justify as building goodwill for your organization. When 5 p.m. rolls around you're done for the day. You're not paying private school tuition -- your kids got into their first-choice public magnet school. You're invited to great parties and outings and get some great freebies.
Occasionally, like the undertaker in The Godfather, you will be asked to do a service -- serve as chairman of a charter change or recall committee, sign a petition, attack anyone seen as a threat to the yacht and its owners. Your job is to be a proxy when the yacht owners don't want their fingerprints on something. You may even have to be the scapegoat, but never fear -- you will be provided for; if you're sacked from one job, they'll find you another. You can even go through a training program to learn how to behave yourself politely on board the yacht.
Back in September, I was invited to the grand opening of Tulsa's Fab Lab. It's a very neat idea and has its origins at MIT. It's a place where anyone with an idea can come and use computerized design and fabrication equipment to make a prototype, rather than paying a fabricator or buying the equipment for yourself. The hope is to facilitate the efforts of Tulsa entrepreneurs and to inspire young people to pursue engineering, design, and manufacturing. It's a great place for the guy who's trying to paddle his own canoe to turn a dream into something tangible.
The grand opening was at 3 in the afternoon on a weekday. For me, that meant notifying my boss that I'd be out and using up a few hours from my accrued paid leave. When I got there, I saw many familiar faces -- each of whom could reasonably justify his or her presence at this event during the work day, drinking wine, eating hors d'oeuvres, and schmoozing, as a part of his or her job description. Nice work if you can get it, and if you get it, you're going to do all you can to hold onto it.
(I should add that only two or three of the guests that afternoon showed any interest in the fascinating machines available for use at the Fab Lab.)
It might have been that day that the friend who had invited me to the Fab Lab opening mentioned the organization needed to hire an executive director. Perhaps it was a hint that I should apply, but a glance at the list of major donors told me all I needed to know about my chances of being hired.
And if by some fluke I were hired? The thought had some appeal -- working out in the community, interacting with a variety of people every day, promoting a great new institution, being the boss, having my own office, and enjoying some of the other perks I mentioned above. But then it hit me: My livelihood, my family's daily bread, would be dependent on me maintaining the goodwill of the board of directors. The organization's well being would be dependent on me maintaining the goodwill of all current and potential donors. If I took such a job, for the sake of my family and the sake of the organization, I'd have to shut up completely about local politics.
I periodically hear from friends who are guests aboard the yacht. They complain, strictly off-the-record, about the bad decisions being made by the yacht owners, but they wouldn't dare speak publicly. I wrote about the phenomenon back in 2003, in a note to fellow TulsaNow board members about our stance on Vision 2025:
This may be a bit impolite to say, but it's there beneath the surface and ought to be dealt with openly. Some of our group work for organizations which are funded by supporters of this package. Others aren't personally dependent, but are involved with organizations that need the funds that the package supporters can offer. Others need the goodwill of city government to conduct business and make a living. Some of us have even been paid to facilitate and promote the vision process and to work for the "vote yes" campaign. Beyond the financial considerations, many members of our group move within a narrow circle of social and organizational connections -- a virtual "small town" within the city, focused on the arts and other non-profit organizations, centered around Utica Square and chronicled by Tulsa People and Danna Sue Walker. As in any small town, some opinions are acceptable and some are not, and speaking your mind risks ostracism.
Walt Kelly wrote about it back in 1955: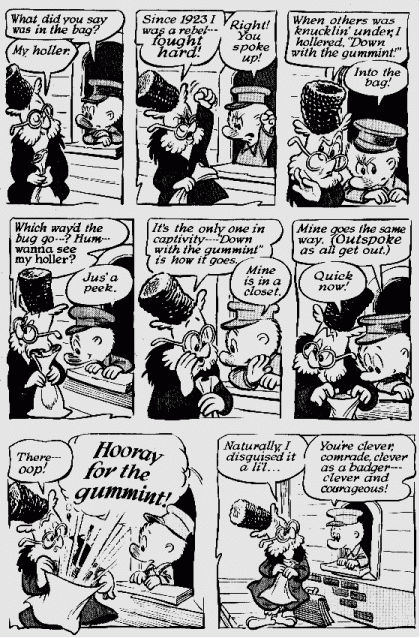 I can think of a few other occasions when I may have been subtly invited to come aboard the yacht. I think I've made it abundantly clear that I wouldn't be interested. One of my friends, a founder of several successful small businesses, was recently given a very explicit invitation aboard: If he would lend his name in support of the Save Our Tulsa at-large council proposal, he would never have to worry about financing for his businesses. My friend declined the offer. He prefers to paddle his own canoe.
It's possible to be tossed off the yacht even if you never realized you were aboard. Another friend found himself unexpectedly out of a engineering job, some time after he led a successful effort to stop a sales tax increase. Turns out that the company's owner had some real estate interests that stood to benefit if the tax had passed.
The guests aboard the yacht are not bad people. For many, being on the yacht gives them a chance to spend their days working for causes about which they are passionate. Surrendering their personal political opinions is a small price to pay for that opportunity. As the saying goes, don't hate the player, hate the game.
And the game should be hated. Yacht-guest culture rewards sycophancy and penalizes innovation. It drives creative people away. It hurts our economy.
I write all this not to heap scorn on those who are sailing happily aboard the yacht, but rather to alert you to the reality of this subculture, so you understand the forces at work in Tulsa politics. The apparent unity of the great and the good on a certain issue may be nothing more than the yacht guests keeping their hosts happy.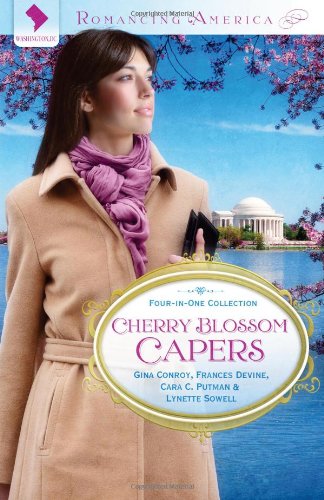 This coming Sunday, January 8, 2012, Tulsa author Gina Conroy will launch her new book, Cherry Blossom Capers, with a murder mystery party this Sunday from 2 p.m. to 4 p.m., followed by a book signing.
Cherry Blossom Capers is a collection of four novellas that combine romance and mystery, all set in and around Washington, D. C. Conroy's novella, Buried Deception, involves the discovery of a counterfeit artifact at Mount Vernon. The book is part of Barbour Publishing's "Romancing America" series -- each book is a collection of stories by different authors, but set in a particular locale.
Gina Conroy is married and the mother of four school-age kids. She has a website, Writer, Interrupted, devoted to balancing the pursuit of your writing dream with the demands of everyday life.
Gina was interviewed this week by Fox 23 -- you can read all about Gina, the book, and the launch party on the Fox 23 website.
The launch party is free, for grownups only, and space is limited. Reserve your spot by email to gina@ginaconroy.com. If you can't make the party, you can still stop by the signing, after 4, at 3024 S. Sheridan (just north of Sherwin-Williams) to buy a book and get it signed.
The book is also available at Steve Sundry (26th and Harvard), Barnes and Noble, Mardel, and Amazon.