Tulsa County: September 2014 Archives
Tomorrow morning (Friday, September 19, 2014) at 8:05 am, I'll be on 1170 KFAQ with Pat Campbell to discuss "improvements" to the Arkansas River, the broad prairie stream that flows through the western and southwestern parts of the city of Tulsa. The "improvements" would involve renovating the Zink Lake dam, built in 1980, and building three new dams to fill the river to its banks, for a total cost estimated at $240 million. (UPDATE: Here's the audio of my KFAQ interview with Pat Campbell.)
Earlier this month, friends and fans paid their final respects to comedian Joan Rivers. She was a groundbreaker for women in stand-up comedy, Johnny Carson's long-time backup host on the Tonight Show and then his competitor, a survivor of personal and financial tragedy who made an impressive comeback, and a staunch supporter of Israel's right to exist.
But Joan Rivers may be best known, particularly among the younger generation, for her frequent trips to the plastic surgeon. Rivers demolished her natural beauty in pursuit of an elusive ideal and spent a fortune only to end up looking harsh, alien, and artificial.
What drives an attractive woman to undergo one expensive and risky elective surgery after another? The obvious cause is insecurity, low self-esteem. She must have been convinced that she could only be attractive if she drastically altered her appearance, and evidently no one could convince her otherwise.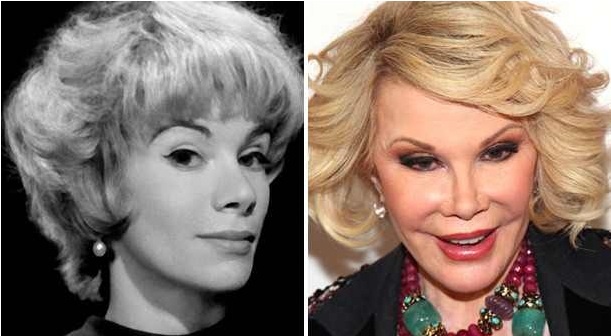 You could ask the same question about cities. Why would a beautiful city pursue risky and expensive plastic surgery in pursuit of artificial enhancements that ultimately fail to increase the city's charm and appeal?
Whether Hollywood star or Midwestern city, the drive for extreme surgical makeovers betrays a lack of self-confidence and a break with reality. Many a city tore down charming Victorian or Craftsman homes for brutalist public housing towers. After World War II, owners of Art Deco and Romanesque Revival commercial buildings were persuaded to cover their facades with metal cladding, in order to look "modern" and "up-to-date." Decades later, building owners are tearing off the cladding to put the unique elements of each building on view once again.
Our consumption-driven economy thrives on insecurity and discontent. An unscrupulous plastic surgeon could boost his bottom line by persuading potential patients that they're hideous without his help. Heavy construction companies, civil engineering firms, and bond advisors and attorneys can benefit financially by persuading voters that their city is too ugly to attract residents and visitors, but paying them hundreds of millions of dollars will make the city presentable -- at least until it's time for the next nine-figure tax package.
Conventional wisdom is conventional, and the conventional wisdom about the Arkansas River is that it's ugly and no one wants to be around it because it isn't filled with water from bank to bank. If we want to have development along the river, the conventional wisdom goes, we need to ensure that there's water in the river by building new low-water dams and fixing the one we already have. And we have to have development along the river if we want to attract the kinds of young hipsters that pick where they want to live and then look for a job.
We have water in the river. What seems to annoy people is that we also have sandbars and shelves of shale that are visible when the water level is low. If only we would spend hundreds of millions of dollars to build dams, we could raise the water level by a few feet and spare visitors the hideous sight of our sandbars. They they will like us and spend money here -- or so the deluded, insecure thinking goes.
But some of Tulsa's visitors really like our sandbars.
Wildlife in the river bed more interesting than a river full of water
On a frosty morning twenty-five years ago this January 21, I took my girlfriend to the Audubon Society's bald eagle watch. (Later that day I proposed to her.) At the time, we were amazed to realize that just 20 miles from downtown Tulsa you could watch our once-endangered national symbol in the wild. Earlier this year, in commemoration of that auspicious day, I took my family to the Audubon Society's bald eagle watch.
In 1989, the Audubon Society set up their eagle watch just below Keystone Dam. The eagles seemed to prefer the shallow waters below the dam to the deep and broad expanse of the lake above the dam.
In 2014, the Audubon Society set up their eagle watch in Helmerich Park, on the east bank of the river south of the 71st Street bridge. Over the years the eagles had extended their range downriver and into the City of Tulsa itself. We watched bald eagles come and go from a nest across the river on the west bank, notwithstanding the proximity of Jones Riverside Airport.
Click on the photos to enlarge.
We saw bald eagles, both white-headed adults and black-headed juveniles, soar above the river and dive down in search of a meal. And we saw hundreds of white pelicans.
As you can see from the photos, the pelicans preferred to roost in the shallows where the sandbars met the river or in shallow places where the sandbars were barely submerged.
The bald eagles liked the sandbars as well. We watched one mature bald eagle eating a fish on a sandbar, not far from a rivulet that crossed the sandbar to connect two branches of the main stream.
A gull tried to snatch the eagle's catch.
But the eagle waved him away.
A little while later, the adult was replaced by a juvenile, working on the same fish on the same sandbar.
This was the view of the Arkansas River from Helmerich Park on January 25, 2014, looking northwest toward the 71st Street bridge and Turkey Mountain. This is boring? This is ugly?
But instead of the shifting patterns of water and sand and the variety of wildlife, some Tulsans are adamant that we need a flat, monotonous expanse of water from shore to shore so that we can feel pretty.
What do we think "water in the river" will do for us?
When Tulsans enthuse about the impact of water in the river on tourism and economic development, they inevitably mention San Antonio's River Walk. The San Antonio River, as it bends through downtown, is about 40 feet wide -- about the width of a two-lane street. You can easily cross from one side to the other. You can easily spot someone you know on the other side and call out and wave. The Arkansas River through Tulsa ranges about 1000 to 1600 feet wide -- twenty-five to forty times wider.
In 2006, Canadian architect Bing Thom, hired by Tulsa's Warren family, proposed a way to create the River Walk feel: Excavate much of the west bank between 11th and 21st Streets, build an island with shopping and high-rise housing near to the east bank, with a little channel about the width of the San Antonio River separating it from the east bank. Price tag to the taxpayers would have been at least $600 million. Building housing in the river's floodway was unlikely to get Corps of Engineers approval. Excavating the west bank, once the site of oil refineries, might mean dredging up toxic materials now buried and settled.
If you want a street's-width River Walk, a better bet might be to follow OKC's lead and actually replace a street with a canal. Or tame one of our larger creeks and put development alongside. Combining the two ideas, the Elm Creek Master Drainage Plan includes a canal running down the middle of 6th Street east of Peoria. Many years ago, an architect proposed exposing the lower reach of buried Elm Creek, near 18th and Boston, for a creekside promenade.
Perhaps the water-in-the-river fanatics are thinking about the pleasures of watching the sun drop into the Pacific at nightfall. You really need at least 20 miles of open water to get that effect. That would mean excavating a lot more than the River West Festival Park. We'd have to flood Red Fork and turn Lookout Mountain into an island.
Maybe it's a reflecting pool that they want, so that motorists crossing the river on I-44 can spend some of their 15 seconds on the bridge looking north to see the skyline reflected in the river, just like that Ken Johnston painting. But even in that painting the water is rippled by the wind, as tends to happen with a broad, open expanse of water.
Do they think more dams on the river will bring about more recreation on the river? It's doubtful. Zink Lake has been around for over 30 years. The ferry boats and sailboats in mid-'70s "artist's conceptions" never materialized. Silt and sand don't let the water get too deep. We haven't even seen paddle boats on Zink Lake. Some number, probably not more than 100, participate in rowing on the river. I suspect more Tulsans had been on the river during the 1970s heyday of the Great Raft Race, prior to the completion of Zink Dam, than in the years since.
For a few years, Steve Smith ran airboat tours and then occasional guided canoe trips on the Arkansas River between Zink Dam and Keystone Dam. If I recall correctly, he tended to attract more out-of-town visitors who saw his brochure in the rack in the hotel lobby than locals. His descriptions of his tours, which you can find various places around the web, emphasize the variety you can see from the river -- wildlife, shoreline, little islands. But as far as I can find, he's no longer in that business.
Oklahoma City, Austin, and Wichita all have dammed, brimful rivers, but none of them have attracted vibrant riverfront development. The excitement in those cities is to be found in walkable neighborhoods of historic buildings away from the river.
We have a beautiful river. It needs some cleanup in places. The levees may need repair -- but that's a public safety and stormwater control matter, and we shouldn't let city leaders logroll elective cosmetic surgery in the same tax issue as a necessity. Let's stop listening to the hack plastic surgeons who want us to feel insecure enough to pay them hundreds of millions of dollars to "make us pretty." Let's appreciate the God-given beauty we already possess and the wildlife that enjoys it, in its changing variety.
MORE:
The BatesLine archive of stories about the Arkansas River.
David Schuttler has some beautiful wintertime video of pelicans and herons from the stretch of the river west of Sand Springs:
John Eagleton writes to inform me that, after my appearance on KFAQ, all the "tax-and-spend hooligans" are angry with me. Sicut erat in principio, et nunc, et semper, et in saeculi saeculorum. Amen.
Charles Hardt, former City of Tulsa Director of Public Works, opposes building dams and encouraging development along the river. He says the 100-year-flood standard isn't stringent enough when it comes to the damage a river flood can do. Hardt's training is as a hydrologist, and he led the city's massive stormwater mitigation efforts following major floods in 1984 and 1986.
"We are talking about adding more things to the river banks — and potentially in the river — that could make the flooding worse and create the potential for a lot more loss of life and more property damages," he said.

Hardt said development in and along the river can act as a "plug" that impedes the natural flow of the river —-- a flow that in times of heavy rainfall scours the river's bottom and banks to increase the river's capacity.

"You're encouraging development that is not compatible with the river's function, and that is to carry the water from upstream to downstream," he said....

Hardt's not just worried about the dams that might be built in the river. He's concerned about one that already exists --— Keystone Dam, and he would like to see a major push to study and repair Corps infrastructure projects.

"Its effectiveness and the maintenance of it and what its capabilities are needs to be well understood before we put other things downstream from it —-- other things meaning low-water dams, development along the river," Hardt said.