Tulsa Downtown: June 2009 Archives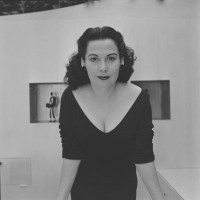 I'm in the throes of a major effort at work and only have time to throw you a few links to good reading elsewhere:
For your viewing pleasure, Tulsa TV Memories links to the Life archive and photos from February 1952 of KOTV general manager Helen Alvarez. Besides photos of the lovely Mrs. Alvarez, the archive shows the Channel 6 news, weather, and sports sets of the day, plus photos from the Sun Refinery and of a powwow. (Does this qualify as a Rule 5 post?)
Irritated Tulsan discovers that the Boulder Ave. bridge is safe enough -- for the crane that's demolishing it.
Steve Roemerman has posted a new podcast, reacting to Councilor G. T. Bynum's comments during last week's ballpark assessment vote.

Chris Medlock has a new podcast up, reacting to comments about city election "reform" made by former Mayor Susan Savage. And he talks to State Sen. Randy Brogdon about the legislative session and the gubernatorial campaign.
I've got some thoughts about the Council's 5-4 vote to approve the assessment roll of the Tulsa Stadium Improvement District -- the controversial funding mechanism for funding the Tulsa Drillers new downtown baseball stadium -- but no time right now. Watch for something Monday morning.
Steven Roemerman has posted some hard-hitting commentary about the vote. It has extra relevance as the mayoral race looms near. It's a hard thing to say, "wait," or "no," when everyone is shouting that we must act and must act now. It's even harder to do that from inside a baseball mascot costume. Steven's commentary:
An excerpt from the second of the three entries:
Aside from the citizens exercising their right to vote her out of office, the Council is the only check and balance to the Mayor. It is the Council's duty to flush out such things before passing something as weighty as a 64,900% increase on a downtown assessment on the citizens of Tulsa. To complain now is sad and pathetic. Moreover, the very idea that Councilor Christiansen is thinking about running for Mayor now after this fiasco is insulting and scary.

Tulsa's Mayor has a lot of power, and the person that sits behind that desk on the top floor of the One Technology Center needs to be a strong leader, one who makes the tough calls, and flushes out all the details before making important decisions. We do not need a follower that stands in the Council chambers complaining that they cannot see past the next action they will take.