Tulsa Downtown: July 2013 Archives
A proposed hotel/office/retail development in the Bob Wills District that was stymied in 2008 by Mayor Kathy Taylor and the Tulsa Development Authority now looks to move forward, five years later and after a lawsuit and settlement.
The half-block west of Elgin between Archer and Brady is owned by the Tulsa Development Authority. Currently a parking lot, it was previously home to a Fuelman unattended gas station. Developers Will Wilkins and Cecilia Wilkins (Will's mother) plan to build a four- to five-story building with retail on the ground floor, office space on the second floor, and hotel rooms on the upper floors. They have a tentative agreement with the TDA; final agreement is expected at the TDA's August 1 meeting.
In December 2007, a TDA staffer suggested to the Wilkinses, who had worked with the TDA on a number of previous infill projects, that they consider developing the site, across the street from the Greenwood Chamber of Commerce's planned mixed-use development.
Planning and negotiations were moving along smoothly for several months, until then-Mayor Kathy Taylor set out to get the Tulsa Drillers in a new ballpark downtown. Long story short, in August 2008, the TDA cancelled the Wilkinses' exclusive negotiating rights to the site -- part of an effort to control all the land around the ballpark -- the Wilkinses sued, and the suit was finally settled a few days before going to trial in June 2012.
You can read a detailed account of how Taylor and the TDA treated the Wilkinses in the BatesLine archives:
The Control Freaks' Squeeze Play: The history of the proposed development, who made it unravel, and the damage done to Tulsa as a place for creative entrepreneurs.
TDA chairman's letter announcing intent to terminate Wilkinses' exclusive negotiating period, and Kathy Taylor's response
Novus Homes sues City of Tulsa for interference: In 2009, The Wilkinses added the City of Tulsa and Kathy Taylor to their lawsuit against TDA. This entry explains
what they learned in discovery that led them to add the City and Taylor to the suit.
That last link also has links to other BatesLine articles covering the dispute.
My dilemma in this November's mayoral election is that both candidates have, as mayor, badly mistreated good people trying to do good things for Tulsa and have hurt the City's reputation and progress in the process. I'm not talking about oversights or mistakes, but deliberate actions. There are plenty of examples in Dewey Bartlett's column, but this is one of many in Kathy Taylor's column -- a positive downtown development had to wait five years longer than necessary because of her bulldozer approach to the ballpark deal. If either Bartlett or Taylor were truly repentant for their bad actions -- publicly acknowledged what he or she did wrong, why it was wrong, and how he or she plans to ensure that he or she acts with integrity in the future -- it would go a long way toward winning my support.
The debate over purging the name Brady from Tulsa streets and landmarks has made international news.
Tulsa City Council researcher Jack Blair discovered a December 24, 1907, street-naming ordinance that shows that Archer, Brady, and Haskell streets had different names in the initial draft -- Archer was Atchison, Brady was Burlington. The name crossed out in favor of Haskell is illegible -- an eight-character name presumably beginning with "H". (UPDATE: Paul Uttinger has learned from contemporary newspaper accounts of the debate that the originally proposed "H" street was "Hiawatha." Paul also notes that many of the cities in the list of proposed street names were in northeastern Kansas or northwestern Missouri; Alderman James W. Woodford was from Burlington in northeastern Kansas. See his comment below.)
Jeff Archer was an early Tulsa merchant. Archer was killed in 1894 by an explosion caused by a drunk shooting into a barrel of gunpowder in his store. W. Tate Brady was an incorporator of the City of Tulsa. Charles N. Haskell was the first governor of Oklahoma.
In the 1907 Sanborn Fire Map of Tulsa, there is an Archer Ave. and a Brady Ave., but not at their current locations. Archer Ave. was between Cheyenne and Osage (one block west of Denver Ave.) -- present day Edison St. Brady Ave. was present day Golden St. between Denver and Osage. The street runs to the north of the Brady Mansion. In between (what is now Fairview St.) was Mowbray Ave., named to honor the Rev. George W. Mowbray, Methodist pastor, Mayor of Tulsa, and father-in-law to Jeff Archer.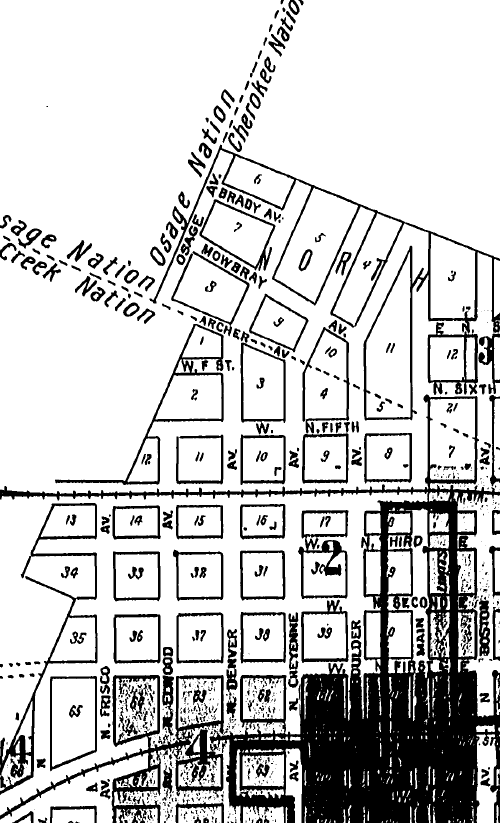 My theory is that, when the city decided in 1907 to rename the original Archer and Brady streets to create alphabetical order and consistency, friends of the Archer and Brady families pushed to have those names re-used for the "A" and "B" streets north of the tracks. (I'm not sure why Rev. Mowbray was left out.) Someone should check newspaper microfilm from December 1907 to see if there are any accounts of the decision-making process and any controversy surrounding it.
There are a few distinctions that need to be made.
The Brady Theater was built 1912-1914 as the city's Convention Hall. Later it became known as the Tulsa Municipal Theater. It was the place for ballet and symphony performances prior to the Performing Arts Center. When Peter Mayo bought it from the city at auction in 1978, he dubbed it the "Old Lady on Brady" because of its age and its location on Brady Street. Late '80s and early '90s news stories refer to it by the "Old Lady" name. By the mid-'90s, it had been rebranded as the Brady Theater. The theater's connection with Tate Brady is secondary -- the theater was named after the street, which was named after Tate Brady.
Sometime in the late 1980s, as warehouse districts became popular for arts and entertainment redevelopment, the idea of "Brady Village" as an arts district began to catch on. It was formally adopted in the city's 1989 Downtown Master Plan. Mayfest was held in Brady Village in 1991 and 1992. (I remember seeing Asleep at the Wheel in 1992 on an open-air stage in a parking lot where the Fairfield Inn now is, and later that evening at Cain's Ballroom. A co-worker and a couple of friends were leasing the Continental Supply Company building and had converted it into a loft.)
In July 1992, Spaghetti Warehouse opened. In December 1993, Mexicali Border Cafe opened. The connection of the district to Tate Brady is tertiary: The district was named after the theater, which was named after the street, which was named after Tate Brady. My guess is that Brady was chosen as the district's name because it evoked turn-of-the-century railroads and industry. I suspect that the organizers were thinking more about Diamond Jim Brady than Tate Brady.
Brady Heights is the name of a subdivision that was platted along N. Denver Avenue, on a hill overlooking downtown. The subdivision gave its name to the historic preservation district established in the 1990s; the HP district incorporates parts of adjacent subdivisions.
The Brady Mansion, which is in the Brady Heights historic district, is so called because Tate Brady built it and lived there.
The city has control over the name of Brady Street, and the City Council (with mayoral approval) could decide to rename it. Brady Street isn't just downtown, but it extends to the east and west limits of the city and even beyond. A Catoosa subdivision just north of I-44 and east of Lynn Lane Rd used Tulsa street names, since it was developed in the 1960s when the area was unincorporated. Changing a street name has far-reaching impact. It affects every homeowner and business owner
The city also could choose to rename the TIF district that encompasses the arts district or the name of the Brady Heights historic preservation district. These names are matters of city ordinance, but because the names of these entities are derived from pre-existing places, changing the name would create a geographical disconnect.
All the other Brady names are under private control. The owner could choose to change the name of the Brady Theater. The Brady Heights Neighborhood Association could rename itself, as could the Brady Arts District Business Association.
All these places could be renamed, but should they?
Until the campaign to rename Brady Street began, I doubt many Tulsans knew the significance of the name, any more than they knew what Xanthus or Xyler meant. One could argue that the street name has transcended its connection to its namesake. Most Tulsa street names were chosen arbitrarily to fit into an alphabetical scheme, and I imagine most Tulsans, if they thought about it at all, assumed the name Brady was equally arbitrary.
If they do rename it, I hope at least they use a name beginning with a B. The city has already violated alphabetical order twice in recent years, renaming part of Haskell Street to John Hope Franklin Blvd. and renaming half of Cincinnati Avenue as Martin Luther King Junior Blvd.
I would like to see the name of the arts district changed, and I like Lee Roy Chapman's suggestion of calling it the Bob Wills District, as it acknowledges a musician of worldwide renown who made his fame in the district, at Cain's Ballroom, and it fits nicely with the area's reputation as a home for live music. The name "Bob Wills District" on a map would be a magnet for worldwide fans of the man's music who want to connect with his legacy.
As a brand name for the area, the name Bob Wills has positive associations reaching far beyond Tulsa that would add to the good feelings Tulsans have about the neighborhood north of the tracks as a place to have fun. The name Brady has been associated in the minds of Tulsans with restaurants and bars and live music for over 20 years, but those positive associations are now tainted by what we've learned recently about Tate Brady.
I doubt that the Brady name means much to people outside of Tulsa. Even if you disregard Brady's membership in the Klan and involvement in the race riot, which historical figure would you associate with fun: A dour civic leader who committed suicide, or this guy?
Call it the Bob Wills District, and you've got a built-in slogan: "Stay all night, stay a little longer."
Lee Roy Chapman's 2011 story about Tate Brady is a reminder that many other prominent Tulsans of that era, whose names adorn streets and parks and buildings all over town, were as culpable as Brady. If we start by purging Brady's name, we cannot stop there. Names like Lorton and Jones and Lewis will have to go, too. Cyrus Avery, the father of Route 66, whom we've just honored with a plaza and a sculpture, was involved with real estate in Greenwood. If we dug deeply into his record, would we feel the need to erase his name from the map? And shouldn't our purge include the civic leaders who pushed for Greenwood's second destruction in the 1960s and 1970s? That probably means removing the names of the mayors of that era (Hewgley, LaFortune) and other officials (like City Attorney Charles Norman) from buildings and places.
MORE:
In 2011, Fox 23 interviewed Tulsa Race Riot survivor Wess Young, who lives in Brady Heights:
He doesn't want the neighborhood's name to change. "That's history, why would you try and change what has gone one and not show what progress you have made," he told FOX23. He says he doesn't live in Tate Brady's neighborhood, he lives in his neighborhood. No matter what name it has. "It doesn't bother me because I have the privilege to live where I can afford."
My thinking -- keep Brady Street and Brady Heights as a humbling reminder that men like Brady were a part of Tulsa's past, but pick a better name to market the area north of the tracks downtown. I like Lee Roy Chapman's suggestion: Call it the Bob Wills District.