Tulsa History: February 2014 Archives
Jane Dunlap Maxey posted this on the Facebook group "North Tulsa 50's 60's & 70's - The Real Outsiders." It's a menu from Shakey's Pizza, labeled summer 1967. I thought it deserved reposting in a more permanently accessible location.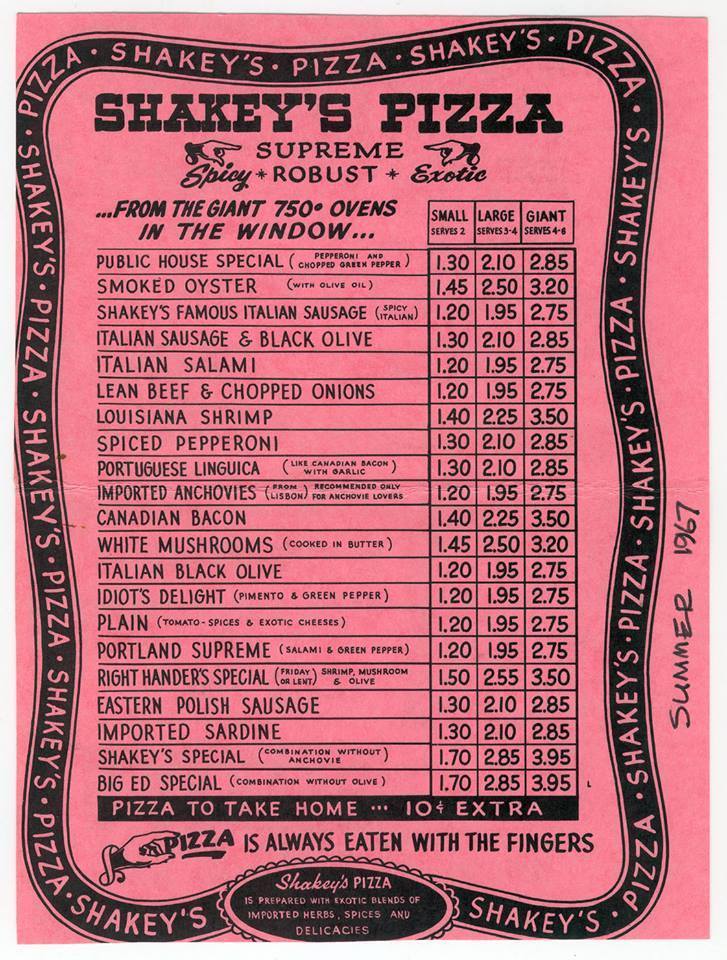 Shakey's Pizza
Spicy - Supreme - Robust - Exotic
... From the giant 750° ovens in the window ...

Public House Special (pepperoni and chopped green pepper)
Smoked Oyster (with olive oil)
Shakey's Famous Italian Sausage (spicy Italian)
Italian Sausage & Black Olive
Italian Salami
Lean Beef & Chopped Onions
Louisiana Shrimp
Spiced Pepperoni
Portugese Linguica (like Canadian bacon with garlic)
Imported Anchovies (from Lisbon) recommended only for anchovie lovers
Canadian Bacon
White Mushrooms (cooked in butter)
Italian Black Olive
Idiot's Delight (pimento & green pepper)
Plain (tomato - spices & exotic cheeses)
Portland Supreme (salami & green pepper)
Right Hander's Special (Friday or Lent) shrimp, mushroom & olive
Eastern Polish Sausage
Imported Sardine
Shakey's Special (Combination without anchovie)
Big Ed Special (Combination without olive)

Pizza to take home ... 10¢ extra

PIZZA IS ALWAYS EATEN WITH THE FINGERS

Shakey's Pizza is prepared with exotic blends of imported herbs, spices, and delicacies.
It was a highlight of going to Shakey's (or Shotgun Sam's) to get to look through the window at the pizza dough being tossed and the pies being slid into the ovens.
Some mysteries... perhaps you can solve them:
What exotic cheeses were used in the plain pizza? And doesn't that undermine the notion of "plain"?
What was it about the combination of pimento & green pepper that especially delighted idiots?
If the Shakey's Special = ( Combination - Anchovies ) and Big Ed Special = ( Combination - Olive ), what else was in the Combination besides anchovies and olives?
Why do they call a pizza compliant with Catholic dietary restrictions of the time (no meat on Fridays or in Lent) a Right-Hander's Special?
Portland was a thing in 1967?
According to my copy of the 1966 Tulsa telephone book, Shakey's Pizza had two locations: 3647 S. Peoria (TEmple 5-1529) and 9124 E. Admiral (RIverside 7-1331).
Other advertisers in the "Pizza" section of the Yellow Pages that year:
Irish Mike Clancy's Pizza Village Inn, 1060-B S. Mingo Rd.
Johnny Reb's Pizza Parlor, 5651 W. Skelly Dr.
Ken's Pizza Parlor, 3024 E. 11th St, 1515 S. Sheridan
Lea's Italian Pizzeria, 1605 E. 15th St., 4207 S. Peoria, 3632 N. Peoria, 4631 E. 31st. St., 3945 E. Admiral Pl. (Midtown, Southside, Northside, Eastside, and Northeast, respectively)
The Pizza House, 6545 E. 11th St.
Pizza Hut, 5951 E. 31st St., 5303 E. 11th, 4201 S. Peoria
Pizza Inn, 7737 E. 21st St.
Sussy's Pizza, 2918 E. 11th St.
Tulsa Maiden Drive-In, 1204 S. Peoria
Tulsa Pizza Co., 912 W. Admiral
The Villa, 1546 S. Sheridan Rd.
Johnny Reb's ad invited the reader to
BRING THE FAMILY Old German Style Dark Beer 20 Varieties of Pizza Dine In or Pizza To Go Close To Motels
The Villa boasted "delicious Pizza Baked on Bricks" and "Black Beer." Ken's had "light and dark tap beer" and assured the reader that their pizza was "Made Fresh When Ordered." Pizza Inn offered "an environment for the whole family, light & dark beer, poor boy sandwiches, salads" for dine in or carry out.
MORE: Here's a montage of photos, ads and menus from Shakey's, set to banjo music. Unfortunately, Shakey's classic jingle -- "Shakey's is shakin' up... pizza, people!" -- has yet to make it to the internet.
Randy Brown has been posting Top 30 hit lists from his days at Tulsa's legendary rock station KAKC (he called himself Bob Scott on the air) on Tulsa Memories from the 60's and 70's Facebook group. The lists were based on surveys of sales at local record stores. He posted the KAKC Top 30 from September 8, 1971, and wrote:
I always sort of made it my mission in life to take over the design and publication of the weekly Big 30 list at every radio station I worked at. In 1971, I gave our Big 30 sheet a pretty dramatic redesign. And lookie!! There I am on the cover, handing over a check for cash to a lucky KAKC contest winner who knew the phrase that pays in our Pay Phone contest. Survey dated September 8, 1971.
Well, that date rang a bell. In September 1971, right after Labor Day, I started at Holland Hall as a 3rd grader, back when the lower and middle schools were at 2660 S. Birmingham Place.
That's also the week when I first heard KAKC. At our house we listened to KRMG-AM and -FM (now KWEN 95.5) -- middle-of-the-road and easy listening, respectively.
Mom taught in Catoosa and Dad worked downtown, and we lived in Rolling Hills, then unincorporated territory east of Tulsa and about 12 miles from school. So I was in a carpool. Dad would meet the carpool at the 11th & Garnett DX (SE corner, now Mazzio's).
Mr. Ivers, the elementary PE teacher, was the driver, and he was a KAKC listener.
He had a Volkswagen station wagon, and somehow he managed to squeeze five or six students in the car with him. There were a couple of sisters and a veterinarian's daughter who lived near the KVOO towers. On the way to school we picked up a Monte Cassino student (a girls' high school back then) who lived in the Rosewood neighborhood NW of 11th and Mingo. (The neighborhood was demolished after the 1984 Memorial Day flood.) Then we drove south on Memorial, stopping to pick up a girl who lived on the west side of the street, just south of a creek, about where 13th Street would have been if it had gone through. On south to 21st, then west to Lewis, south on Lewis to drop off the Monte Cassino student, then left on 27th Place and the south entrance to Holland Hall's Eight Acres campus.
Since we rode in a VW, we played a game like "Slug Bug" -- counting VWs along the way. The big prize went to the first one to call the big VW repair shop on the SW corner of 21st and Yale -- dozens of beetles, wagons, and microbuses.
KAKC was the soundtrack of my daily ride to school, new music en route to a new school in an unfamiliar part of town. My life the two previous years had centered around Admiral and 193rd East Ave. -- church, school, the Red Bud grocery store, Raley's Pharmacy, TG&Y, Lon's Laundry, In'n'Out convenience store. There was the occasional visit to a doctor's office or big shopping center in "Tulsa proper," but that involved crossing four or five miles of farmland. I was leaving behind the school where Mom taught and where my neighbors and Sunday School classmates went.
The music made an impression, and a song from that week's top 30 list has strong associations with those first rides to school: The banjo-infused "Sweet City Woman" by The Stampeders. Maybe I identified with the lyrics. "So long, Ma, so long, Pa, so long, neighbors and friends" -- if only for seven hours.
Here's a playlist I put together of all 30 songs, starting with #30 ("Imagine" -- sorry about that, but it is what it is) and ending with #1 ("The Night They Drove Old Dixie Down").