Tulsa History: August 2017 Archives
Tulsa native and newsman Loren Cosby shared with me a couple of interesting anecdotes involving Jerry Lewis's appearance at a Tulsa golf tournament, and he gave me permission to share them with you.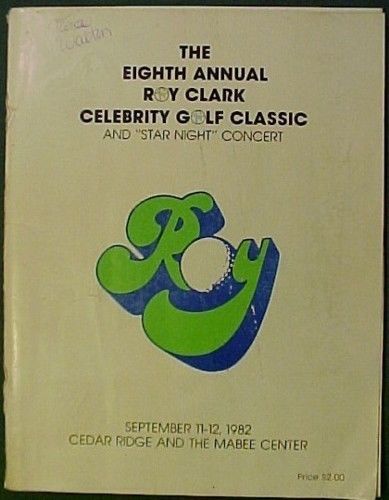 The Roy Clark Celebrity Golf Classic had a nine-year run at Cedar Ridge Country Club from 1975 to 1983, raising money for Children's Medical Center through ticket sales to the golf tournament, amateur golfers paying for the right to play alongside the stars, and ticket sales to the variety show at the Mabee Center. This Daily Oklahoman story describes what turned out to be the final edition of the tournament:
More than 60 celebrities from the world of entertainment and sports will be participating in the 9th Annual Roy Clark Celebrity Golf Classic, next Saturday and Sunday, Sept. 17 and 18, in Tulsa.

In addition to hosting the golf tournament, Clark will headline the annual StarNight Show Saturday evening at Oral Roberts University Mabee Center. Other headliners for StarNight will include the Gatlin Brothers, the Osmond Brothers and Kay Starr. The comedy team of Williams and Ree will round out the program with George Lindsey as emcee. Tickets are on sale at Carson Attraction outlets including the John A. Brown stores....

Golf celebrities include actor Claude Akins, cowboy star Rex Allen, Hollywood columnist James Bacon, actor Ernest Borgnine, singer Jimmy Dean, actor Ron Ely, former astronaut Capt. Ron Evans, TV soap series actor Tom Hallick, Emmy award winner Arte Johnson, singer Trini Lopez, actor Fred MacMurray, former baseball outfielder Roger Maris, actors Tim Matheson, Donald May, Doug McClure, Darren McGavin and Martin Milner to name a few.

The late '70s and early '80s might be called Tulsa's Silver Age, at least in terms of prominence and prosperity. Oil money was flowing, and new buildings were going up downtown. Tulsa musicians like Leon Russell and David Gates were at the top of the pop charts, and the local music scene was drawing the likes of Eric Clapton and George Harrison to town. Unique, locally produced programming dominated the airwaves: KTUL's Oil in Oklahoma, the John Chick Show, Mazeppa Pompazoidi's Uncanny Film Festival, Uncle Zeb's Cartoon Camp, and meteorologists who used a cartoon character (Don Woods and Gusty on KTUL) or a lion puppet (Lee Woodward and King Lionel on KOTV) to tell us about the weather. Tulsa radio had local news and sports talk shows; network programming like the Larry King Show was relegated to the graveyard shift.
And it was during this period that Roy Clark, with the encouragement of his agent, impresario Jim Halsey ("Tulsa's Titan of Country Talent" according to a 1979 Chicago Tribune feature story), made Tulsa his home base and began to get involved in the community, drawing his celebrity friends to come to Tulsa and help.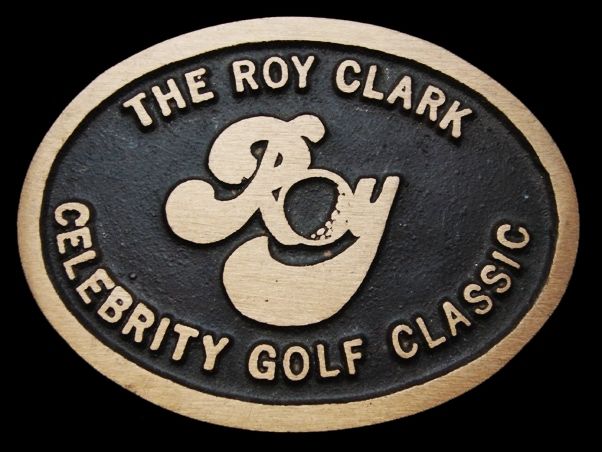 Loren Cosby, then in his pre-teen and teenage years, attended many of the tournaments. His mother, a member of the Children's Medical Center Auxiliary, served as a driver for tournament celebrities. Cosby remembers Jerry Lewis's lone appearance at the Roy Clark tournament. His memory places it in the late '70s, around the time Lewis was collaborating with Oral Roberts on his prime time TV specials.
I worked cleaning golf clubs. Picture this: I'm standing on grass near the clubhouse garage near the arrival driveway. First tee is about 1/4 football field from the driveway. Mom and others drove celebs in Dean Bailey Oldsmobile Skylarks between the hotel and the course. Except Jerry Lewis.

I hear multiple sirens around 8 a.m. Four Tulsa Police Department motorcycle cops and two TPD cars, sirens blaring, deliver Jerry Lewis to the driveway in his limo. Lewis gets out -- the sidewalk is roped off. Lewis struts down the sidewalk, ignoring a group of about thirty Children's Medical Center kids, talks with either John Erling or Lee Woodward.

(KOTV meteorologist Lee Woodward and KRMG morning man John Erling served as first-tee announcers for the tournament.)
Shortly thereafter, an even bigger star of stage and screen makes a more modest entrance.
Twenty minutes later -- my view of the driveway obscured by a low tree branch -- reveals a Skylark pulling up quietly. A door swings open, a guy putting on golf shoes, nobody paying attention but me. It's Bob Hope. No pomp. Channel 8's Rea Blakey walks toward him with cue card for a public service announcement for Tulsa Red Cross. People still don't realize Hope is there as the Jerry Lewis carnival was just winding down. Mom said it was the first and last time they invited Lewis because he was a jerk.
Cosby recalls, "The only year Jerry was there, he did the typewriter bit in the Star Night Show at the Mabee Center, then Hope did his act and as always Roy closed it and played Malagueña."
But about 20 years later, Lewis himself had mellowed somewhat, at least according to a story that Cosby heard from some family friends who encountered Lewis in New York City, after a performance of Damn Yankees on Broadway:
After the show, they ran into Jerry Lewis, who was leaving the theater from a side alley entrance by himself. They said they enjoyed the show. He spent 25 minutes asking them questions about the show, real nice, said he loved Tulsa and Oral Roberts was a friend.
Cosby says he could have written a book about being a kid hanging around at the Roy Clark celebrity tournaments.
Dinner with just me and Evel Knievel at the Williams Plaza Hotel. Getting together with June Haver and Fred MacMurray every year they were here. Eating at MacMurray's table during the sponsor/celebrity dinner. Walking from MacMurray's room to Bob Hope's room in Gerald Ford's presidential suite at the Sheraton Skyline East. Danny Thomas in a suit at 6:30am bringing boxes of donuts to volunteers at Williams Plaza. Riding on the back of Alan Hale's golf cart. Hanging out with Martin Milner at Star Night and getting scolded in a fatherly way by him for acting like Jerry Lewis without the credentials! Talking with Frank Cady and Charles Lane. While interning with KRMG, asking James MacArthur a question about his mom out on the golf course and getting yelled at by him: "Is this interview about me or Helen Hayes?" I was all of 15. Walking Cedar Ridge with Alvy Moore. Also walking Cedar Ridge with my mom and Roger Maris. Clint Howard borrowed Mom's car one evening while a bunch of volunteers were in the Sheraton bar/restaurant with Claude Akins and others. James Garner was in the program almost every year, and I was always disappointed when he never showed. It goes on and on.
MORE: Tulsa TV Memories is the pre-eminent online resource documenting Tulsa's golden '70s and early '80s, both on and off the air, through the memories of on-air personalities, behind-the-scenes crew, and ordinary listeners and viewers. I found a few reminiscences about Jerry Lewis's appearances in Tulsa. Lowell Burch remembered his time as a student at ORU: "The TV equipment was as good as any they had in Burbank at the time and the celebrities occupied the campus like a Hollywood backlot. Stars like Johnny Cash, Pearl Bailey, Jerry Lewis, and Doc Severinson (just to name a few) would show up on campus on a regular basis to do Oral's shows." Mike Bruchas relayed a friend's story of Jerry Lewis showing up in a limo at Sound Unlimited in search of an adapter for his boombox, and the anecdote is accompanied by an ad for an Oral Roberts Christmas Special starring Jerry Lewis and characters from Sid and Marty Krofft's Saturday morning TV shows. Lewis was a visiting lecturer at ORU in the late '70s. DolfanBob remembers going to one of the Roy Clark tournament Star Nights and seeing "Jerry Lewis, Ben Johnson, and Adrienne Barbeau, who did a Belly Dance." (Important use of the Oxford comma there.)
If you encountered Jerry Lewis in Tulsa or had brushes with greatness at the Roy Clark Celebrity Golf Classic, drop me a line at blog at batesline dot com. I'd love to share your stories here.
STILL MORE:
Jerry Lewis's typewriter bit from Who's Minding the Store:
Roy Clark plays Malagueña on an episode of The Odd Couple: