Greenwood: December 2011 Archives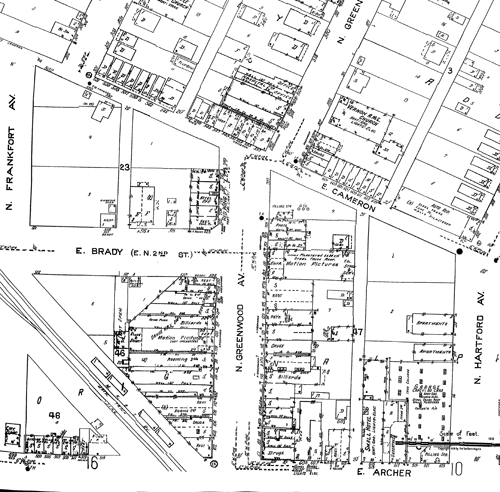 One of the fun things about blogging for over eight years is when someone posts a comment or sends an email about a long-ago blog entry. Someone is searching on the web for information, perhaps about family or friends, and finds one of my entries, then writes a note to fill in more details, often with a touching personal story.
Yesterday, Brenda Terry posted a comment on my entry on the 90th anniversary of the Tulsa Race Riot, in which I talked about Greenwood after the riot -- its rebuilding and flourishing, followed by its second demolition in the name of urban renewal. She offered her own recollections and those of her mother. Brenda is the daughter of blues great Flash Terry; Rocky Frisco recalls sitting in with Flash's band on Greenwood back in 1957, one of the anecdotes I cited in my talk about Greenwood's post-riot rebirth.
Thanks Mike for the information posted on this site regarding Greenwood's Post Riot history.

I am actually the oldest daughter of Flash Terry, you mentioned him briefly in your presentation. Recently my mother spoke about musicians who visited our house in the late 1950's before they were famous (i.e. Curtis Mayfield, Bobby Blues Bland, but that's another story).

My mother grew up on North Owasso, west of Peoria during the late 40's after her mother died. Her mother, before she died in 1940, lived directly across the street from the Mt. Rose Baptist Church on Lansing. She speaks fondly of those days, and of Greenwood. Actually everyone you speak with about Greenwood who is old enough to remember the 20's, 30's, 40's, 50's and 60's in those days, speak with a hint of pride in their eyes, and a longing for the unity and pride they experience is visible in their voices. One of the memories I have as a very small child in the late 50's, is of my aunt who lived in one of the rooming houses on Deep Greenwood (looks like one of the homes in the photos posted). She worked as a dispatcher for a taxi company. Even now I can remember how bustling and alive the area was back then. When I think of the history plowed down in the name of progress, my heart sinks. The neighborhoods were a testimony for strong and determined people, who in some cases, had fought their way up from the bonds of slavery. During Urban Renewal development, my great-grandmother's home (where I was born),and rental property were destroyed.

Years later, Dunbar Elementary School where both my mother and her children attended, destroyed. I am ashamed that every residence who had history in not only Greenwood, but North Lansing, Owasso, and other streets now under I75, did not make their voices heard, and more importantly make themselves understood. I was a teenager at the time with no interest in history, but since I began researching my family history, I have learned that to know our history is to understand ourselves. Without this knowledge we have no foundation and lack direction.

Thanks again and with deep regards, Brenda.