Tulsa 1957: July 2007 Archives
In a previous entry I mentioned a new book of historic photos of Tulsa, and one photo in particular of a tree-shaded Art Deco cafe that looked very inviting. It was a photo of Frank's Pig Stand, 1437 S. Boston Ave., and it was still there in 1957, but not any more, of course. Here's the picture I saw, from the Beryl Ford Collection, dated approximately 1947: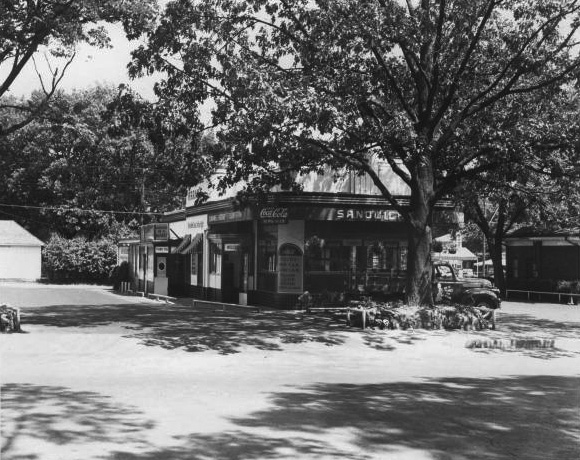 Here are some other photos of Frank's:
Same time as picture above, from the south
A wider view of the north side, winter/early spring
A wider view of the south side, winter/early spring
Those photos are on the Tulsa Library's website. I am happy that the Beryl Ford Collection is on the web, but I wish higher-resolution scans were available -- there are fascinating details that are visible in the originals that you can't make out at the resolution on the library's website. I also wish there were a geographical and temporal way to browse. Flickr would handle multiple resolutions for each photo and provides a very slick way to map each photo. The Google Maps API adds a temporal dimension -- you can add a year slider to a map and set up a start and end date for each object, so that the objects appear or disappear depending on the point in time you've selected.
I came across an item about Tulsa-based blogs while looking for info about Tulsa's Coliseum -- the stories were on the same page in the April 2007 Tulsa People.
Writer Andy Wheeler mentions this blog and two others: Indie Tulsa, which spotlights locally owned businesses and Alternative Tulsa, an left-leaning anonymous political blog. Included in the list of blogs is a non-blog, the Voices of Tulsa forum, founded and run by MeeCiteeWurkor.
It looked like they intended to do a monthly feature of Tulsa-related web links, but I don't see that it continued in more recent issues.
But there was this piece, in their Tulsarama-themed June edition, showing how the price of a home, a gallon of gas, college tuition, a postage stamp, and a movie ticket had changed since 1957. Family income rose faster than the official rate of inflation, and University of Tulsa tuition rose at five times the rate of inflation. (A year at TU would be $4,334 today if it had kept pace with the cost of living. Instead it's $20,669.)
According to the Bureau of Labor Statistics online Consumer Price Index calculator, 100.00 in 1957 has the same buying power as 735.54 in 2007.