UTW Column Archive: June 2007 Archives
This is the originally submitted version of my column in the June 13, 2007, edition of Urban Tulsa Weekly. The published version is available at the Internet Archive. The image below accompanied the article. It is from a 1951 aerial photo, labeled to indicate streets and landmarks and to show the present-day location of I-244.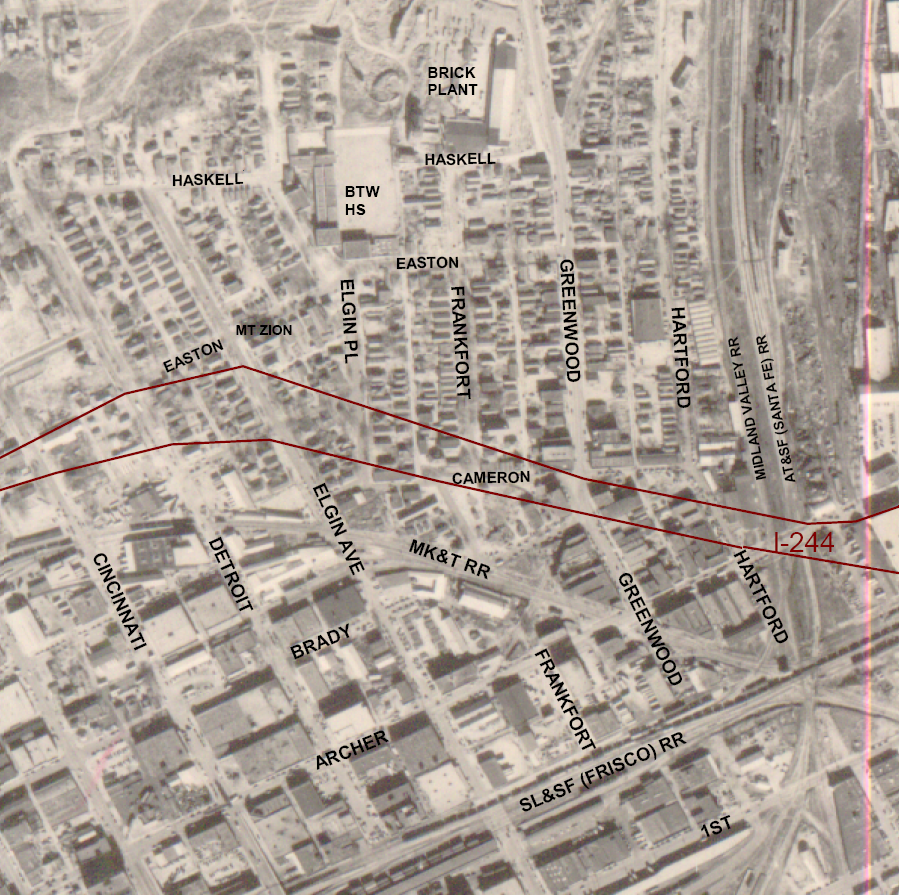 The Greenwood Gap Theory: The remaking and unmaking of the Black Wall Street of America
By Michael D. Bates
There's a widespread myth about the history of our city, and it persists even among those who are otherwise well educated about Tulsa's past.
It's a myth that stands in the way of learning some valuable lessons about urban development, urban renewal, and the essential elements of a thriving community.
Let's call this myth the Greenwood Gap Theory. That's not a reference to the GAP Band, although the R&B group did take its name from Greenwood Avenue, Archer Street, and Pine Street. Those three streets were the main artery and the north and south boundaries of what was once the commercial heart of Tulsa's African-American community, and Greenwood Avenue lent its name to the entire district.
The Greenwood Gap Theory resurfaces from time to time. It popped up again a few weeks ago, when ground was broken for a campus for Langston University-Tulsa.
Langston President Jo Ann Haysbert said, "Although the campus will not re-create the more than 600 businesses that once operated on Black Wall Street in Greenwood before the 1921 Tulsa Race Riot, it will produce graduates who will go out into the world with Greenwood's similar spirit of entrepreneurship and empowerment."
The assumption buried in Ms. Haysbert's statement, one shared by many Tulsans, is that in the 66 years from the Tulsa Race Riot until construction began on the University Center at Tulsa (now OSU-Tulsa) campus, nothing happened in Greenwood; the smoldering ruins were bulldozed, and the land lay fallow.
It's not hard to understand how the Greenwood Gap Theory gained currency. I first heard about the riot and the "Black Wall Street" of America in the '70s, and when I was old enough to drive I went to see what Greenwood Ave. looked like.
What I saw was a few churches, a few vacant commercial buildings, but mostly vacant lots. It was not hard to imagine that that had been the state of things since 1921.
Over time more of the commercial buildings went away and what was left was a vast undeveloped tract.
I learned I had been missing a big part of the story came on a 1997 walking tour led by Eddie Faye Gates, who had just published a book of reminiscences by Tulsa's African-American pioneers: They Came Searching: How Blacks Sought the Promised Land in Tulsa (Eakin Press, 1997).
As we walked south on Greenwood from the UCAT campus, a black woman who looked to be in her 40s pointed toward the pond and fountain near the Greenwood Cultural Center and said, "That's where my aunt's dress shop was!" and she reminisced about spending time in the store as a child. She wasn't old enough to have been around in 1921; she had to have been speaking about the late '50s or early '60s.
Thanks to aerial photos, street directories, and books like Gates's, we have facts to fill in the Greenwood Gap.
For the first roughly six decades of the 20th century, Tulsa's African-American community was segregated to a couple of square miles north-northeast of downtown - roughly east of Detroit Ave., west of the Santa Fe tracks, north of the Frisco tracks and south of Apache.
The prosperity Tulsa enjoyed as Oil Capitol of the World flowed into Greenwood as well. But on the night of May 31, 1921, a mob of whites descended on Greenwood and looted and then burned businesses, homes, and churches. Over a thousand homes were destroyed, at least 300 people were killed, and Greenwood lay in ruins.
The real history of the Greenwood District after 1921, set out by Hannibal Johnson in his book Black Wall Street (Eakin Press, 1998), is at once more inspiring and sadder than the myth. Where a hostile, racist mob failed to destroy the heart and break the spirit of the African-American community, fifty years later well-intentioned government officials succeeded.
After the riot, there was an attempt by the city's white leaders to keep Greenwood from being rebuilt. The City Commission passed an ordinance extending the fire limits to include Greenwood, prohibiting frame houses from being rebuilt. The idea was to designate the district for industrial use and resettle blacks to a new place further away from downtown, outside the city limits.
African-American attorneys won an injunction against the new fire ordinance; the court decreed that it constituted a violation of the Fourth Amendment, a taking of property without due process. The injunction opened the door for Greenwood residents to rebuild.
They did it themselves, without insurance funds (most policies had a riot exclusion) or any other significant outside aid. In They Came Searching, Eunice Jackson said, "They just were not going to be kept down. They were determined not to give up. So they rebuilt Greenwood and it was just wonderful. It became known as The Black Wall Street of America."
Juanita Alexander Lewis Hopkins said, "The North Tulsa after the riot was even more impressive than before the riot. That is when Greenwood became known as 'The Black Wall Street of America.'"
The Greenwood district flourished well into the 1950s. In 1938, businessmen formed the Greenwood Chamber of Commerce. A 1942 directory lists 242 businesses, including over 50 eateries, 38 grocers, a half dozen clothing stores, plus florists, physicians, attorneys, furriers, bakeries, theaters, and jewelers - more than before the riot 21 years earlier. The 1957 city directory reveals a similar level of commercial activity in Greenwood.
The district had three distinct commercial centers: Deep Greenwood, starting at Archer; a neighborhood commercial cluster running along Greenwood from King north to Oklahoma; and a shopping area along Lansing Ave. south of Pine Street. Maybe the best way for modern Tulsans to imagine these areas is to think of shopping streets like Cherry Street and Brookside, but with more two and three story buildings.
Deep Greenwood hosted a variety of businesses, but it was also home to nightclubs and pool halls, and it had a wild reputation. When he moved to Tulsa from Hugo, barber Hugh Hollins was advised by a friend to set up shop further north.
The reminiscences recorded in They Came Searching recall Greenwood as a kind of small town. If a young person got up to some mischief, his parents would know about it before he got home. Everyone knew everyone else, because people lived, shopped, went to church, and went to school all in a small self-contained area.
Of course they didn't have much choice. Official segregation and private discrimination limited where blacks could live, learn, worship, and spend money.
The lifting of those restrictions helped start the decline of Greenwood as a commercial center, as blacks exercised their wider options and began spending more money outside the community. At the same time, changing retail patterns and the rise of the chain store put all mom-and-pop stores at risk, no matter the ethnicity of the proprietors.
"Slum clearance" as a cure for Greenwood's ills had been discussed for years, but in 1967, Tulsa was accepted into the Federal Model Cities program.
Model Cities was not just an ordinary urban renewal program. It was intended to be an improvement over the old method of bulldozing depressed neighborhoods. The Federal government provided four dollars for every dollar of local funding, and the plan involved advisory councils of local residents and attempted to address education, economic development, and health care as well as dilapidated buildings.
For all the frills, Model Cities was still primarily an urban removal program: Save the neighborhood by destroying it. Homes and businesses were cleared for the construction of I-244 and US 75 and for assemblage into larger tracts that might attract developers. Displaced blacks moved north, into neighborhoods that had been built in the '50s for working class whites.
Only the determination of a few community leaders saved a cluster of buildings in Deep Greenwood - but these buildings are isolated from any residential area, cut off from community.
Jobie Holderness said, "Urban renewal not only took away our property, but something else more important - our black unity, our pride, our sense of achievement and history. We need to regain that. Our youth missed that and that is why they are lost today, that is why they are in 'limbo' now."
New Urbanists speak a lot about the importance of densely settled, walkable communities, with jobs in proximity to homes, with a mixture of uses - residential, retail, offices, schools, churches - within easy walking distance. By making it possible for residents to walk places, there are more chance encounters between neighbors. People keep an eye on the street, deterring crime. And each chance encounter on the street builds valuable social capital - neighbors know each other well enough to be able to help when there's a crisis.
Greenwood was a neighborhood like that, but the urban diagnosticians of the 1960s mistook the symptoms for the disease and killed the patient. The notion was that the insalubrious environment created social dysfunction - remove the environment, and you fix the problem.
In place of a dense, walkable, urban community, the planners created a slice of suburbia. The OSU-Tulsa campus is surrounded by an ocean of parking, completely cutoff from old Deep Greenwood and from nearby neighborhoods. The retail buildings at the north end of Greenwood have been replaced by modern (vintage 1980s) homes which turn their backs to the street. The Lansing commercial district and its surrounding neighborhood have been converted to a suburban-style light industrial park. What was once a cohesive neighborhood is now an assortment of isolated uses.
How might things have worked out differently?
Given time, the commercial buildings along Greenwood would have been rediscovered by entrepreneurs with an idea and a need for a cheap place to get started. The greatest thing government did for Cherry Street and Brookside was to leave them alone. Greenwood might have become gentrified, or it, instead of 21st and Garnett, might have become the home base for the Hispanic or Asian communities. Dallas's Deep Ellum was once like Greenwood and has become an entertainment district.
Instead of the shopping-mall-style campus that was actually built for OSU-Tulsa, Greenwood's old commercial buildings might have even become home for the new university, following the example of Savannah College of Art and Design, which restored buildings all over the city's historic district for its campus, mixed in with retail and office and residential uses.
The next time you drive to OSU-Tulsa or drive past on I-244, remember the bustling district that was once there. Remember those entrepreneurs who rebuilt it after its 1921 destruction. And remember that it was well-intentioned government action that destroyed it again.