Gorilla campaigning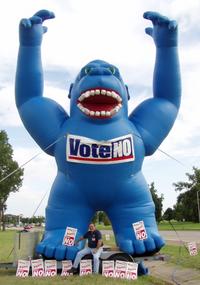 Tom Quinn owns a large (25-foot) inflatable gorilla. Tom is a man unafraid to take aim at the powerful if he thinks a wrong is being committed. In 1986, as a political unknown he beat incumbent Mayor Terry Young in the Democratic primary. He's targeted ONG with billboards and a website. And this week he lent his gorilla to the vote no cause. A bit of fun, a chance to gain some attention, and to let the silent majority out there know that they aren't alone in thinking this tax plan is a bad idea.
The gorilla was up at 68th & Riverside Wednesday, and at 71st and Memorial on Thursday. The campaign had permission from the property owner to set up the gorilla, but there was still a bit of trouble. Here's an eyewitness account:
This morning's two-man rally at 71st and Memorial turned tense when Vision 2025 Supporters called out Tulsa's Men-in-Blue to intimidate Vote No Supporter Tom Quinn, his loyal sidekick Georgy Porgy, and even the 25 Foot Blue Gorilla looked a bit deflated after the police presence.

Tom Quinn got his Blue Simian friend inflated about 6:00 a.m. this morning, hoping to catch the attention of morning rush hour commuters at the 10th Most Dangerous Intersection in America. Dan Hicks showed up shortly thereafter to coordinate with the news media. Channel 6 showed up around 7'ish to shoot a few shots after Dan had headed to work. Georgy Porgy handed out signs (about 20 I think), and walk the sidewalks waving Vote No signs at traffic.

Unfortunately, 2 & 8 didn't show up until after the plug had been pulled on the blue gorilla around 8:45 a.m. Likely Story-Lie for 5:00 P.M. broadcast: Vote NO Rally Deflates!

Around 8:15 a.m. or so, an SUV showed up with two ladies. When they got out of the car wearing Vision 2025 T-Shirts, I deduced they weren't there to make a Vote NO campaign contribution!

They said they worked for the leasing agent (Leinbach and Associates). They said we didn't have permission to be on their property and had to leave. They also said it was "Just a Coincidence" that they were wearing VISION 2025 T-Shirts to work this morning. Right. I took some photos of the event.

I kept walking the sidewalk waving a Vote NO sign in each hand while Tom engaged them in conversation.

I was pretty much out of earshot, but I did eventually hear Tom on the cell phone talking with the new property owner about our presence.

At about 8:40a, two Tulsa Police Dept. cruisers showed up; they didn't get out of their cars except to double up in one car and shoot the breeze.... Other than a show of force, they had no interaction with me, and I presume none with Tom. I was mostly walking around picking up our signs and helping shut down the site by that point. Got some neat photos of Tulsa's finest.

As we were deflating the Gorilla, the two remaining TV stations showed up and shot some footage as described above.

Interesting that the vote yes campaign seems to have enforcement squads ready to shut down any show of support for the opposition. Today I noticed a white car pulled over onto the grass (well onto the grass) left of the westbound Broken Arrow Expressway on-ramp at Sheridan. The car had a "Vision 2025" sticker on the back window, and a blonde woman was standing next to the driver's side door with a 35mm camera, taking a photo of the new message on the billboard:
GET THE CHAMBER OUT OF GOV
OUT OF OUR WALLETS
VOTE NO SEPT 9

What a strange thing for a yea-sayer to take a picture of, I thought.
Plenty of people have complained to me of their VOTE NO signs disappearing from their own yards. I have heard reliable eyewitness reports of organized teams scouring neighborhoods and removing VOTE NO signs, sometimes within hours of their placement.
On the Channel 47 debate the other night, we were asked about negativity in the campaign. From what I can see, most of the negativity seems to be coming from "vote yes" minions who can't stand the idea of dissent and feel the need to eradicate it. At least, I hope it's the minions and not their bosses that are behind sign disappearances and other forms of harassment and pressure. The so-called naysayers seem to be keeping cool and having fun while trying to communicate a serious message.