District 3 Democrat Primary: For Roscoe Turner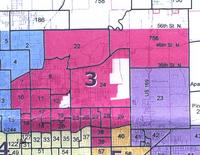 This is one of three primary races, which will decide the winner of a City Council seat.
Roscoe Turner is the clear choice in this race.
During his time as a Councilor and as Council Chairman, Roscoe Turner built a bipartisan consensus to increase Council oversight of the executive branch (the Mayor's Office and the departments) and to give due attention to the concerns of homeowners about urban development. Although he is a Democrat, that did not stop him from asking tough questions about fellow Democrat Mayor Susan Savage's administration and opposing her on a number of key issues. In exchange for his devoted service to taxpayers and homeowners, Turner was savaged by the Tulsa Whirled, which expended a great deal of ink denouncing him before the 2002 primary. You might get the idea that the Whirled just doesn't appreciate someone asking tough questions.
This is the fifth matchup between incumbent Councilor David Patrick and former Councilor Roscoe Turner; sixth if you count Turner's victory in the 1998 special election over Synna Patrick, David's sister. Patrick won the 1996 primary over Turner and then-incumbent Darrell Gilbert, and won again in 1998. He resigned in the summer of 1998 to run against State Representative Mark Liotta; Roscoe Turner won the special Council election that November as Patrick went down to defeat. Patrick lost a rematch in the 2000 primary, but won in 2002, with a great deal of support from the Tulsa Whirled.
In addition to his experience as a Councilor, Roscoe Turner brings a couple of other valuable perspectives to the table. He was a City boiler inspector before his retirement and so had a glimpse of City government from the perspective of the rank-and-file employee. He was also the leader of the Sequoyah Area Neighborhood Association, and it was this involvement in dealing with neighborhood problems that led to his seeking a seat on the City Council.
As for David Patrick, neighborhood leaders know that he will not give them a fair hearing on zoning issues. Patrick voted to endorse the unfair treatment of the homeowners' protest in the 71st & Harvard case. Patrick even voted to cut off debate, so as to keep the neighborhood from presenting to the Council how they were treated. Even when his eight colleagues rejected a major commerical development at 41st and Harvard as too intense for the neighborhood, Patrick voted for the development.
I am concerned that race may be a factor in this election, particularly that some white voters will look at skin color instead of issues in making their choice. Roscoe Turner is black, David Patrick is white, and the district is majority white, although there is a significant black minority population. Roscoe Turner has devoted himself to the service of all the people of District 3, without regard to color or party. He has built strong working relationships with neighborhood leaders in all sections of Tulsa. If you are a fiscal conservative, if you believe citizens deserve fair treatment when they petition city government, Roscoe Turner is your candidate.
If you're a District 3 Democrat, turn out next Tuesday to vote for Roscoe Turner. Whatever your party or location, contact Roscoe through his website and offer your help. We need him back on the City Council.