District 8 Republican Primary: For Todd Huston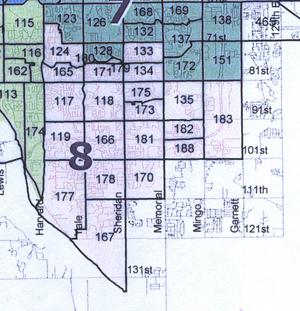 This is another rematch race, and another race that will be decided in the February 3 primary. Todd Huston is the better choice in this election.
Todd Huston served on the City Council from 2000 to 2002. He was one of several councilors targeted for defeat by the Tulsa Whirled and Mayor Susan Savage for asking tough questions of city officials. He was also a consistent supporter of homeowners' concerns.
Todd is a lightning rod, and in his determination to get something done has been known to rub people the wrong way. Sometimes he shoots from the hip. But on balance, I believe his willingness to ask tough questions, dig for answers and be an advocate for ordinary citizens makes him the better choice. His opponent, Bill Christiansen, has some positive accomplishments, but he has blocked some important initiatives, joined Democrats in a resolution designed to embarass President Bush and Congressman Sullivan on the President's Head Start initiative, and there are questions about whether he has used his position on the Council to gain an unfair competitive advantage for his business, which is based at City-owned Jones Riverside Airport.
Bill Christiansen has been involved in several positive initiatives aimed at cutting City Hall expenses and improving the performance of city departments. He believes the Council should exercise oversight over the executive branch, unlike Vickie Cleveland, one of his predecessors in the seat. He also voted and spoke against the 71st & Harvard rezoning. On the Vision 2025 ballot, he supported making the arena a separate ballot item, but in the end, he voted to make the logrolled ballot a unanimous recommendation to the County Commission, although he was involved in a last-minute effort to persuade the County Commission to change the ballot.
But Bill Christiansen has blocked other initiatives important to taxpayers and homeowners. Two weeks after the Vision 2025 election, Councilor Chris Medlock raised questions about how City of Tulsa projects were going to be managed. Medlock had deferred these questions until after the vote, but two weeks after was still too early for Christiansen, Randy Sullivan, and Art Justis, who tried to shut off Medlock's questions.
Christiansen also blocked a bipartisan initiative (jump page here) to form a Council task force on zoning and growth. Six councilors supported the initiative, but Christiansen, Sullivan, and Justis opposed it, and the Mayor refused to give his blessing without the support of at least one of those three.
As chairman of the Council in 2002, and as one of four co-chairmen of the Urban and Economic Development committee, Christiansen bears responsibility for the Council's failure to pursue the TMAPC's recommendation to toughen zoning restrictions on strip clubs.
In May 2003, Christiansen was the lone Republican, voting with the four Democrats for a resolution attacking President Bush's proposed reforms of the Head Start program. You may recall that the vote in Congress on this issue was so close that Congressman John Sullivan had to be brought to the floor in a wheelchair to cast the deciding vote. (John Sullivan had recently suffered injuries from an auto accident.)
Christiansen has also been accused of using his position as a City Councilor to stifle competition for his business. Christiansen is a fixed-base operator at Jones Riverside Airport, which is owned by the City of Tulsa and run by the Tulsa Airport Authority. Christiansen, the Airport Authority, and the City have been sued by Kent Faith, owner of Roadhouse Aviation, a competitor of Christiansen's, for engaging in practices to protect Christiansen against competition. A Tulsa Whirled story from October 19, 2002 (page A19), lists complaints from other airport tenants.
City Councilor Bill Christiansen is using his political clout to quell competition at Riverside Airport, critics say.

Some tenants of the Riverside Airport claim that City Councilor Bill Christiansen is unfairly using his political clout to squeeze out a competitor and create a monopoly at the south Tulsa airfield.

"It looks like Bill Christiansen is using his power to do things that are only good for Bill," said Cliff Magee, an attorney and president of the airport's tenants association.

Christiansen, however, said his aggressive pressure on airport officials is no different from how it was before he took office.

"Everything I've done as a councilor is for the best interest of the flying public at the airport," he said. "In all honesty, I do have a stronger voice as councilor."

Christiansen has "encouraged" implementation of new minimal commercial standards, which, others contend, only he could meet.

Christiansen also has made the statement several times that he would "do what it takes" to run a significant airport competitor out of business and has appeared to escape enforcement of airport sign rules....

Faith, however, contends that Christiansen's "actions and political influence" go beyond aggressive competition.

"Christiansen is impeding me doing business," he said. "Christiansen has a lot of influence and is using it to needle us to death. It's like we're bleeding from a thousand cuts, instead of one big cut."

A battle heated up after Faith in March opened Roadhouse Aviation, a fixed-based operation that directly competes with Christiansen's business....

Deanna Robertson, who has owned Robertson Aviation since 1979, said there's plenty of business for everyone, "but some people want it all, and that's Bill."

Faith and Christiansen have businesses that buy and sell aircraft supplies, rent airplanes and sell fuel....

"People think I'm trying to gain a monopoly. But you know what, if they were in my position and they had the investment on this airport that I have and the years I put in to this airport, wouldn't they try to do the same thing I've been doing?" Christiansen asked.

The perception problem for Christiansen began when he told several people that he would drive Faith out of business.

"The meaning behind that statement was that I'm a competitive businessman and would do everything I can to protect my business. Is that wrong?" Christiansen asked. "I should never have made that comment. I have regretted it ever since."....

Faith also blames Christiansen's political influence for his failure to get a lease to build a small office next to his ramp.

The site on which Faith wants to erect the office is one of three potential sites the FAA has designated for a future tower. Faith says there are economic reasons that make the site an unlikely choice and has offered to raze his office if it is chosen for the tower.

But the Airport Improvement Trust has delayed a decision on the lease, a move led by trust member Ronald Turner, a brigadier general with the Oklahoma Air National Guard and a business tenant of Christiansen's.

Turner was one of two people whom Christiansen recommended in July for appointment to the airport trust.

"I had no ulterior motives by recommending Turner to the authority or any influence on his decisions," he said.
I am told that once Roadhouse began selling fuel, the Airport Authority banned signs that advertise prices. Roadhouse was using fuel price to compete aggressively with Christiansen for business.
In September of this year, Faith filed a lawsuit against Christiansen, the City, and the Airport Authority. If the City loses, it could also mean the loss of millions in Federal matching funds, if the FAA finds that the Airport Authority has been engaging in economic discrimination.
Todd Huston has no such conflicts of interest, whether perceived or actual, and however direct his manner, however controversial his opinions, the City's best interest is his prime concern. He is the better choice for the District 8 seat.