Get your kicks on US 62?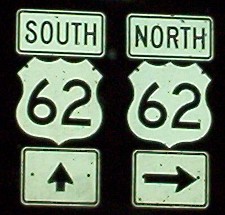 Charles of Dustbury lists some of his life's ambitions (them that are printable, or nearly so). One of them is to drive a couple of the diagonal U.S. highways that are still official: US 62 from El Paso, Texas, to Niagara Falls, New York, and US 52 from the Canadian border in North Dakota to Charleston, South Carolina.
Never thought about 52, but US 62 has fascinated me for a long time. It is the only even-numbered U.S highway that stretches from border to border. It isn't coast to coast, but it does begin and end at a water boundary -- the Rio Grande and the Niagara River.
It passes Carlsbad Caverns and near Mammoth Cave. It covers the flat arid lands of the Texas panhandle, the Ozark mountains, and the hills of Ohio. It passes through ten states -- the shortest segment is in Illinois, through the town of Cairo, at the confluence of the Mississippi and Ohio Rivers.
In Oklahoma alone, it passes through diverse terrain -- cotton fields and the Quartz and Wichita Mountains in western Oklahoma, Green Country and the Cookson Hills in eastern Oklahoma. Two state capitals are on 62 -- Oklahoma City and Columbus, Ohio, as are at least two tribal capitals (Tahlequah and Okmulgee). (Anadarko is home to Indian City USA, but is it a tribal capital?)
US 62 was not one of the original highways designated on November 11, 1926 -- Route 66's birthday. It doesn't show up until 1930, and didn't reach it's current extent until 1934. It doesn't correspond for any significant length to one of the named highways that predated the national numbering system. It doesn't seem to take the direct route anywhere. It almost seems that the folks at AASHTO picked the end points, then drew the route through all the towns that didn't yet have a US highway.
During my sojourns in western New York earlier this year, I drove the final 80 miles or so, not all at once, but in several segments. Up there the highway is labeled north and south, despite the even number. I joined the road near Waterboro, taking the long way back after my day of skiing in Ellicottville. I stopped at the intersection and looked at the signs. It was funny to think that if I turned left and kept driving, I'd wind up in Mountain Home, Arkansas, where my grandparents lived, or Rogers, where my wife grew up. Or I could go on to Muskogee, hang a right on US 64 and head home.
South of Buffalo the road jogs back and forth through little farm hamlets. It skirts the eastern edge of Buffalo on South Park and Bailey Avenues (it doesn't ever appear to have passed through central Buffalo), then heads out of town on Niagara Falls Boulevard. The little motels start as soon as you pass I-290, then become more frequent as you come into Niagara Falls.
In years gone by I made frequent work-related trips to Altus, Oklahoma, and that 60 mile straight stretch between Altus and Lawton got old in a hurry. To liven things up, I'd drive some of the old road, still paved, which passes through Cache, Indianola, Snyder, and Headrick. The most picturesque section is just east of Headrick, as the road curves around, passes between a couple of hills strewn with Mars-red boulders, then crosses the North Fork of the Red River on an old trestle bridge. For a minute, it's as if it's 50 years ago, in the heart of the Great American Desert.
I hope Charles makes that trip. It's one I'd like to make, too.
And to top it, how about old US 6? Some of it has been decommissioned, but at one time it connected Provincetown, Massachusetts, at the Pilgrims' first landing on the tip of Cape Cod, to Long Beach, California, passing through 14 states along the way. Nowadays it stops at Bishop, California. That would be a heck of a trip, too.