Randy Sullivan: "You're toast"
At about 9:30 Sunday evening, Tulsa City Councilor Chris Medlock was relaxing, watching a movie and eating ice cream with his family when he got a call from Council Chairman Randy Sullivan.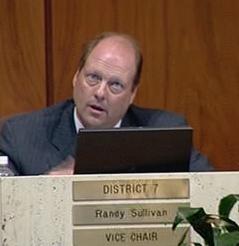 We've written about Randy Sullivan before. He is not related at all to Congressman John Sullivan or to Dan Sullivan, who is running for election in State House District 71. Randy Sullivan is serving his second term as City Councilor for District 7. He was elected chairman this year over significant objections, and despite the fact that his side, the Cockroach Caucus, was defeated in the city elections. He made threats that ended a private school's efforts to buy the old Children's Medical Center for their new campus. He was F&M Bank's point man on the 71st & Harvard rezoning and tried to prevent homeowners from getting a fair hearing in that case.
So in his phone call to Chris Medlock Sunday night, Randy Sullivan had a simple message for Medlock, which managed to be understood, despite his slurred speech: "You're toast." The recall effort is going forward and Medlock and Mautino are the targets. Randy Sullivan said he had been asked by the Tulsa County Republican Party chairman to join other Republican city officials in signing a statement pledging cooperation and renouncing all efforts to recall city officials. He refused. He would only sign such a statement if Medlock would agree to four concessions. Medlock stopped him at that point. (Through another source, Medlock learned of the concessions -- approval of the Owasso and Sperry water lines and approval of the reappointment of Jim Cameron and Lou Reynolds to the TMUA.)
Randy Sullivan had already publicly expressed his contempt for the Reform Alliance majority on the Council, in response to a question at last Thursday's Tulsa Press Club luncheon, at which Tulsa Metro Chamber Chairman Bob Poe spoke. Sullivan expressed his agreement with Poe's attacks on the reformers.
Back in May, Randy Sullivan incorporated Lake Sunset LLC, which is a real estate development company. You don't suppose he stands to benefit financially from new water lines into north Tulsa County?
Wouldn't it be nice if someone else were head of the legislative branch of our city government?