Falls Creek a "detainment camp"?
I was cheered to learn a few days agothat Oklahoma's Southern Baptists would be hosting Hurricane Katrina refugees at Falls Creek Baptist Conference Center, southwest of Davis, Oklahoma. (Here's a Google satellite photo centered on the church camp.) This was the plan, according to a September 5 press release from the Baptist General Convention of Oklahoma, which quotes Anthony L. Jordan, executive director-treasurer for the Baptist General Convention of Oklahoma (BGCO), and Roy Sanders, Ray E. Sanders, spokesman for the BGCO:
"Oklahoma Southern Baptist churches are sending volunteers to welcome survivors to Falls Creek," Jordan explained. "Once our guests from the Gulf Coast walk off the bus they will be welcomed with a warm Oklahoma smile and a Bucket of Blessing, a care-package type bucket full of essential items, snacks, books and toys, all prepared by our church members. Our members will also prepare linens on over 3,000 beds and escort our new friends to their dormitory style cabin upon arrival."

"We have a variety of activities planned for children and adults, including movies, crafts, recreation and relaxation," said Sanders. "Within the coming days we fully expect school-age children to be back in an educational setting with a variety of learning experiences available for adults as well. Medical facilities will be available on the grounds for those who need medical attention and the state mental health department will make counseling available for those needing assistance."

In short, the BGCO was planning to welcome the refugees to their place and care for them. According to a first-hand (but pseudonymous) report by "Valhall", FEMA is running the show at Falls Creek, and refugees certainly won't be pampered, and they won't be able to come and go as they please. Valhall, her parents, and kids packed up a couple of cars full of clothes, toiletries, and food to take to the cabin owned by her church.
I'm extremely depressed to report that things seem to only be getting sadder concerning the people so devastatingly affected by Katrina last week. Two car loads of us headed over to Falls Creek, a youth camp for Southern Baptist churches in Oklahoma that agreed to have its facilities used to house Louisiana refugees. I'm afraid the camp is not going to be used as the kind people of the churches who own the cabins believe it was going to be used. ...
At their church's cabin, they talk with the cabin's FEMA host about what can and can't be left. (She says that FEMA has assigned local civilians to reside in each cabin.)
We then started lugging in our food products. The foods I had purchased were mainly snacks, but my mother - God bless her soul - had gone all out with fresh vegetables, fruits, canned goods, breakfast cereals, rice, and pancake fixings. That's when we got the next message: They will not be able to use the kitchen.

Excuse me? I asked incredulously.

FEMA will not allow any of the kitchen facilities in any of the cabins to be used by the occupants due to fire hazards. FEMA will deliver meals to the cabins. The refugees will be given two meals per day by FEMA. They will not be able to cook. In fact, the "host" goes on to explain, some churches had already enquired about whether they could come in on weekends and fix meals for the people staying in their cabin. FEMA won't allow it because there could be a situation where one cabin gets steaks and another gets hot dogs - and...

it could cause a riot.

It gets worse.

He then precedes to tell us that some churches had already enquired into whether they could send a van or bus on Sundays to pick up any occupants of their cabins who might be interested in attending church. FEMA will not allow this. The occupants of the camp cannot leave the camp for any reason. If they leave the camp they may never return. They will be issued FEMA identification cards and "a sum of money" and they will remain within the camp for the next 5 months.

My son looks at me and mumbles "Welcome to Krakow."

My mother then asked if the churches would be allowed to come to their cabin and conduct services if the occupants wanted to attend. The response was "No ma'am. You don't understand. Your church no longer owns this building. This building is now owned by FEMA and the Oklahoma Highway Patrol. They have it for the next 5 months." This scares my mother who asks "Do you mean they have leased it?" The man replies, "Yes, ma'am...lock, stock and barrel. They have taken over everything that pertains to this facility for the next 5 months."

The report has a lot of photos -- I can testify that they really are photos of Falls Creek. There are over 150 replies that have been posted.
That report was posted on September 6. This news story from late that evening says that Falls Creek was put on standby:
Major Mike Grimes, Oklahoma Highway Patrol, announced to nearly 400 volunteers and state personnel that the decision had been made by the Governor and other state officials to scale back operations at Falls Creek.

"The good news is that it appears those who needed our help have been taken care of for now," Grimes explained. "We will scale back to a skeleton crew for now, but none of our facilities will be compromised. There will be troopers present 24 hours a day at Falls Creek as we evaluate the need on a 12, 24, 36 and 48 hour basis. Falls Creek has been and will continue to be ready within a 10 to 12 hour window in the event that the conference facility is still needed." While disappointment was evident on the faces of many, appreciation for the Falls Creek operation was recognized with a round of applause.

A September 8 news release from the BGCO says that Falls Creek will remain on standby through Tuesday, September 13, with 1,200 volunteers around Oklahoma ready to return on 12 hours notice.
Part of the reason I'm posting all this is because I see a lot of blog entries linking to Valhall's report, but not to any follow-up information.
It could just be that FEMA and the Oklahoma Highway Patrol think it's best to start out strict. Once the refugees have arrived, and they see how things go, they can loosen things up.
It could also be that we're seeing a heavy-handed FEMA takeover aimed at turning Falls Creek into some sort of black-helicopter-infested New World Order detention camp. This actual retouched photo of the new amphitheater at the camp would seem to support that theory: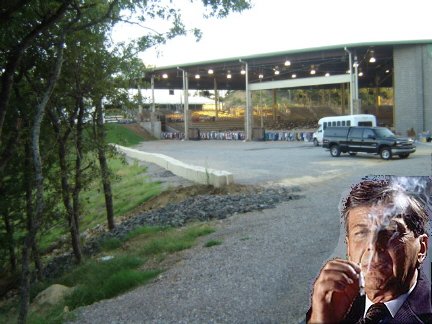 The Truth Is Out There.