The lady vanishes
It appears that someone is trying to rewrite history in a hurry.
Kathy Taylor, Democrat, Oklahoma Secretary of Commerce, and late entrant into the mayoral race, has had her name removed from the advisory board of Tulsans for Better Government, the group pushing to dismember three City Council districts and add three supercouncilors who would be elected citywide for four-year terms.
Grass-roots Democrats and Republicans alike decried this obvious power grab by the old city elite, and the petition drive to get the amendment on the ballot was failing for lack of popular support when the plug was pulled.
Here is the Tulsans for Better Government roster as last captured by Google on Jan 7, 2006 20:09:35 GMT. (Note: This will change as soon as Google rescans the website.)
Here is the roster as it currently appears on the site.
Click the image to see a side-by-side comparison: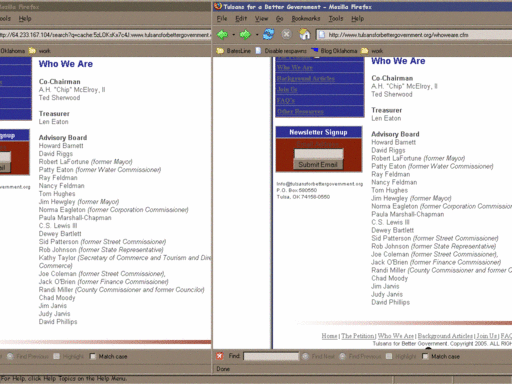 It's the same list except one name has been removed -- Kathy Taylor. Very interesting.
Note, by the way, that County Commissioner and recently announced mayoral candidate Randi Miller is still on the list.
There's spin out there that Tulsans for Better Government was just a group interested generally in reform, and that's all that membership of the advisory board means; that we shouldn't conclude that Taylor and Miller approved of the petition just because they were on the advisory board. In fact, this group didn't have a public existence until they filed a petition with the City Clerk's office seeking very specific amendments to the City Charter. This proposal is the sole reason for the group's existence.
Taylor and Miller have had since the group's launch in October to publicly announce their opposition to the proposal, if indeed they were opposed, but they haven't done so.