Inauguration day photos
Monday afternoon, I pulled my nine-year-old out of school early and we met my wife and the other two kids at Gilcrease Museum for the inauguration of the Mayor, City Auditor, and City Council of Tulsa. We were happy to be there to honor our friends on the Council who were newly elected and newly re-elected.
Everyone was running a little late. Parking was a complete mess. I saw Alison Eagleton, the wife of one of the new councilors, and Councilor-elect Cason Carter pulling their cars out of a full parking lot and into an overflow lot just as the festivities were set to begin. Gilcrease hosted the event two years ago, but that wasn't a mayoral inauguration, so the crowd was a good deal smaller then. The last mayoral inauguration was held outdoors on the Williams Center Green.
The room was packed to capacity. We said hello to Councilors Roscoe Turner and Jack Henderson and their wives as we walked past the VIP section. Jim East offered my wife his seat and my daughter took the empty seat next to it, while I took the baby and his big brother and found a place to stand near the back of the room. My holding a very cute baby meant that there were some smiles in my direction from people who normally wouldn't smile at me.
We wound up standing just behind Ginger Shepherd, UTW's new city reporter, and just in front of Becky Darrow, from South Tulsa Citizens Coalition and Tulsans Defending Democracy. I noticed that the baby was much happier if I held him on my left shoulder where he could flirt with Becky.
Since no one (maybe not even Kathy Taylor) really knows what a Kathy Taylor administration is going to look like, we are all like a bunch of Sovietologists trying to discern the inner workings of the Kremlin based on who is standing next to whom atop Lenin's Tomb during the May Day parade.
The first clue of the day wasn't an encouraging one: Former KRMG morning host John Erling was the Master of Ceremonies. Erling was the radio mouthpiece of the Good Ol' Boy network, finally driven from his microphone last year by declining ratings.
Taylor's speech? Nothing much specific. She talked about her administration representing the diversity of Tulsa. If she really means geographical and ideological diversity, that's great. If she means there's a place at the table for supporters of Chris Medlock and Don McCorkell and Bill LaFortune and even Ben Faulk, that's wonderful. If she plans to look beyond the Midtown Money Belt for appointments to authorities, boards, and commissions, I applaud her. I hope she didn't mean that she'll surround herself with people who think just like she does and justify it because they have a diversity of ethnic backgrounds or political party affiliations.
My five-year-old daughter, who is on the petite side herself, complained after the ceremony that she still hadn't seen the new Mayor's face in person; she could only see the top of Taylor's head over the heads of the people in front of her.
We stayed around for a long time after the ceremony, shaking hands and chatting. I took a few pictures of dignitaries, and I had my son take a few of me with some of the councilors, but I missed a few shots I wanted because my son was busy taking pictures out the Vista Room window of the Osage Hills in bloom. (If you're on the home page, click the "Continue reading" link to see the photos.)
Councilor John Eagleton and his wife Alison: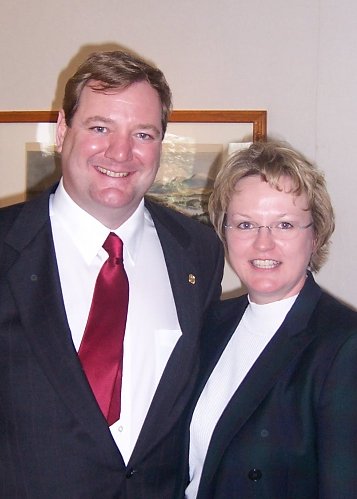 Me and Councilor Eagleton: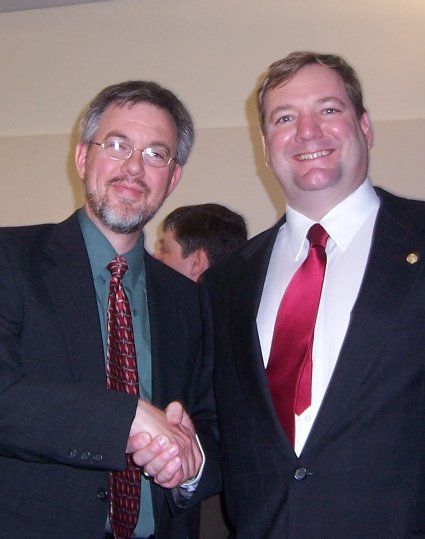 Councilor Maria Barnes with me and my youngest son: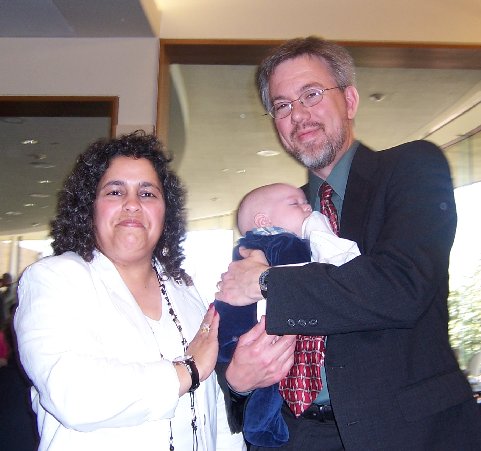 Me, my youngest son, and Councilor Rick Westcott: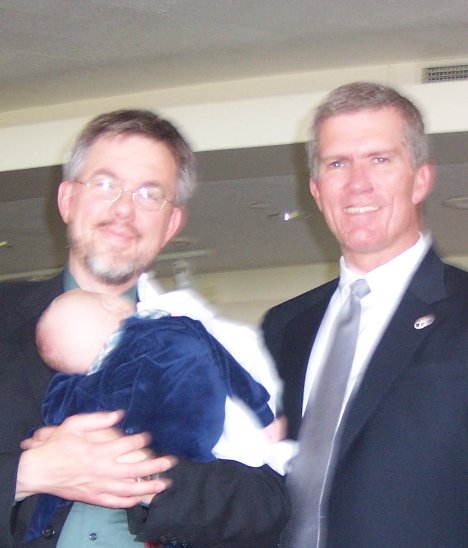 Former Mayor Bill LaFortune, Councilor John Eagleton, and District Attorney Tim Harris: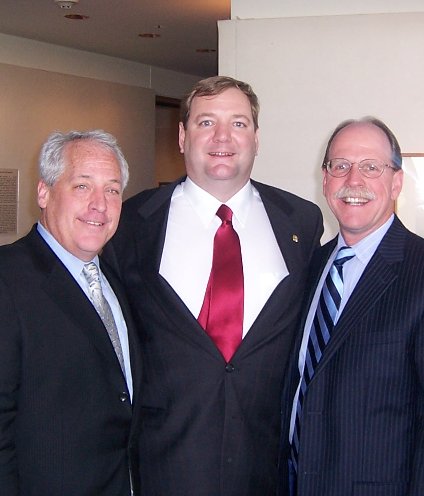 Councilors Barnes and Eagleton, probably the extremes of height on the new Council: