A riverwalk promenade proposal: lower Elm Creek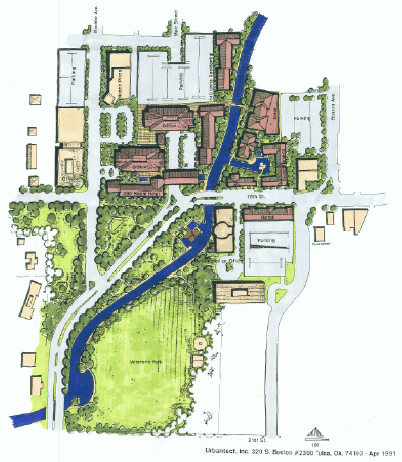 So we've been told that the Arkansas River is far too wide to make for an intimate river walk setting. Anyone who has been to the San Antonio River Walk knows there's something to this. (On the other hand, Riverwalk Crossing in Jenks seems to be doing fine with development on one side of the river only. Ditto for your typical seaside boardwalk.) Bing Thom says you need to build the $600 million islands in the river so it'll be close enough to wave at someone on the opposite shore.
Is there another way to create a narrower water feature? Perhaps using tributaries of the Arkansas?
About a month ago (I've been meaning to get this posted), John Neas was kind enough to send me a concept drawing from 1991. I had heard about this, but had never seen it. There's a creek that was long ago buried and routed through storm sewers. It's called Elm Creek, and it flows, mostly underground, from Kendall-Whittier, through Central Park (6th & Peoria), south through Gunboat Park (11th to 13th, Elgin to Frankfort), to 15th & Boston, along Baltimore Ave, along the western edge of Veterans' Park, emptying into the river under the 21st Street bridge. The stretch from Central Park to Veterans' Park consists of an 84" arch tunnel.
This plan, shown in the picture above (click on it to download a higher res version in PDF format), would have brought the creek back to the surface from about 16th & Baltimore to Riverside Drive. Disregard the buildings and the street closings, and just focus on where the creek is relative to the park, the 18th & Boston district (considerably more active now than it was in 1991), and the river. It would make for an interesting connection between 18th & Boston and River Parks, providing a back door to businesses along Boston and opening the possibility for new businesses in place of the parking lot on the west side of Baltimore. Obviously the idea can be tweaked to fit the positive things that are already happening in the neighborhood.
The idea of bringing a creek to the surface as a promenade and neighborhood focal point is an important part of the Pearl District plan, which would open Elm Creek up as a canal along 7th Street to connect the new lake at Central Park with a proposed stormwater detention facility further east.
1 TrackBacks
Over the last 13 years, I've written quite a bit about the Arkansas River and proposals for damming and remodeling it, and about what Tulsans really are seeking when they ask for water in the river. Recently I resurrected several of my Urban Tulsa Wee... Read More