Mary Easley, reverse carpetbagger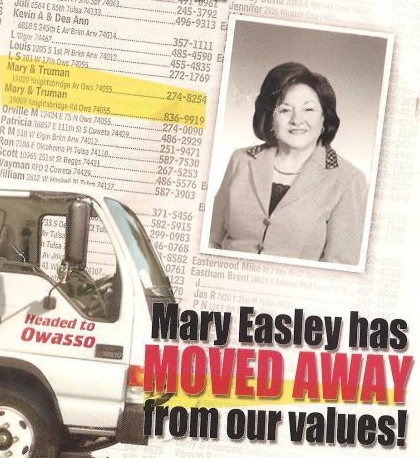 Following in former City Councilor Randy Sullivan's footsteps, Oklahoma State Sen. Mary Easley, a Democrat representing District 18 , which stretches from east Tulsa to the western shores of Grand Lake (PDF map), no longer lives in her district. She lives in District 34, represented in the State Senate by Randy Brogdon. Senate Republican leader Glenn Coffee issued the following press release today:
MARY EASLEY NOW LIVES IN SENATOR RANDY BROGDON'S DISTRICT

OWASSO - State Senator Mary Easley no longer lives in her Senate District and now resides at 19009 Knightsbridge in Owasso, which is located in Senate District 34.

Senate Republican Leader Glenn Coffee said Easley is skirting state election laws by living in another Senate district while running for reelection in District 18.

"Mary Easley now resides at an Owasso address in Senate District 34. She is clearly skirting state election laws by living at her new address while running for office and voting using an old address," Coffee said.

Coffee said State Senator Randy Brogdon, who represents Owasso in the Oklahoma Senate, has sighted Easley on numerous occasions while he has campaigned in Owasso this year.

"Senator Brogdon was understandably surprised to learn that Mary Easley is now one of his constiuents," said Coffee.

State law requires legislative candidates to reside in the districts in which they run for office. But Easley and her husband now live at their Owasso home, even though Easley is running for reelection using an old address in east Tulsa.

"Mary Easley has left her district behind. How can she represent the people of District 18 when she doesn't even want to live there?" Coffee stated.

BACKGROUND:

Sources:

Southwestern Bell Yellow-Pages
Rogers County Property Taxes

The funny thing about this is that the existing district lines were drawn in 2001 to the specifications of Mary Easley and her son Kevin Easley, whom she succeeded as State Senator. Mary had represented House District 78 since 1996, and with Kevin approaching term limits, Mary had the HD 78 lines redrawn to overlap SD 18, to allow her to replace him. Surely she could have had the lines for SD 18 drawn to include the location of her dream home in Owasso, too.
There is a state law (51 O. S. 8) that causes a seat to become vacant if an elected official moves out of the district that elected her. It isn't clear who has the power to make that determination.
But the voters of SD 18 could make that determination themselves, and deny Mary Easley another term in office.
(The campaign flyer scan you see above was found at oksenatedemocrats.com, which has scans of all the mail pieces that both campaigns have sent out, flavored with Democratic spin, of course. Very interesting if you like the nuts and bolts of campaigns.)
1 TrackBacks
Listed below are links to blogs that reference this entry: Mary Easley, reverse carpetbagger.
TrackBack URL for this entry: http://www.batesline.com/cgi-bin/mt/mt-tb.cgi/2536
For my own reference (and yours as well, if you like), a little cheat sheet to help me keep all the races straight. The front side of the ballot varies from precinct to precinct. If you live in Tulsa County, this page has links to an image of each prec... Read More