Sizing things up
A couple of facts for everyone afeared that Expo Square will lose its competitive advantage if the City annexes the Fairgrounds, subjecting it to city sales tax, and all the boat shows, car shows, RV shows, etc., will relocate to the new downtown arena.
From the Expo Square website:
The Expo Center provides 354,000 square feet of column-free space under a cable-suspended roof. The building spans 448,400 total square feet on two levels, connected by side ramps and stairs. This design allows for a unique variety of show floorplans and designs.
(For the benefit of old-timers like me, the Expo Center is the IPE Building.)
From the Oklahoma Ford Center website:
Arena Floor: 34,074 square feet (144'x 260')
(I can't find planned dimensions for the BOk Center floor, but I assume they'd be comparable.)
So you could fit 10 BOk Center floors inside the Expo Center. There is no other space in the Tulsa area that can accommodate the kinds of events that are held at the Expo Center. The closest in size is the Tulsa Convention Center exhibit hall, which is 102,600 sq. ft., but I suspect it has floor loading limits that don't apply at the Expo Center, which was built to exhibit enormous pieces of oilfield equipment.
Likewise Expo Square has a beautifully restored art deco Pavilion, which is the right size for minor-league sports events and smaller concerts, and state-of-the-art horse and livestock barns and show arenas, all surrounded by plenty of free parking.
A lower sales tax rate is not Expo Square's competitive advantage over facilities in other cities or in our own metro area. The facilities are Expo Square's advantage, and annexation doesn't change that.
I got a description of the annexation discussion at last night's City Council meeting from someone who watched it. A bunch of county and Expo Square officials lined up to say, "This is bad for both of us! You better think about this before you do it!" But the county officials didn't offer anything substantive to think about. They didn't provide any data to analyze -- just a heapin' helpin' of FUD.
(Wouldn't it have been cool if the county commissioners had then lined up to do Aretha Franklin's number from The Blues Brothers?)
I'm hopeful that our city councilors will respond just like Matt "Guitar" Murphy did.
UPDATE: Be sure to read Commissioner Fred Perry's reply in the comments below.
Perry drew a comparison between the State Fair Park in Oklahoma City and Expo Square in Tulsa. Here is a montage from Google Maps, at the same scale, of the two facilities -- Oklahoma City on the left, Tulsa on the right. The larger buildings on the southwest corner of State Fair Park, all grouped together, are all livestock barns. The oval building is State Fair Arena. The smaller buildings in the center are State Fair Park's exhibit buildings; they have nothing to compare with Expo Center's 350,000 sq. ft. of unobstructed space.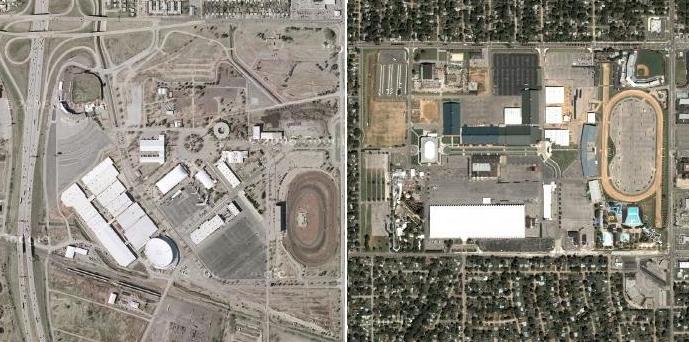 And since the Louisiana Superdome has been mentioned as an example of a sports arena hosting boat shows, RV shows, etc., it's worth pointing out that the Superdome is a domed football stadium, not a basketball/hockey arena. The Superdome has a floor area of 166,464 sq. ft. (408' x 408'). That's five times larger than the floor of an arena like the BOk Center.
0 TrackBacks
Listed below are links to blogs that reference this entry: Sizing things up.
TrackBack URL for this entry: http://www.batesline.com/cgi-bin/mt/mt-tb.cgi/2733