1958 D-X Map of Tulsa
This may help stir some memories of late '50s Tulsa. Reader John Brandon sent along a scan of a 1958 service station map of the City of Tulsa. He got it as an eleven-year-old, and he marked it up (in black crayon) to show changed city limits resulting from annexation and the recently proposed freeway network. Click this link to open or download the 4 MB PDF of the 1958 D-X map of Tulsa.
(It's nice to find a kindred spirit. I was (and am) fond of collecting and annotating maps, too.)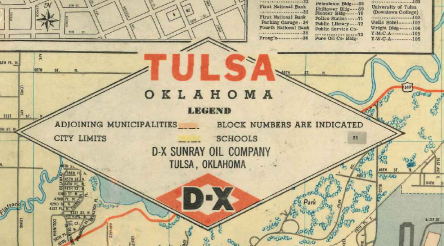 On the back of the map is a downtown grid, showing the location of important buildings, a map showing the route of the Tulsa Tour, and a county map, which shows the small cities and the locations of several rural schools, like East Central (then at Admiral and Garnett) and Rentie (81st and Harvard).
Here are some interesting things I noticed; please add your observations in the comments:
On the county map, the N-S section line roads east of Memorial aren't named and go up in increments of 17, not 16 as they do today.
I'm pretty sure that U.S. 169 came down Boston from 11th Street to connect to Boulder Park Rd and the 21st Street bridge. This map shows it coming down Baltimore Ave.
On the county map, no Yale between 71st and 81st. No 61st between Sheridan and Memorial.
The intersection of 31st and Yale, evidently designed to avoid two grade crossings of the M. K. & T. tracks.
Alsuma (51st & Mingo) is still a separate town with its own street names.
Other odd street names: Braniff Hills and Broadmoor Hills south of Southern Hills Country Club. Hidden Hill at... well, I'll let you find Hidden Hill.
Where does downtown stop? It's a lot harder to tell without the Inner Dispersal Loop.
MORE MAPS: John Brandon was kind enough to scan some specific parts of the map:
The central Tulsa part of the main map (939 KB)
The map's cover (1.39 MB)
Downtown inset showing major buildings (845 KB)
Tulsa County map (619 KB)
Tulsa Tour route map (1019 KB)
0 TrackBacks
Listed below are links to blogs that reference this entry: 1958 D-X Map of Tulsa.
TrackBack URL for this entry: http://www.batesline.com/cgi-bin/mt/mt-tb.cgi/2894