Well-bred German Shepherds need good homes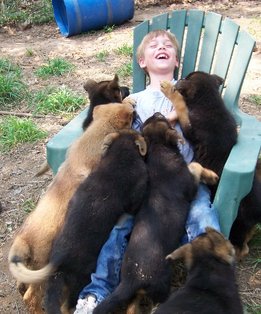 A couple of summers ago our family visited my wife's uncle and his family in Little Rock. He raises AKC Registered German Shepherds on a farm north of Little Rock. His dogs have been trained for police and drug work, home and family protection, and as companion animals for the elderly and disabled. We spent time around some of the dogs at their city house and the puppies out at the farm. They were sweet-natured and affectionate animals.
My wife's uncle has just learned that he won't be able to care and train the dogs for a while. His family is looking to sell the puppies they have as quickly as they can. The puppies are around six to seven months' old.
If you are interested in purchasing and could provide a good home for a German Shepherd with these qualities, please contact me by e-mail at blog -at- batesline -dot- com. Please DO NOT use the contact information on the farm's website at this time.
This is how he describes his dogs' heritage and character:
When we bought our breeding stock we required the following:

Temperament. The dog must be gentle and loving to all members of the family especially children.
Courage. If the dog senses that you are in danger it must get between you and that danger and do what is necessary to chase it away and not follow it after it runs away.
Size. We did not want giants, but we wanted large dogs that can do their jobs.
Conformation. We required that all dogs have excellent conformation by a German judge.
Color. We have about all German Shepherd colors except white.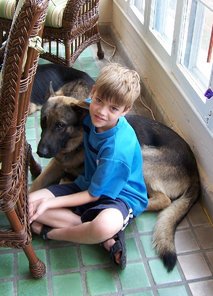 Here's how he describes the training program:
All puppies are born in someone's home
Puppies are handled daily to imprint a good temperament and trust
The dogs are worked with daily to develop courage, love and trust
The dogs are developed to be loving family pets and strong protectors
No home protected by one of his dogs has ever been burglarized, and no owner has ever been injured by an intruder or the dog.
If you have a good home for a loyal canine companion, please send me an e-mail ASAP at blog at batesline dot com.