Happy 100th Birthday, Oklahoma!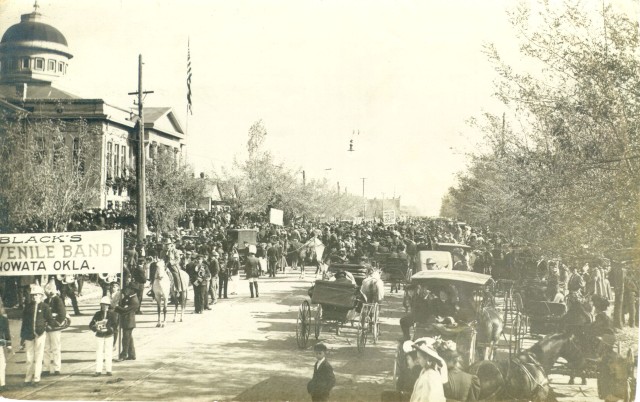 100 years ago today at 9:16 a.m. local time, President Theodore Roosevelt signed a proclamation declaring Oklahoma the 46th state of the United States of America. Word was received by telegraph in Guthrie, the territorial and state capital, at the local newspaper office. Dr. Hugh Scott, secretary to Frank Frantz, the last territorial governor, dashed out of the building and fired his pistol in the air to signal that Oklahoma was now a state. Wagons hired by Corporation Commissioner-elect Jack Love took 60 girls from his hometown of Woodward from the newspaper office to the Carnegie Library (seen in the photo above), where Charles N. Haskell was sworn in as first governor. A parade wound through the streets, culminating in a free barbecue at the city's park.
We'll be busy celebrating today, but I hope to post a report and some reflections late tonight.
(Photo and historical details from the travelok.com Oklahoma Statehood Day Media Room.)
0 TrackBacks
Listed below are links to blogs that reference this entry: Happy 100th Birthday, Oklahoma!.
TrackBack URL for this entry: http://www.batesline.com/cgi-bin/mt/mt-tb.cgi/3260