Well, all righhhhhht! Bob Wills's Tiffany Transcriptions available from Amazon MP3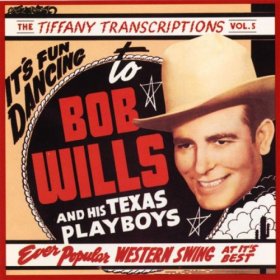 There are far more important things to write about, but this news is too, too exciting.
The Tiffany Transcriptions feature some of the most exciting, liveliest Texas Playboys music on record. These selections were recorded in San Francisco in the mid '40s for use by radio stations. Those who were around then have said that the Tiffanies come closest to capturing the band's live sound. Songs that were left off Bob Wills's commercial recordings -- such as covers of popular big band tunes like "Take the A Train" -- found a place here, featuring Eldon Shamblin's tight arrangements for steel, mandolin, and guitar. Even standard western swing tunes got special treatment, with longer and more spontaneous improvisations, like Junior Barnard's proto-rock-n-roll guitar solos.
Nine of the 10 discs were first issued by Kaleidoscope as LPs, then reissued by Rhino as CDs. A 10th disc, featuring the vocals of the McKinney Sisters, was only issued on CD. Over the last three or four years, Rhino has dropped one disc at a time from their catalog, leaving only Vols. 1, 2, and 5 in print last I checked. Out-of-print volumes have been fetching $60 to $100 on Amazon.com.
But very recently, Warner Music Group began selling DRM-free MP3s via Amazon, and that includes the Rhino catalog. All 10 volumes are available for download at the low, low price of $9.99 each. (Vol. 10, which has twice as many songs as the other volumes, is $10.99.) You can buy individual songs for 99 cents each.
I bought a couple of later Bob Wills albums via Amazon MP3 for my dad's birthday (Together Again and Mr. Words and Mr. Music, both from the early '60s when Bob Wills and Tommy Duncan reunited for a time), and I was pleased with the quality (256 kbps) and the ease of downloading. Because the files are DRM-free, there are no obstacles to playing them on any digital media player.
Volume 5, linked on the image above, is my favorite so far, but I haven't heard them all yet.
2 TrackBacks
After meeting a friend for a chat and a beer at Lola's after work today, I decided to take advantage of the clear, warm (but not hot) evening and went for a walk through the Brady District. Heading up Main Street I passed The Marquee (located between t... Read More
The Tiffany Transcriptions, discs recorded in 1946 and 1947 for radio use, contain some of the best material ever recorded by Bob Wills and His Texas Playboys. Tom Diamant, whose Kaleidoscope Records made that material available to the general public o... Read More