A swiftly tilting PLANiTULSA
Just now getting around to linking this one: Last week's column in Urban Tulsa Weekly was a summary of the first meeting of the PLANiTULSA Advisers and Partners, which featured presentations by lead planner John Fregonese and two members of his team, Robin Rather and Jon Roberts. (Here is a 4 MB PDF of the Fregonese and Roberts presentations.) PLANiTULSA is the City of Tulsa's first comprehensive planning effort in a generation.
In the column, I analyzed the composition of the 35-member Advisers group -- the inner circle of citizens who have been appointed by Mayor Kathy Taylor to oversee the work of the planners. Of that number, I identified 20 as registered Democrats, 10 as registered Republicans, and of the Republicans, they were all either connected with the development industry (6), leaders in TYPROS (2), or in academia (2). Of the 66 Partners (the "hoi polloi"), 22 are Republicans and 41 are Democrats. There are a few rabble-rousers amongst the Partners, but there is still a bias toward developers, the Mayor's political allies, and the non-profit sector.
Here is a map showing the residential locations of the Advisers (red "A") and Partners (blue dot) (click to enlarge):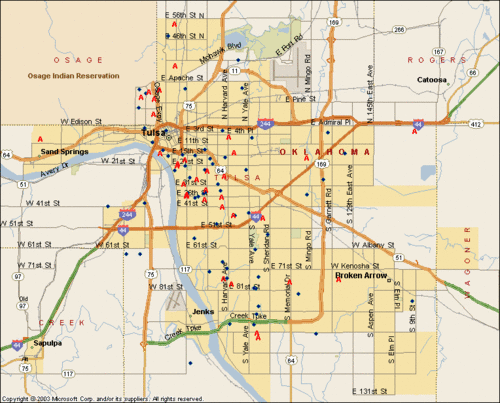 You'll notice that most of the red As (Advisers) and blue dots (Partners) fall along the Money Belt line. If you were to overlay the map on a map showing results from the 1997 Tulsa Project or 2000 "It's Tulsa's Time," you'd see that nearly all of the dots and As fall into the precincts that voted yes on both. This is the part of town that feels plugged in, that feels its voice is heard, that feels it runs city government. I'm concerned that the marginalized areas of our city aren't represented in any significant numbers on these oversight committees.
MORE: Here's the article by Brian Ervin which I mentioned in the story. And mark your calendars for July 15: TulsaNow is hosting a forum at which John Fregonese and members of his team will be explaining how the comprehensive plan process works and presenting the results of their research to date.
0 TrackBacks
Listed below are links to blogs that reference this entry: A swiftly tilting PLANiTULSA.
TrackBack URL for this entry: http://www.batesline.com/cgi-bin/mt/mt-tb.cgi/4184