Randi Miller's misleading mailer
Tulsa County District 2 Commissioner Randi Miller has been on the radio asserting her veracity in her dispute with fired Expo Square CEO Rick Bjorklund. He says she told him to get Big Splash water park's problems "off the radar," which he then did by not pressing park owner Loretta Murphy (a Miller campaign contributor) for payment, so that Murphy wouldn't have to seek financial relief in a public meeting. She (Miller) says Bjorklund is lying. (Here's a link to KFAQ's Pat Campbell's July 15 interview with Bjorklund and here's his July 16 interview with Miller. On the July 16 Chris Medlock show, County Commission candidate Sally Bell replied to Miller's statements and also spoke about her platform and philosophy of government.)
Miller is not helping her case with the glossy four-color campaign mailer she just sent to voters in her district. While she doesn't outright lie, she presents the facts in a misleading manner. For example, from the leftmost panel:
A Proven Leader

Randi Miller is an effective and dynamic Tulsa County Commissioner -- elected twice by her colleagues to serve as Commission Chairman.

Technically, that's true, but the County Commissioners rotate the chairmanship each year. Miller has served six years, so, as one of three commissioners, serving as chairman for two of those six years is just the normal rotation of the job. It's no indication of her effectiveness or dynamism.
It's strange that this is the only "accomplishment" this six-year incumbent would cite.
But here's the big whopper, from the rightmost of the four panels: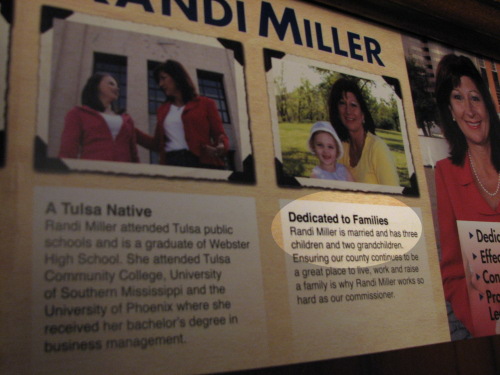 Dedicated to Families

Randi Miller is married and has three children and two grandchildren....

Again, technically, Randi Miller is still married to her husband Gary. But on May 15, 2007, she filed for divorce from her husband, a fact that came to light in a KOTV investigation of her chief deputy, Terry Simonson, and his continuing his private law practice while also drawing a full-time salary as a county employee. Miller's divorce case was listed as one of several, filed after Simonson joined the county, in which Simonson was an attorney of record.
(Simonson said that he entered the case during his lunch hour and only to notify the court that Randi Miller wouldn't be there to make a scheduled court appearance to watch a video about helping minor children cope with divorce. He withdrew formally from the case on March 14. About the rest of his caseload, Simonson explained that he was using his own time on evenings and weekends to complete legal work to which he had already committed himself.)
The divorce is not yet final, so technically, Randi Miller is still married. Her presumably-soon-to-be-ex-husband does not appear in the family portrait on the cover of the mailer, which includes her three children, her grandchildren, and her son-in-law and daughter-in-law, but she is wearing a ring on her left ring finger in all the photos where it would be visible.
The issue is not that she has initiated a divorce or whether she or her husband is to blame for the failure of their marriage. It's that she's trying to sell herself to the voters by creating a misleading image with her mailer.
Why does this remind me of what Miller told KOTV's Emory Bryan about the misleading Our River Yes flyer that went to Broken Arrow voters?
A dispute over advertising for the river tax is heating up in Broken Arrow. City leaders there say their voters are the targets of false advertising. The flyer in question doesn't say Broken Arrow is going to get a riverfront development, though it clearly shows one, and the picture is titled Broken Arrow Riverfront. The News On 6's Emory Bryan reports that flyer was mailed to voters in Broken Arrow.

Some of Broken Arrow's community leaders believe the flyer is a false promise from the River tax campaign.

"And it gave the impression that we are going to get a riverfront development out of the river tax which is not true, it's very misleading," Broken Arrow Mayor Wade McCaleb said.

The flyer went to voters in Broken Arrow last week, and includes a picture titled "Broken Arrow Riverfront." But there is no money in this river tax to build what's shown in the picture.

"There is no plan to do anything after this tax unless we pass another tax," McCaleb said....

Broken Arrow's elected leaders are united against the tax and they believe supporters are trying to fool voters with the flyer. River tax supporters absolutely deny any attempt to mislead, and will not acknowledge the picture could be confusing.

"Do you see how that is misleading?" News On 6 reporter Emory Bryan asked Commissioner Miller.

"No, because it not once says this is what is going to happen," Miller responded.

(Here's the video of the KOTV story about Randi Miller and the misleading Broken Arrow mailer.)
So... the flyer never once said that she wasn't in the process of getting a divorce, so in her mind it's not misleading to say she's married.
Well, OK then.
MORE: Randi must have some big money behind her; now she's running radio ads. One of the lines from the ad nearly sent me through the roof: "Standing strong, even if it means standing alone." If there's one thing that has marked Miller's time on the County Commission, it was her refusal to stand alone. She refused to be the lone vote against the logrolled Vision 2025 ballot or against putting Boeing corporate welfare on the ballot. She refused to be the lone vote against giving insiders sole-source contracts for Vision 2025 management, legal work, and bond sales and managements, contracts that dealt with over half a billion dollars.
The ad also touts her vote (eight years ago on the City Council) against the Great Plains Airlines deal and claims that she said no when "an amusement park" asked the county for a "bailout." There's another distortion. Bell's never asked to be bailed out. Through their final year on Expo Square, Bell's continued to pay more rent and commission to Expo Square than the Drillers and Big Splash combined. Oddly, while taking credit for saying no to Bell's on her radio ad, she was bemoaning the fact, in her interview with Pat Campbell, that she was being unfairly blamed for a decision that was made by the entire Fair Board.
STILL MORE:
Chris Medlock answers Randi Miller's lament.
KFAQ's Pat Campbell asked listeners Thursday morning why Randi Miller was being singled out for blame about Bell's eviction. I e-mailed Pat with a link to the KOTV investigation from last fall. (Here's the text version of the story about Bell's Amusement Park and Randi Miller.) I also pointed him to my column about why Randi Miller needs to be retired, in last week's UTW. Here's the rest of what I wrote to him:
1. She's one of only two fair board members who were on the board when Bell's was evicted who are still on the board. The board consists of the three county commissioners, plus two appointed citizens. Of her two fellow commissioners at the time, one was defeated for re-election (Wilbert Collins) and one did not run for re-election (Bob Dick). One of the two appointed commissioners, Clark Brewster, was up for reappointment and County Commission chairman Fred Perry opted to appoint someone else. The only other remaining fair board member from that time is attorney Jim Orbison.
2. She took a leading and visible role in defending the decision to evict Bell's. She told the media that Bell's wasn't a viable business and was unsafe. (Meanwhile, Big Splash was behind in rent, and, according to Rick Bjorklund, Miller was telling him to keep Big Splash off the radar.) If you go back to stories in the World and on local TV, you'll find Miller speaking on behalf of the county and the fair board about why Bell's couldn't be allowed to stay.
3. She received campaign money from Loretta Murphy, owner of Big Splash. Loretta is the wife of Jerry Murphy, who owns Murphy Brothers, which has a contract to provide the Tulsa State Fair midway. Loretta Murphy made maximum campaign contributions of $5,000 each to Miller's 2006 mayoral and 2004 county commission campaigns. Shortly after Miller received the Murphy donation to her mayoral campaign in early 2006, Miller pushed for granting a new 10-year contract to Murphy Bros. for the midway. The contract was sole-source -- no competitive bidding. Rick Bjorklund, an associate of the Murphys from Wisconsin, was hired by the fair board later that same summer. That fall, Bell's was evicted.
During the state fair, Bell's and the Murphy midway competed for ride revenue. To give you an idea of how much money the fair generated, Bell's received about a third of its annual revenue during the 10 days of the fair. While Murphy had some rides that Bell's didn't, I always steered my kids to the Bell's rides, because they were a local business and the rides were permanently installed, not moved in just for the week. With Bell's gone, the Murphys get all of the fair ride revenue. The Murphys also received, in their new 2006 contract, first right to occupy the Bell's property if it became vacant.
The treatment of Bell's is only one reason people don't trust Randi Miller. While she was a fairly conservative city councilor, as a county commissioner she fell in love with corporate welfare, tax increases, and questionable public-private partnerships with county insiders. She pushed a $350 million corporate welfare package for Boeing, to be funded by a sales tax increase. She was ready to back a $600 million plan to build islands in the middle of the Arkansas River and did back a $282 million river tax which was defeated by Tulsa County voters.
0 TrackBacks
Listed below are links to blogs that reference this entry: Randi Miller's misleading mailer.
TrackBack URL for this entry: http://www.batesline.com/cgi-bin/mt/mt-tb.cgi/4204