Stanislawski boasts Whirled non-endorsement
Gary Stanislawski is not at all bothered that his principal rival in the SD 35 Senate race received a certain endorsement: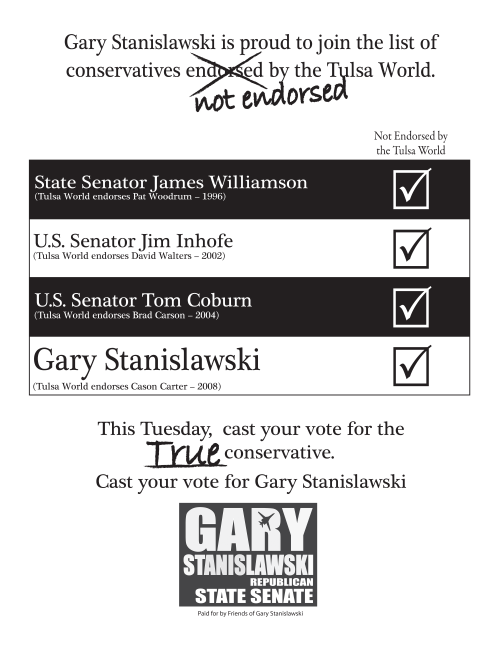 The Whirled editorial board endorsed former City Councilor Cason Carter.
Stanislawski, a financial planner and Jenks school board member, has been endorsed by incumbent Sen. Jim Williamson, who is leaving the legislature because of term limits, and by the Tulsa Area Republican Assembly. Stanislawski is an ORU alumnus, an active member and sometime Sunday School teacher and officer at Victory Christian Church, and served 8 years in the US Air Force.
Here's what I had to say about Mr. Carter about a year ago, right after the vote on buying One Technology Center as a new City Hall:
Taylor's over-the-top speech should have been greeted with howls of derision. Some councilor should have told her, "Madame Mayor, come back to talk to us when you can do so without insulting our intelligence."

Taylor claimed that the consolidation of city government offices at OTC would be the "key that will unlock the revitalization of downtown."

Four years ago, we were told that the new downtown sports arena was going to be the key to revitalizing downtown. Before that, we were told that the key was the Inner Dispersal Loop, the Williams Center, the Civic Center, putting the pedestrian mall in, and taking the pedestrian mall out.

It's as if we have a junk drawer full of house keys, skeleton keys, car keys, diary keys, piano keys, and plastic baby toy keys, and our civic leaders are trying them at random until they find one that works.

Taylor also told the Council that the OTC purchase would accomplish "transformation for our souls." I kid you not -- she really said that. Maybe it's because OTC looks like a crystal. Or perhaps Taylor has been reading The Secret.

Our current City Hall is ugly, and moving to OTC would give a boost to the Blue Dome District, but the deal isn't all that. Only the very gullible would buy the fake-it-'til-you-make-it hucksterism in Taylor's claim that going into debt to buy OTC would "change the trajectory" of our city.

And speaking of Cason Carter, he too professed faith in the transformational power of One Technology Center. I'm not sure whether he said that because he truly believes it or because he was trying to please Mayor Mommy by echoing her words.

Carter plans to run for State Senate District 35 next year, but anyone who spouts such nonsense doesn't have any business handling taxpayer dollars at City Hall, much less the bigger bucks at the State Capitol.

Cason is intelligent, a likable guy, and conservative on social issues. Many people I respect are supporting him. But he played it safe during his two years on the Council, taking care never to offend people who might be able to finance his next step up the political ladder. If someone isn't willing to take political risks and offend powerful special interests at City Hall, it's hard to believe he'll suddenly develop that level of courage at a higher level of government.
DISCLOSURE: Early in the campaign, having already decided by process of elimination that I would not be supporting Mr. Carter or Mr. Applekamp, I did some paid computer work for the Stanislawski campaign. This blog entry is at my own initiative, prompted only by a mention of the flyer on Chris Medlock's show. (Medlock was endorsed by the Whirled in his first State House run in 1994, which he lost to Fred Perry, another conservative who was proud not to be endorsed by the Whirled.)
MORE: This endorsement won't help Cason in Brookside:
"As a private developer looking to invest in Tulsa, Cason Carter was extremely helpful. He put me in contact with neighborhood leaders and was able to help facilitate a project that will be a great benefit for Tulsa."

John Gilbert
Senior Vice President Bomasada Group, Inc.