Lullabyes of the West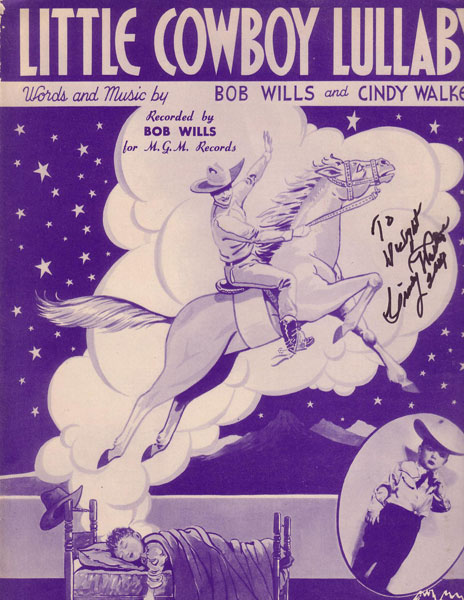 My kids listen to CDs at night, usually one CD on infinite repeat, and over and over again for several weeks. Over the Christmas holidays they listened to piano instrumental versions of carols. I introduced them to the soundtrack of A Charlie Brown Christmas by the Vince Guaraldi Trio. We tried Mark Knopfler's soundtrack for Local Hero, but there were a couple of loud songs that interrupted the flow of quieter pieces.
The three-year-old really wanted to listen to a Bob Wills CD, but it was too bouncy in places and tended to make it hard for the kids to get to sleep and stay asleep. So I put together a mix CD of slow, restful western tunes:



Goodnight, Little Sweetheart, Bob Wills & His Texas Playboys
Little Cowboy Lullaby, Bob Wills & His Texas Playboys
Texas Sandman, Johnnie Lee Wills & His Boys
Just Friends, Hot Club of Cowtown
Dedicated to You, Bob Wills & His Texas Playboys
Medley: La Golondrina, Lady of Spain, Cielito Lindo, Bob Wills & His Texas Playboys
No Wonder, Bob Wills & His Texas Playboys
Along the Navajo Trail, Bob Wills & His Texas Playboys
Prairie Lullaby, Sons of the Pioneers
Wagon Wheels, Sons of the Pioneers
Lonely Yukon Stars, Riders in the Sky
My Oklahoma, Riders in the Sky
Tumbling Tumbleweeds, Riders in the Sky
Don't Fence Me In, Riders in the Sky
Streets of Laredo, Riders in the Sky
Red River Valley, Riders in the Sky
Sleepwalk, Santo and Johnny
Moonlight Serenade, Santo and Johnny
Song of the Islands, Santo and Johnny
Tear Drop, Santo and Johnny
Harbor Lights, Santo and Johnny
Tenderly, Santo and Johnny
Everlasting Hills of Oklahoma, Sons of the Pioneers
Goin' Home, Leon McAuliffe and His Cimarron Boys (adapted from the Largo movement of Antonin Dvořák's Symphony No. 9, "From the New World")


I notice that of the Texas Playboys tunes, I tended to choose the sentimental numbers that Bob Wills sang himself. The opening number of the disc is the number that was (and still is) used to close Texas Playboys dances. It opens with some sultry chords by Leon McAuliffe. I made my little girl chuckle last night: After I kissed her goodnight, I said, "Take it away, Leon," then hit the play button.
Two of the songs are songs my mother sang to me at bedtime: "Don't Fence Me In," and "Cielito Lindo" -- we knew it as the Ay-ay-ay-ay song.
One song I didn't have, but wished I did, was "Blue Shadows on the Trail" by Sons of the Pioneers. It's on a Disney Lullabyes videotape, from the movie Pecos Bill. Others I might have included but didn't: "Yearning (Just for You)," "Happy Trails," "In the Arms of My Love."
To explain the inclusion of a couple of New York musicians in a western collection, I'll repeat an anecdote from an earlier entry:
This little detail from the Wikipedia bio of the Farina brothers, Santo and Johnny, made me smile:

When they were very young, their dad was drafted into the Army and stationed in Oklahoma. There (on the radio) he heard this beautiful music. It was the sound of the steel guitar and he wrote home to his wife and said "I'd like the boys to learn to play this instrument."

I like to think Mr. Farina was listening to this guy over KVOO -- from "Steel Guitar Rag" to "Sleepwalk" in one generation.
Specifically, I like to think that Mr. Farina heard Leon McAuliffe playing those opening chords on "Goodnight, Little Sweetheart."
UPDATE 2013/05/24: Added the above graphic, the cover of the sheet music for "Little Cowboy Lullaby" by Bob Wills and Cindy Walker, from the lyrics and sheet music page at BobWills.com. Thanks to the kindness of retired blogpal See-Dubya, I was able to add "Blue Shadows" to a second edition of the CD, to which I added Tommy Duncan's "High Country."
0 TrackBacks
Listed below are links to blogs that reference this entry: Lullabyes of the West.
TrackBack URL for this entry: http://www.batesline.com/cgi-bin/mt/mt-tb.cgi/4841