Thanks to my fellow Okie bloggers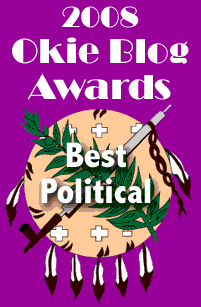 My deepest gratitude to my fellow Oklahoma bloggers, who have named BatesLine the Best Political Blog for 2008. It's especially meaningful to be recognized by fellow bloggers who know what it is to write content for public consumption day-in and day-out. And it's particularly encouraging during what has been a very stressful time.
Congratulations to the other winners, particularly to Tulsa-area blogs: Confessions of a Pioneer Woman for Best Overall Blog and Best Looking Blog, Rocks in My Dryer for Best Writing Blog, Tasha Does Tulsa for Best Culture Blog, and Decisionally Challenged for Best Humor Blog. (Yogi's Den came second for Best Culture Blog.)
Go check out the rest of the winners, and check out the rest of the nominees as well. As Mike Hermes, who founded this competition in 2005 and has been running it ever since, noted, "We are all winners to be a part of a thriving Oklahoma blogging community."
There are three bloggers that deserve a great deal of the credit for that thriving Oklahoma blogging community. Mike Hermes of Okiedoke is one of them, for his Okie blog roundup feature and the annual awards. Kevin Latham is another, for creating the BlogOklahoma webring. And then there's the doyen of Oklahoma bloggers, Charles G. Hill of dustbury.com, who has, for as long as I remember, made special note of his fellow Oklahomans in his blogroll and called attention to them by linking worthy posts. Their work has made this blogging community possible. Whatever our other affiliations, these three have helped us recognize what we have in common.
0 TrackBacks
Listed below are links to blogs that reference this entry: Thanks to my fellow Okie bloggers.
TrackBack URL for this entry: http://www.batesline.com/cgi-bin/mt/mt-tb.cgi/4823