Not one red cent to the NRSC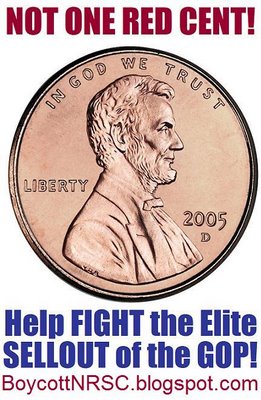 Conservative Republican activists have long been wary of the National Republican Senatorial Committee (NRSC), a political organization controlled by the Republican caucus in the U. S. Senate. The NRSC's official purpose is to help the Republican Party gain and maintain a majority in the Senate.
In Pennsylvania in 2004 and in Rhode Island in 2006, the NRSC invested resources to prop up liberal Republicans against conservative challengers. U. S. Rep Pat Toomey lost the 2004 Pennsylvania Republican primary to incumbent Sen. Arlen Specter by less than 2% of the vote. While Specter won re-election, he switched parties a few weeks ago and will be running for re-election this year as a Democrat. Rhode Island Sen. Lincoln Chafee won renomination in 2006 over Cranston Mayor Steve Laffey by a 53-47 margin. Chafee lost the general and left the Republican Party. (Laffey has written a book about the experience: Primary Mistake.)
You could make a case for the NRSC supporting incumbent Republicans, although it's a weak case if those incumbents oppose conservative Republican stances on nearly every issue.
But now the NRSC has gone one step beyond: The NRSC has endorsed Florida Gov. Charlie Crist, a moderate, against former Florida House Speaker Marco Rubio, a conservative, in an open primary to replace retiring Republican Sen. Mel Martinez. No one has a problem with Crist entering the race, but the NRSC ought to let Florida Republicans make the decision rather than intervening on behalf of one candidate, and the least conservative of the two at that. Crist recently signed an anti-tax pledge as a Senate candidate, just as he's getting ready to break his pledge to Americans for Tax Reform not to raise taxes as governor.
Leading conservative voices in the blogosphere have responded vigorously. Erick Erickson of RedState has launched a Facebook group: Not one penny to the National Republican Senatorial Committee (NRSC). Robert Stacy McCain has set up a special blog to track the NRSC boycott called Not One Red Cent.
The only thing these committees understand is money. If the money dries up, they'll have some incentive to change their ways.
UPDATE: Erickson says he's getting pressured to shut down the "Not one penny" group.
0 TrackBacks
Listed below are links to blogs that reference this entry: Not one red cent to the NRSC.
TrackBack URL for this entry: http://www.batesline.com/cgi-bin/mt/mt-tb.cgi/5021