Barbecue conversations: The Fields Downs Randolph building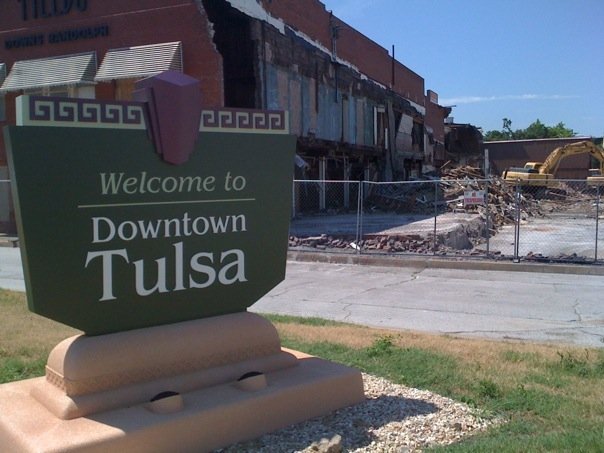 Photo by Daniel Hickman.
On Saturday I went to a barbecue with lots of good food and a wide variety of people. One of the highlights of the day was a lesson in the economics of downtown preservation and demolition.
In the midst of a political discussion across the table with someone I knew, the lady to my right found a break in the conversation to tell me that she tore down the old Page-Glencliff Dairy. She encouraged me to post the story of the building's demise on this website.
Her name is Elenore "Snowie" Roberts. She and her late husband Raymond Roberts owned the building, which was most recently occupied by Fields Downs Randolph. It has been vacant for many years.
Mrs. Roberts told me that her husband wouldn't be happy to learn of the demolition, but he's gone on to heaven. It had been getting too expensive to insure the building, pay the taxes, and keep the building secured against squatters. (They thought they had the building secured but they found someone who got in somehow and was living on the top floor.) Paying the ballpark assessment -- a per-square-foot rate on that enormous old building -- on top of everything else was too much.
People told her she should convert it into lofts, but she didn't have that million-plus it would take to do the renovations, and no one else had the money either.
The building was on the market, but for most of the last few years it was under option to Global Development Corp, which had planned to build a stadium and mixed use development on the eastern edge of downtown, and then to John Williams, the Claremore developer who had been working on Wal-Mart, offices, and residential development in the area. While those plans were pending, it wasn't available, even if someone had wanted to buy it and renovate it.
Mrs. Roberts hired a company out of Oklahoma City to take the building down. They would clear away all the concrete, even the basements, down to the dirt, take away the concrete, grind it down and recycle it as roadbuilding material. Another company she considered would only go four feet down and then fill it in with dirt. It was a sturdy building, and leaving the foundation might cause problems for the next building to go up on the site. She said that during the demolition many folks who used to work at the dairy came by to ask of a brick as a memento.
With the building pulled down, the property taxes are much lower (no improvements on the site) as is the ballpark assessment. She only has to pay a small amount of liability insurance. There are no more expenses to keep the building secured against intruders. Mrs. Roberts is hopeful that the land will be more attractive to potential buyers now that the building is not an obstacle to redevelopment. She thinks it would be a great place for a new Central Library. I told her that Jamie Jamieson has been talking up that idea for several years.
I don't like to see buildings pulled down, but it's hard to fault Mrs. Roberts for taking that step. The building couldn't be occupied without expensive renovation. Anyone buying the land from her would either have to pay to fix up the building or to tear it down themselves. Even if she had given the building away, there would have been few potential owners in a position to cover those costs.
I hate downtown demolition, and I wish it would stop. But it's important for those of us who are preservationists to recognize the pressures that make demolition the best of a series of bad options. Local building and fire codes, Federal laws on asbestos and accessibility, property taxes that go down when the building is gone, courts that punish building owners for injuries incurred by vandals and trespassers, and special assessments that take no account of the marketability of the building -- all of these add to the cost of keeping a building standing.
While the demolition of the Page-Glencliff Dairy was an unintended consequence, it was not unforeseen. Councilor John Eagleton, who voted against the Tulsa Stadium Improvement District and the assessment roll, asked me to pass this message from him along with Mrs. Roberts's story:
"I told you so."
MORE: A reader writes with an analysis of the cost savings that Mrs. Roberts will realize by tearing down the building:
Tax Parcel: 00500-92-01-41420
Tax Year: 2008
Annual Tax: $9,874
Land Assessment: $925,200
Improvement Assessment: $419,900
Total Assessment: $1,345,100

% Improv: 31%
Taxable Assessment: $80,850
Lot Sq Ft: 92,517.084
Building Sq Ft: 95,361

Calculations for Tulsa Stadium Improvement District (TSID):

Annual land contribution to ballpark: 92,517.084sf x $0.043/sf = $3,978.23
Annual land contribution to street maintenance/cleaning: 92,517.084sf x $0.022/sf = $2,035.37

Annual bldg contribution to ballpark: 95,361sf x $0.043/sf = $4,100.52
Annual bldg contribution to street maintenance/cleaning: 95,361sf x $0.022/sf = $2,097.94

(I'm assuming that if the building's value was approximately 31% of the taxable assessment, then its part of the total tax was proportional.)

Annual bldg portion of the total tax: 419,000/1,345,100 x $9,874 = $3,082.36

---

Annual TSID assessment fee savings after bldg demo: $4,100.52 + $2,097.94 = $6,198.46

Annual tax savings (at year 2008 assessment and rate) after bldg demo: $3,082.36

Annual insurance premium savings after bldg demo: $ ???

Annual operation and maintenance savings after bldg demo: $ ???

1 TrackBacks
My wife asked me the other day if we could put a sign in our yard for Maria Barnes, the former Tulsa District 4 city councilor who is seeking to take back that seat. For my wife, the decision comes down to this: Incumbent councilor Eric Gomez, who defe... Read More