District 4: For Rocky Frisco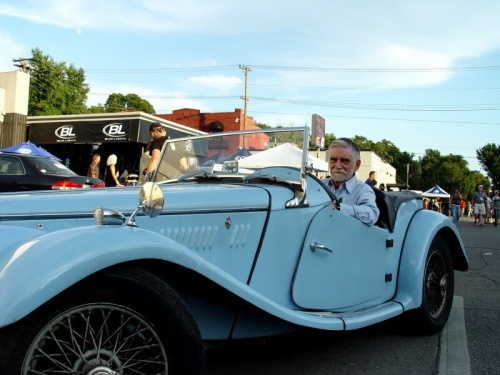 A commenter on this blog recently dismissed Rocky Frisco, Republican candidate for Tulsa District 4 City Councilor, as a "perennial candidate," insinuating that voters shouldn't take him seriously. I take him seriously, and on Tuesday I'll be voting for Rocky Frisco in the Republican primary.
It is true that Rocky doesn't look or sound like a conventional politician. As a rock pianist, he doesn't have the usual occupational background for a politician. He has an unusual name -- originally a stage name, later legally adopted. (His birth name -- Don Roscoe Joseph III -- isn't exactly commonplace.) The issue that motivated him to run for office when I first met him back in 1998 -- getting rid of a ridiculous, impractical, and intrusive cat leash ordinance -- isn't at the top of most people's minds.
But his opposition to that silly law wasn't just an eccentric peeve. It was grounded in a fundamental idea -- the idea of liberty. Rocky Frisco believes fervently in the idea of maximizing freedom and minimizing government intrusion. He believes in government sticking to the basics and staying within the limitations placed upon government by the people through our constitutions, charters, and laws. Rocky not only knows the U. S. Constitution backwards and forwards, he's actually read the Oklahoma Constitution all the way through, at least twice. (How many state legislators have done that?)
As I sat through Monday night's District 4 candidate forum, I found myself agreeing with Rocky far more than with the Republican incumbent, Eric Gomez, that he seeks to replace. And while many solid points on neighborhood and development issues were made by the two Democratic candidates, former Councilor Maria Barnes and Planning Commissioner Liz Wright, Rocky Frisco is the only candidate of the four that was consistently on the right side of fiscal issues -- budget, taxation, and spending priorities. He was the only one of the four to acknowledge that moving city hall to One Technology Center wasn't fiscally prudent:
What I expect from any kind of government action is unforeseen consequences, so I wasn't amazed at all to learn that it cost us a million dollars more than it was supposed to cost.... I would not have approved that move, I would not have approved the ballpark, or any of the other enormous expenses we've taken on at a time when our streets are like a battleground.
And even where we disagree, I know that he's amenable to considering new evidence and other points of view.
In a couple of weeks, Rocky will be inducted into the Oklahoma Music Hall of Fame. The honor came as a surprise to him, but it's fitting for one of Tulsa's rock and roll pioneers.
But for anyone to say that Rocky is "only" a musician is to minimize his intelligence and accomplishments. Long before most of us had heard of the World Wide Web, Rocky was hand-coding his own websites. Long before that, back in the '60s, he was repairing IBM mainframe computers.
He has some fascinating stories to tell. I interviewed him a couple of years ago, and (if I can get the upload to work) I'll have that interview available for your enlightenment by the end of the day.
In the book Animal Farm, by George Orwell, there's a donkey named Benjamin. When all the animals are rejoicing over their successful overthrow of the farmer and the takeover of the farm, Benjamin refuses to be drawn in. He simply says, "Donkeys live a long time." Benjamin had lived long enough to know that no victory is permanent, that professed altruism is often cloaking selfish ambition, that power corrupts. He wasn't the sort to jump on a bandwagon or to be swayed by some smooth-talking porcine demagogue. Benjamin was a donkey, but he was no jackass.
Rocky Frisco has lived a long time, too. He's lived in Tulsa nearly all his life, and nearly all of that time in the same house south of the TU campus. He went to Lanier Elementary, Wilson Jr. High, and Central High School. He knows the city, its people, and their history. He's seen central Tulsa decline and revive. He's toured with J. J. Cale, performed with Eric Clapton. He even jammed with Elvis. He has known both popularity and obscurity. Unlike too many newly minted elected officials, he won't swoon when some lobbyist offers him a ride in a corporate jet or dinner at the Summit Club. His professional standing and quality of life aren't dependent on the fickle goodwill of Tulsa's power cliques.
Tulsa and District 4 would be well-served to have someone with Rocky Frisco's wisdom and experience on the City Council. I'm proud to join with humorist Dave Barry in endorsing him, and I hope you'll join with me in voting for Rocky Frisco in the Republican primary on Tuesday, September 8, 2009.
* "I am proud to endorse Rocky Frisco for Tulsa City Council, District Four. Not only is he a fine community leader, but he's also a heck of a piano player, which would be handy if the Tulsa City Council ever decides to form a band, which it definitely should." -- Dave Barry
CORRECTION: Rocky e-mailed to advise me that he had only played once with Clapton, not "many times" as I had written. The misunderstanding was mine, and I have corrected the sentence.
0 TrackBacks
Listed below are links to blogs that reference this entry: District 4: For Rocky Frisco.
TrackBack URL for this entry: http://www.batesline.com/cgi-bin/mt/mt-tb.cgi/5262