The Trail from Sand Springs
Last Thursday, KRMG's Joe Kelley interviewed Tulsa District 5 City Councilor-elect Chris Trail about his defeat of incumbent Bill Martinson. It was an interesting conversation. During the segment, Kelley mentioned his conversation with Trail at the Beer Summit, and that shortly thereafter, he was speaking to one of Trail's firefighter supporters, who said to Kelley, regarding Trail, "He's not real bright, but at least he's not Bill Martinson." A bit later (about 4 minutes in) Kelley mentions my blog post about Trail's previous residence, as recently as March 4, 2009, in the City of Sand Springs. Trail's reaction is worth hearing. (I've found that Fisherman's Friend helps with sudden coughing fits.)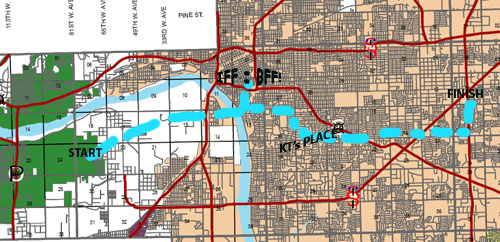 After some more research, I suspect that Trail was unfamiliar with the municipal status of his former residence because he did not own it. My search of Tulsa County Clerk records did not turn up a transaction involving Trail for the parcel at his former address, nor for the residence specified on his filing papers. (I will caution that Tulsa County Clerk online records do not include street addresses, so while I was careful and feel fairly confident in my findings, it's possible that I misidentified the parcel with the address. A search of Tulsa County Clerk records naming Trail turned up parcels that are neither in his old subdivision -- Rolling Oaks Amended -- nor his new subdivision -- Magic Circle.)
MORE: Here's a link to the FirefighterHourly.com article that Joe Kelley mentioned:
In a right to work state, Tulsa firefighters used their newly won political influence to help oust an incumbent council member in a primary race. Prior to becoming involved the election was considered a lock but firefighters helped to bring attention to their plight and the political decisions of the council member.

This development is part of a growing trend of firefighters seeking to protect citizens from political cuts to public safety. It has been stated throughout history that it is impossible to run against public safety and win yet some elected officials attempt to do just that, making political decisions without thinking about the consequences for citizens and firefighters.

Some firefighters believe living in a right to work state means they have no voice. While the rules are different for now the opportunity is there to impact change using facts at the local level.

By the way, if you haven't tried KRMG's new audio player, try it out on the collection of interview clips from recent editions of the KRMG Morning News. Unlike the previous player, the new one works well in Firefox and so far has worked every time. Good job.
MORE: Joe Kelley had this to tweet a couple of hours after the interview ran:
The Tulsa Fire Union leader apparently doesn't like my Q's to Chris Trail. He called our News Room w/a msg for me.
1 TrackBacks
Listed below are links to blogs that reference this entry: The Trail from Sand Springs.
TrackBack URL for this entry: http://www.batesline.com/cgi-bin/mt/mt-tb.cgi/5289
In 2009, incumbent Councilor Bill Martinson was defeated by Chris Trail, a well-funded challenger, a newcomer to politics and to the city limits, funded and supported by forces that didn't like an intelligent skeptic on the Tulsa City Council scrutiniz... Read More