Walk for Roscoe Turner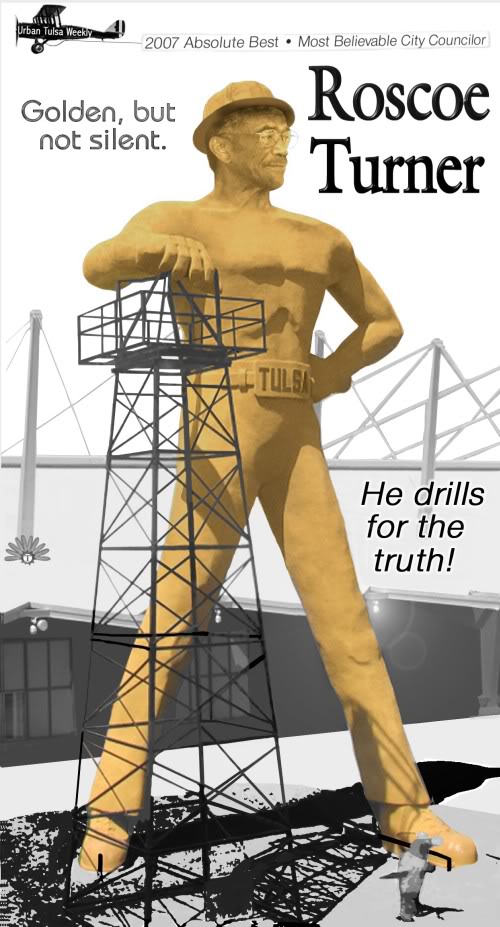 Former District 3 City Councilor Roscoe Turner is trying to regain his seat on the City Council, a seat lost in 2008 to David Patrick.
Patrick quit in 1998 to run for State House; Turner won the November special election. Patrick beat Turner in the 2002 Democratic primary, then lost to him in the 2004 primary revote, a revote required because of election irregularities that rendered the outcome of the original primary mathematically uncertain. In 2008, Patrick ran as an independent and won. The move caught many District 3 voters by surprise; they were used to the primary being the main event.
If past history is any measure, Patrick will have far more funding than Turner. Patrick receives a lot of out-of-district money in gratitude for his willingness to toe the line for the Chamber, the development lobby, and the other special interests that make up the city's establishment. During this term of office, Patrick was flown back on Mayor Kathy Taylor's Lear 31 from his farm in Colorado to vote for her downtown ballpark assessment district deal. Patrick also angered his constituents by failing to keep them in the loop regarding the Mental Health Association's residence for the long-term homeless at Admiral and Yale.
Turner is dependent on grassroots support. Over the years, he's gained the respect and admiration of Tulsans across the political spectrum for standing up for neighborhoods and homeowners -- not only in his own district, but all over Tulsa -- opposing tax increases for frivolous purposes, and backing the interests of City of Tulsa residents rather than giving into a perverted sort of "regionalism" that asks the central city to defer to the welfare of the suburbs.
There's a third candidate, Karl Hulcher, who won the Republican nomination by default in this strongly Democratic district. Not for the first time, the District 3 Republican nominee has a long list of recent legal run-ins, including a conviction for second-degree arson and DUI. (Here is a fascinating article on 2002 District 3 Republican nominee John L. Westbrook.)
Tulsa needs Roscoe Turner back on the City Council. With our mayoral choice largely limited to Tweedledee and Tweedledum, it's especially important to have councilors who will stand up for ordinary Tulsans, for transparency in government, for a focus on basic government services, and for neighborhoods.
If you'd like to help Roscoe Turner return to office, call him at 834-7580 and ask how you can help. Knocking on doors and distributing literature is one very important way you can help Roscoe overcome his opponent's funding advantage. Groups of volunteers will be going out this Saturday and every Saturday from here to the election. Your donations would also be gratefully received. (You can give through the PayPal button on the RoscoeTurner.com website.)
MORE: My column on the District 3 race in 2008 is worth a re-read.
(Am I worried about the consequences of endorsing a Democrat on future political ambitions? I don't have any, but even the most rock-ribbed Republican wouldn't expect me to endorse someone with the checkered past of the party's nominee, and Turner is far more fiscally conservative than his independent opponent. Anyway, endorsing a Democrat for city office will get you endorsed by former Republican County Chairmen. Your mileage may vary -- that may only work if you have a few million in the bank.)
0 TrackBacks
Listed below are links to blogs that reference this entry: Walk for Roscoe Turner.
TrackBack URL for this entry: http://www.batesline.com/cgi-bin/mt/mt-tb.cgi/5302