Squaring Bartlett Jr's statement with his record
Last Tuesday, I received an e-mail from the Tulsa County Republican Party with the title "An Open Letter to All Republicans from Dewey Bartlett Jr." The introduction says the letter is "the outcome of meetings between the [Tulsa County Republican Party] elected officials and the Bartlett [Jr] campaign officials," which calls into question whether Bartlett Jr himself was involved in the composition of this letter, although presumably he signed it.
Attached below the Bartlett Jr statement was a note that Bartlett Jr had finally signed a pledge opposing non-partisan elections, which puts him at odds with his friends at Tulsans for Better Government, who circulated the charter change petition, and the Tulsa World editorial board.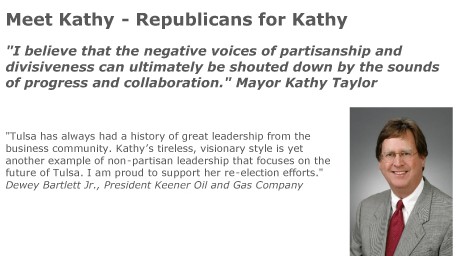 Reading between the lines, it appears that Republican Party officials used the leverage of their endorsement to get Bartlett Jr on the record on matters of conservative principle, with hopes that they can hold him to this statement on specific issues. While the endorsement of party officials is normally automatic for the winner of the Republican primary, this year we have a nominee who had already endorsed the Democratic incumbent for re-election. I think it's fair to say that the only Republican Bartlett Jr would have endorsed for mayor is Bartlett Jr.
I have heard that county party officials have been under relentless pressure to issue an endorsement, and this statement gives them a pretext for changing course. Unfortunately, several of his statements don't square with his recent public record, and others are ambiguous enough that he could adhere to the letter of the agreement while violating its spirit.
You can read the entire statement at Roemerman on Record. Here are a few of the items that either run contrary to Bartlett Jr's record or need more specificity:
Public Safety: Strong public safety is my first priority. I will hire more police to combat crime with existing revenue streams. I will collaborate with Sheriff Stanley Glanz to be sure we are fighting crime with all means and resources necessary. I believe in enforcement and punishment, not the latest social program to treat criminals. Any increases in the police and fire budgets will go to protecting Tulsans or fighting crime.
Collaborating with the sheriff makes sense on most issues, but there are times -- the jail contract, for example -- when the sheriff's interests and the city's interests don't line up, and at those times, city elected officials have to look out for the interests of the citizens who elected them.
I'd like to know whether Bartlett Jr will support 287(g) certification for the Tulsa Police Department. I'd also like to know whether Bartlett Jr agrees with Councilor Bill Martinson that public safety's growing share of the city's general fund budget is cause for concern. I'd like to know from all the mayoral candidates: Where were you when this issue was before the City Council back in June?
Taxes: I pledge not to raise our taxes. Taxes should always remain low, and now more than ever we simply cannot raise taxes.
This promise doesn't square with Bartlett Jr's vote last June, as a member of the Tulsa Airports Improvement Trust (TAIT), to raise our property taxes by agreeing to an unjust $7.1 million settlement with Bank of Oklahoma in the Great Plains Airlines lawsuit. Had he voted against it and persuaded two of his fellow trustees to join him in opposition, the settlement would have failed, the legal process would have moved ahead, with the possibility that the parties responsible for the GPA disaster would be held accountable legally, financially, and politically. Instead, he praised the tax hike, praised Kathy Taylor for coming up with the scheme, voted for it, and then endorsed Kathy Taylor for re-election. When he personally had the power to stop a tax increase, Dewey Bartlett Jr supported and praised the tax increase.
Bartlett Jr's promise leaves a lot of wiggle room. He can propose putting a tax increase before city voters on the grounds that he wants to give the voters a chance to decide whether to raise their taxes. When Tulsa County comes back with a 4-to-Fix sales tax renewal (which would now raise the overall tax rate, since the City of Tulsa's streets tax in the same amount will go into effect when 4-to-Fix expires) or another stab at the river tax, Bartlett Jr can endorse it without literally breaking his promise.
As we've noted before, putting a tax increase before the voters is not a neutral act. Tax votes are expensive: Expensive for the county election board, expensive for the proponents, and expensive and time consuming for the opponents. Those interests that will benefit financially from the tax hike will pour money into supporting its passage, while opponents will struggle to raise 1% of the money to get their message out. It's a classic case of concentrated benefits vs. diffuse costs.
A meaningful promise would have been to veto any council resolution for an election that would raise the overall rate of taxation on Tulsa taxpayers and to oppose publicly and energetically any attempt by other jurisdictions (e.g. Tulsa County) to raise the overall sales tax rate.
Tom Adelson has actually voted for significant state tax cuts on several occasions, including the one that was finally passed in 2006 -- yes, that's the year he and other Democratic state senators got ticked off at Gov. Brad Henry for going behind their backs to cut a deal with House Republicans.
Bartlett Jr never has, as far as I am aware, ever opposed a local tax increase, and that alone makes Bartlett Jr's promise ring hollow. (Neither Adelson nor Mark Perkins has ever opposed a local tax increase either, as far as I know.)
And as Dan Hicks has noted, tax increases have an easier time passing when Republicans are in office. That's because the local Republican Party leadership will energetically oppose a tax increase pushed by a Democrat, but when the tax backers are Republican officials, some party leaders believe the party organization must back the elected officials at all costs. The Tulsa County Republican Executive Committee voiced opposition to two attempts to raise the city sales tax to build a downtown arena, in 1997 and 2000. That was when Democrat Susan Savage was mayor. But when Republican Bill LaFortune was mayor and two of the three county commissioners were Republicans, the Executive Committee did not take an official stance on what was a much larger tax increase than the two that the party leadership had officially opposed.
Last week's Tulsa Beacon had a front-page story about Bartlett Jr's pledge not to raise taxes, but the same story notes that he's been endorsed by Tulsa County Commissioners Fred Perry and John Smaligo. As a Republican legislator, Perry had taken the Americans for Tax Reform pledge to "oppose and vote against any and all efforts to increase taxes," as a County Commissioner Smaligo stated, "The commissioners believe in solid conservative economic principles that when you raise taxes, you hamper commerce and industry," and yet they both voted to put the Tulsa County River Tax on the ballot. Both of them justified their decision to put the tax on the ballot as giving the voters the chance to decide.
Fiscal Restraint: I will manage the budget, making sure we cut unnecessary spending. I will utilize internal and external audits to find out where we can reduce the size and waste in our government.
That's great, but I'd like to know how Bartlett Jr reconciles that position his endorsement of Kathy Taylor, who rejected efforts by fiscal conservatives like John Eagleton who was working long before the economic downturn to keep the growth of the city budget within the rate of inflation. Had Eagleton been successful, the current budget crisis would be considerably less painfull.
"One Tulsa": We cannot ignore any part of town. We must improve our entire city and be sure that each part has proper investment and service. I will work with, not against, the city councilors to achieve this goal.
This promise doesn't square with Bartlett Jr's endorsement, as a member of Tulsans for Better Government, for a proposal to reduce the number of City Council districts from 9 to 6, and to add three at-large City Council seats that would be elected citywide.
Nearly all the members of Tulsans for Better Government were District 9 residents. The proposal would almost certainly have resulted in three more Midtown Money Belt denizens on the council at the expense of representation north, east, and west Tulsa. Winning an at-large seat would require significant resources, and the larger districts would make it harder for grassroots candidates to compete and win. West Tulsa, already just barely providing one half of the population of Council District 2, would have been reduced to a third of a district, easily ignored at election time.
Had this plan, endorsed by Bartlett Jr, been enacted, it would have made it harder for the entire city to have its voice heard and for districts beyond Midtown to have their needs and priorities considered.
Bartlett Jr's promise to work with the city councilors also doesn't square with his clear statement of disrespect in his announcement speech, with its reference to "partisan bickering."
Pro-Life: I am 100 percent against abortion. We need to encourage our faith communities to continue to help pregnant women cope with the challenges of motherhood and eliminate this terrible practice. I also support the efforts of others, such as Catholic charities, in their fight to stop abortion.
That's commendable, and I am unaware of anything contradictory in Bartlett Jr's record. It's an important issue to me and to most conservative Tulsans, whatever their party registration. Adelson has consistently voted against key pro-life legislation aimed at increasing respect for the sanctity of human life and reducing the number of abortions in Oklahoma. Adelson's consistent pro-abortion position will make it very hard for Republicans dissatisfied with Bartlett Jr to split their tickets in Adelson's favor.
There is a question, however, that I wish Bartlett Jr had addressed, dealing with the mayor's actual powers and prerogatives dealing with pro-life issues: Will you, as mayor, veto any attempt to provide funding through the city to Planned Parenthood or any other organization that performs abortions, makes abortion referrals, or advocates for abortion rights?
In the 1990s Planned Parenthood sought CDBG funding for their clinic. That's federal money allocated by local governments. Although the Planned Parenthood of Arkansas and Eastern Oklahoma does not perform abortions in Tulsa, they do refer patients to abortion clinics, they lobby against pro-life legislation in Oklahoma City, and their Arkansas clinics provide abortion services. Money is fungible, and city funds for one of their more legitimate functions frees up donated money for their pro-abortion activities.
Second Amendment: I personally keep and bear arms. This right is a city issue, contrary to what some liberals might say. I will not support limiting our Second Amendment right.
This promise doesn't square with Bartlett Jr's endorsement of Kathy Taylor, who joined the Mayor's Coalition against Illegal Guns, a group founded by liberal mayors with the aim of repealing the Tiahrt Amendment. Bartlett Jr was proud to support Taylor's re-election and, as far as I can find, never protested her participation in this anti-gun-rights group.
The National Rifle Association's political wing has endorsed Tom Adelson for Mayor, on the strength of his pro-gun-rights voting record in the State Senate.
Property Rights: I support property rights of the individual from eminent domain abuse. People are allowed to enjoy life, liberty, and the pursuit of happiness in this county and I will stand behind individual property rights which are so essential to this principal [sic].
Eminent domain abuse is in the eye of the beholder. I'd have liked some specifics: Will you veto any ordinance or resolution that authorizes eminent domain for private redevelopment? Was the City right to use its power of eminent domain to clear land for TU's new grand entrance on 11th Street?
Signing on to a statement of vague principles is easy. Bartlett Jr's recent record has enough worrisome aspects that Republican voters should insist on specific commitments before jumping on the Bartlett bandwagon.
1 TrackBacks
Here's yet another slimy political attack from the Karl Ahlgren-Fount Holland factory. Dewey Bartlett Jr sent out a postcard to voters claiming, "Mark Perkins wants to take away our Second Amendment right to bear arms." Mark Perkins stated in a debate ... Read More