Tulsa streetcar and interurban lines in Google Maps
In response to a thread at TulsaNow's public forum, here is a map showing the routes of Tulsa's three streetcar/interurban lines: Red is the Tulsa Street Railway, blue is Oklahoma Union Traction, and green is the Sand Springs Railway. The latter two lines had interurban routes to Sapulpa and Kiefer and to Sand Springs respectively, and the interurban tracks continue to provide diesel freight service. OUT is now known as the Tulsa-Sapulpa Union Railroad. Click the picture to see a much bigger version.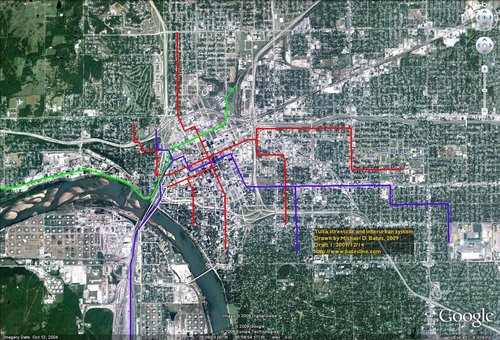 To make it easier to explore the routes, here is a Tulsa streetcars and interurbans KMZ file, for use with Google Maps and Google Earth.
The routes are largely based on maps and text in the book When Oklahoma Took the Trolley, as well as some documents from City of Tulsa archives. If you have any corrections or questions, please leave a comment below or drop a line to me at blog at batesline dot com.