Ice forecast a little less bad
I realize there are other things in the news tonight -- the FOP turning down the City of Tulsa's alternative to layoffs, the State of the Union show -- but my mind has been focused on getting my family ready for what could be a week or so without power.
In 2007, many homes lost their connection to the grid, and the need for electricians to make repairs delayed restoration of power for many Tulsans for more than a week. Even without that kind of damage at our house, we were without power for half a week. Thankfully, we've had plenty of warning, and there are reports that PSO is already mobilizing repair crews in preparation for storm damage.
We've stocked up on food, particularly calorie-dense, non-perishable stuff. We've almost finished getting all the laundry done. (Thanks, Tasha, for that excellent suggestion.) We're about done arranging the living room as sleeping quarters, close to the gas fireplace. One thing I didn't find that would be useful -- D batteries. Every store I was in today was completely out of them.
The latest (as of about 10 pm) ice forecast from the National Weather Service office in Tulsa is looking a little better -- still about a half-inch of ice, but wind speeds are projected to be about half what was previously forecast. Tulsa County is still in the 3 to 4 range for the SPIA Index -- likely power outages lasting anywhere from 1 to 10 days.
The Tulsa National Weather Service office website has a very helpful feature -- the Decision Support Page. There's a grid showing at a glance what kinds of hazardous weather are projected over the next seven days, and what the projected intensity is. Click on a button in the grid and it will take you to a page with more detail. The Decision Support Page also has a link to the latest multimedia briefing from the NWS. (As far as I could find, the Norman NWS website didn't have anything quite like this.)
Here are the latest ice accumulation maps from the NWS: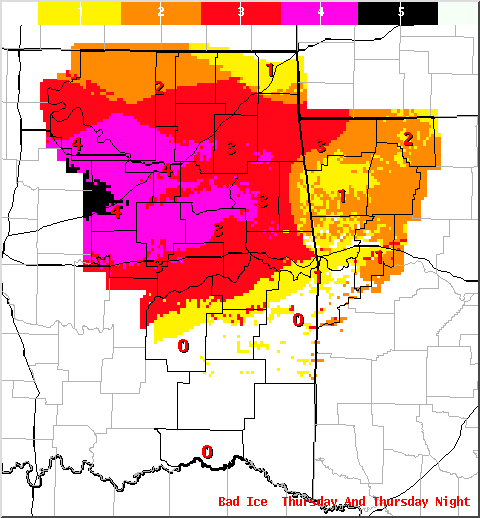 0 TrackBacks
Listed below are links to blogs that reference this entry: Ice forecast a little less bad.
TrackBack URL for this entry: http://www.batesline.com/cgi-bin/mt/mt-tb.cgi/5478