Redd Foxx, Taft police chief
Here's an odd little digression to take us into the weekend: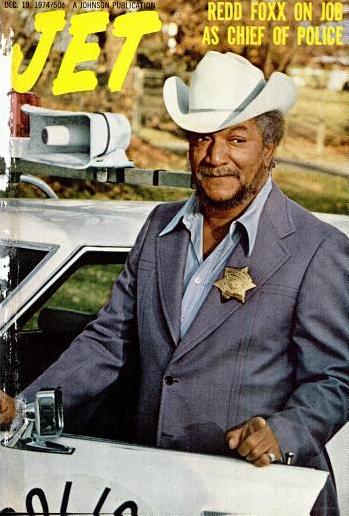 The mention of the town of Boley in the 1977 documentary on historic preservation in Oklahoma got me chasing a rabbit in the middle of writing the previous entry.
It brought to mind a time in the '70s when black celebrities adopted some of Oklahoma's historic black towns -- towns founded by Creek freedmen who, as tribal members, received Dawes Commission allotments in Indian Territory or by settlers in the newly opened lands of the Unassigned Lands and the Cherokee Outlet.
I remember newspaper articles and TV stories about well known entertainers like Redd Foxx and Flip Wilson visiting these little towns and offering to help finance civic improvements. "Sanford and Son" and the Flip Wilson Show were two of my favorite TV programs, so the announcements caught my attention.
Thanks to Google's online archive of publications, I have confirmation of my memories. Sometime in the summer of 1974, Taft, Oklahoma, mayor Lelia Foley appointed Redd Foxx police chief of the town. In the Sept. 26, 1974, issue of Jet, Foxx said that this would "not be a token job":
Foxx... said he plans to establish a museum to house the artifacts of outstanding Black leaders and personalities, plug for a new municipal swimming pool and promote a project to improve the appearance of residences and busnesses.
According to a story in the November 13, 1974, Toledo Blade, Foxx heard about the job opening and applied for it: "He was looking for an all-black community to help, so he took the job." He announced plans to finance a swimming pool and a museum for the town and to donate some of his memorabilia for display.
In October he visited and was sworn in. The December 19, 1974, issue of Jet featured Foxx on the cover, in cowboy hat and chief's badge, standing next to a police car.
A story in the December 3, 1974, Miami News, mentions Redd Foxx's adoption of Taft as a bright spot in his life:
The only time Foxx becomes lively is when talking about Taft, a town 104 miles from Oklahoma City. He's honorary sheriff, and wants to build a swimming pool and a black hall of fame there. He adds, "if people get off the highway to see a football hall of fame and snakes, why not get off the highway for a tribute to black accomplishment?"

October 26, 1974, Kentucky New Era quoted Foxx on his motivation for getting involved in Taft:
"It is my desire to put Taft on the map, to turn the town into a city," Foxx said. "Hopefully other entertainers will adopt towns and together we'll improve the plight of black people all over this country."
Other entertainers followed Foxx's example. A brief item in the March 6, 1975, issue of Jet reports that Sammy Davis Jr. had been named chief of police in Langston after comedian Flip Wilson had been honored with the same title in Boley. "Both Foxx and Wilson pledged to help their newly-adopted cities and Davis is expected to do the same for Langston.
But by April 1975, the relationship began to fall apart. Mayor Foley was impatient for some of the promised assistance to materialize, and she announced her intention to fire Foxx as chief.
From the April 17, 1975 edition of Jet:
She complained that the $10,000 check Foxx presented her in a public swearing-in ceremony in December was not to the town of Taft at all, but to the Redd Foxx Foundation. Since then, the $10,000 check has remained in a bank in nearby Muskogee, unused.

She added that there has been no sign of any Redd Foxx provided police car and that she has not been able to get in touch with Foxx since the swearing in.

Foxx, the red hot star of Sanford and Son, said Mayor Foley, the first Black woman ever elected mayor in the U. S., just does not understand that the deals he promised take time to complete and that he is very busy. He also accused the mayor of "trying to get a whole lot of publicity."...

"As soon as we secure the property," Foxx assured, " we will start work on the swimming pool. I will buy the police car from Chicago, and they are supposed to give me a bus after I do a show to open up a new wing of the Cook County Jail." ...

"If she has the strength to fire me, I will find me another town," declared Foxx. "They can make me the librarian as long as I can help some Blacks."
But instead of firing Foxx, the other two members of the town council voted for one of them to replace Foley as mayor.
An AP story from December 1975 reports that Foxx organized a Christmas party for Taft residents, at which his attorney presented the town with a police car, purchased from the Muskogee police department, 300 turkeys, and a $4,000 check from the producers of "Sanford and Son."
In February 1978, the town council voted to fire Foxx. The $10,000 check in the Redd Foxx Foundation's name couldn't be used, Foxx took back the bus, intended for senior citizens, the police cars (used) had to be repaired, and the turkeys were actually donated by someone else, Taft officials claimed.
The dispute was still in the news in this April 1981 UPI story (jump page here):
Mayor Lela [sic] Foley Davis of Taft, Okla., said Friday the two police cars are junkers that have turned into expensive rat and snake infested eyesores and claimed relations between the community and the comedian soured after officials refused to change the city's name to "Reddfoxxville."

Foxx, who donated a van and two 1975 Plymouth patrol cars emblazoned with his picture, said Mrs. Davis is a lousy mayor and he could do a better job."...

Mrs. Davis called the whole Foxx affair "a bad dream" that the town would just like to forget....

Mrs. Davis said the two 1975 model cars... have been sitting behind city hall since 1978, attracting snakes, rodents and vandals....

Mrs. Davis said over $1,000 has been spent on repairs since Foxx donated the cars and the city can't afford any more.
According to this Jet story from the same month, the cars were sold at auction for $115 to a local garage owner who planned to use the vehicles for spare parts.
A quick look for info on Flip Wilson's involvement with Boley and Sammy Davis, Jr.,'s partnership with Langston suggests that those relationships were much more cordial and productive.
MORE: Celebrity involvement did bring national attention to the remarkable history of Oklahoma's black towns. Here's a 1975 AP feature story on Langston, Taft, and Boley.
STILL MORE: A Muskogee County friend advises me that Lelia Foley Davis is still active in Taft politics and was serving as mayor at least as recently as last December.
0 TrackBacks
Listed below are links to blogs that reference this entry: Redd Foxx, Taft police chief.
TrackBack URL for this entry: http://www.batesline.com/cgi-bin/mt/mt-tb.cgi/5593