Getting to know a new city
Natasha Ball (Tasha Does Tulsa) has posted the notes from her presentation last week at Ignite Tulsa 3 -- 19 Ways to Get to Know Your Town (Even If It's Not Tulsa). All the suggestions are good (except maybe 17 -- if I ever do Foursquare it'll be under a pseudonym). I particularly approve of the advice to see a city on foot and to get involved in church, clubs, and causes, particularly if you plan to be around for a while. (On a recent trip to Wichita, I attended the unveiling of their new downtown plan; very interesting to compare it to the PLANiTULSA process.)
Over the last couple of years, I've had the opportunity to spend some extended time in other cities. Here are five things I do to get to know a new city.
1. Study a map: Google Maps and Tom-Toms are all well and good, but there's no substitute for poring over a street map on paper to get a handle on where things are, how they relate to one another, and what might be of interest. A map gives you opportunities for serendipitous discoveries that you might never make on the web: A point of interest with an obscure or intriguing label, a street that deviates from the grid, the names of neighborhoods and districts. If you're a AAA member, you can stop by the office on 15th St. between Utica and Lewis to get a street map for a city you're planning to visit -- it's included in your membership.
2. Peruse the WPA Guide for the state: Back during the Great Depression, the Federal Government set writers and photographers to work documenting each of the states -- history, culture, economy, cities, and highways -- as they were in the late 1930s. Each book features a series of driving tours with descriptions of landmarks and historic sites. Some of the places are long gone, but many are still there, if perhaps overlooked. You'll find these books in the library (and on Google Books) under a number of names: Federal Writers' Project, American Guide Series, WPA Guide. Often the book will have a map showing the paths that U. S. and state highways took through town in the days before freeways and interstates, and that leads me to my next point.
(Oklahoma: A Guide to the Sooner State ought to be on the bookshelf of every Oklahoman. If you can find the University of Kansas reissue, The WPA Guide to 1930s Oklahoma, it contains an essay by historian Angie Debo that was cut from the original edition.)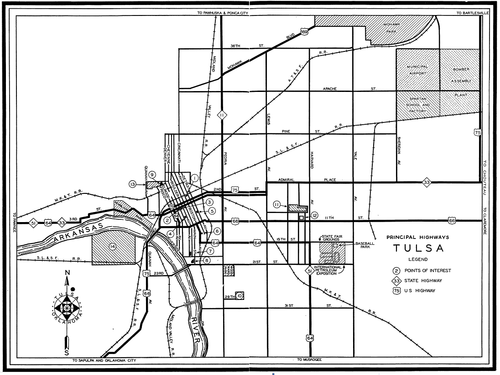 3. Follow the old highway routes through town: Look for a map from the 1950s or earlier showing the streets that were designated as US or state highways, and then drive the road between downtown and the outskirts of town. On the edge of the city, you'll find commercial architecture from the heyday of the family road trip: old motels and tourist courts, diners, gas stations, tourist traps, and curio shops. This is where you're likely to find flamboyant neon signage designed to catch the eye of a weary dad behind the wheel of his station wagon. While roadside architecture along the interstates looks the same from one end of the country to the other, back before the interstates roadside buildings bore the imprint of local character and local imagination. Here you may still find cafes that once catered to tourists and truckers but now mainly serve the locals.
Closer to town, the old highways are likely to take you past the kind of neighborhood commercial districts which are often incubators for urban revitalization. Tulsa's Cherry Street developed along what was once U. S. 64, the main road between Tulsa and Muskogee and Ft. Smith. This is where you might find an interesting antique shop or a hip coffee house.
You might be able to find this sort of map in the state's WPA Guide. Many state highway departments have posted scans of old official highway maps online: e.g. Oklahoma, Kansas, Missouri.
4. Hang out in an indie coffeehouse: You don't have to answer all your email from your lonely hotel room. Find a friendly locally-owned coffeehouse with wifi. These places often serve as de facto community centers, and the bulletin board and the barista can tip you off to live music, gallery exhibits, festivals, lectures, and other types of local flavor. I always check IndieCoffeeShops.com, a crowd-sourced database that uses Google Maps to help you locate coffeehouses. When I find one that isn't listed, I give back by adding it to the IndieCoffeeShops.com database. You can filter the search for wifi, food (more than just pastries), beer and wine, and whether or not smoking is allowed and outdoor seating is available. UrbanSpoon is another way to search for cafes, pubs, and restaurants with free wifi.
5. Check out the local alt-weekly: Many alt-weeklies publish an annual "Best of" edition that will clue you in to the locals' favorite places to shop, eat, drink, and play. You can usually find the most recent "Best of" on the paper's website. The latest edition (likely available at the aforementioned indie coffeehouse) will give you a calendar of events and often interesting feature stories spotlighting local issues, performers, artists, and eateries.
0 TrackBacks
Listed below are links to blogs that reference this entry: Getting to know a new city.
TrackBack URL for this entry: http://www.batesline.com/cgi-bin/mt/mt-tb.cgi/5786