Oklahoma census data: The State House map
The redistricting committee of the Oklahoma House of Representatives has set up a redistricting webpage with some interesting summary data that they will use to redraw the lines for their chamber of the State Legislature.
They provide a very helpful link to the U. S. Census Bureau's Redistricting Data Office, where you can download population data (down to the block), maps, and shapefiles for GIS.
The Oklahoma House redistricting page also has spreadsheets summarizing population changes between 2000 and 2010 for each county, State House district, State Senate district, and congressional district, and maps illustrating State House district population change and deviation from the ideal population (state population / 101).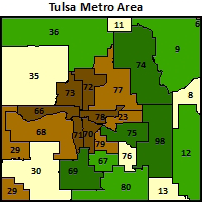 Five of the 10 districts which are farthest below the ideal are in midtown and north Tulsa: 70, 71, 72, 73, and 78. (Three of the districts have been held throughout the decade by Democrats.) They need to be expanded in area to grow by 4,000 to 6,000 population. Three districts in the top 10 that need to lose people are on the suburban fringe of Tulsa County: 74 (Owasso), 98 (Broken Arrow), and 75 (southeast Tulsa, north Broken Arrow). The area of brown on the Tulsa County map (shrinking districts) corresponds roughly to the Tulsa Public Schools district boundaries.
There are a couple of possible solutions to balance the population of Tulsa area districts. One would be to expand the central districts out further, cutting into areas currently in suburban districts that need to lose some population. The other possibility would be to eliminate one of the central districts -- perhaps 70, since incumbent Ron Peters is term-limited, or the oddly-shaped 78 -- split it up among the other central districts, and then recreate the district somewhere in the suburbs. This is how HD 98 was reborn in 2001 -- transplanted from the western suburbs of Oklahoma City.