In tenebris
(There are a fair number of stream-of-consciousness reminiscences in this piece, so to simplify matters, the main thread of last Friday's story is in normal text, and the flashbacks are in italics.)
My feet hit the floor at 4:15 a.m. Eastern time Good Friday morning; pitch black outside. After a shower, some final packing, a "breakfast" of leftover pulled pork and some broccoli, cauliflower, and carrots from the big bag I got at Sams, I checked out. At 5:15 I pulled out of the lot, making a brief stop at the Wawa on the way out of town for a cup of coffee. As I headed north, I watched the rosy-fingered dawn spread and brighten across the marshes to my right.
At 6:50, I'm pulling my "preferred upgrade," a Mercury Grand Marquis -- not much of an upgrade with gas pushing $4 a gallon -- into the rental return queue. By 7:10, my bag is checked, and I'm ready to go through the nearly empty security line. Or ready as soon as I polished off my four leftover pieces of mozzarella string cheese. (I figured the dry salami slices and the broccoli would be OK, but the cheese constituted a liquid or gel and no doubt would violate TSA rules.)
The TSA agent checking my boarding pass and ID wondered why someone would go through Chicago to get back to Oklahoma, instead of DFW. I explained that DFW was south, and passing through there involved backtracking. That seemed to satisfy his curiosity -- or was it suspicion?
By the end of the day, I came to share his suspicion of anyone that would fly through O'Hare in April. You'd have to question a traveler's sanity, if not his intentions.
On my outward bound trip, on Palm Sunday, my plan to fly through Chicago was thwarted when American delayed the in-bound flight of the plane I was supposed to take to Chicago. I'd miss my connection, so the ticket agent changed my flight, rerouted me through DFW, then went to the baggage room, pulled my bag, and re-tagged it to match the new itinerary. Of course, I didn't learn of the delay until I was at the airport, having rushed around all morning to finish packing, and having skipped lunch with my family to make the flight -- unnecessary as it turned out. And my aim in taking that early afternoon flight -- arriving at the hotel at about 10:30 -- was thwarted, too, by a three-hour margin.
Once I arrived at my destination airport and was issued my land yacht -- it was after midnight and too late to mess with trading cars -- I started on my 90 minute drive to my destination. A highway sign for a 24-hour Dunkin Donuts lured me off the interstate. At the donut shop, a small group of regulars in the corner watched in amusement as an evidently drunk customer berated the young Indian behind the register.
The drunk customer was only buying three donuts and he wanted a donut box to hold them. The clerk insisted he didn't have one. After a few go-rounds, the clerk admits to having the big dozen donut boxes, leading the drunk to exclaim that the clerk was holding out on him. The drunk paid and headed outside, or so I thought. He came back a minute later to ask the clerk to hold the door so he could wheel his trike out of the entryway. I supposed a connection between his condition and his choice of transportation, but wouldn't it still be DUI no matter what type of vehicle you're operating on the public roads?
But back to the dark and stormy Good Friday at O'Hare: American Airlines delayed my homeward bound flight by almost two hours, and eventually they cancelled it, as well as the flight to follow. Looking for an American gate agent, I found one cheerfully suggesting that cancelled Harrisburg passengers might find it convenient to fly to Boston instead. She met my puzzled expression with a shrug. She transferred my reservation to a United flight due to leave about the same time as my cancelled flight, took a description of my bag and the number of my baggage claim check, then wrote a six-digit number (the bag change order number, evidently) on the claim check. All seemed to be well, and I was led to believe my bag would be joining me on the flight home.
I strode over to the United terminal, past the "Kids on the Fly" playground where my oldest played during long layovers, back when my wife worked for Sabre, and we had non-rev privileges on American. I remembered another stormy Chicago spring night, when my oldest, then three, entertained the other passengers at the gate where we waited for the last flight to Tampa. He turned a roll-aboard with the handle extended into a ticket window. I remember that we were strung along, expecting that the final flight would go after the storms moved through. Instead, the flight was canceled, so we claimed our luggage, found a nearby down-on-its-heels hotel with a shuttle service, and as my wife and son slept, I searched Sabre for a flight that could get us within a couple of hundred miles of where we wanted to be. (Miami was our best option, as it turned out. Somewhere, in an old Franklin planner 7-ring binder, I must still have my cheat-sheet of Sabre commands -- N-display, VNR, VNL....)
My oldest had another milestone at O'Hare: He was about 8 months old, on the seat of a parked people-mover cart, and he pulled himself up for the first time, using the back of the seat.
Back to 2011: I found some chairs in the walkway between E and F concourses with power plugs under each seat. By some miracle, the T-mobile hotspot I connected to didn't require me to log in -- must have been the cyber-equivalent of pulling up to an unexpired parking meter. All was well until the 6'5", 300 lb, young man with terrible BO decided the seat next to me was the best place to air out his feet and make a phone call (in some Slavic tongue). I left shortly thereafter.
The United flight left on time. I dozed off and on through the flight, in between attempts to read through the Gospel according to Mark on my PDA. As we crossed into Oklahoma, I had a clear view of Route 66, in sunlight, and a dramatic view of the backside of a line of cumulonimbus clouds which had the Will Rogers Turnpike hidden in deep shadow. We turned west, flew south along Peoria, then at Southern Hills we started the U-turn for landing. The storm had moved through Tulsa by the time we landed.
At the Tulsa airport, I learned that neither United nor American had any idea where my bag was or which airline had custody of it. United's system had no record of it; American's system showed a bag change order but no confirmation of its current whereabouts. Most likely it would come in on American's only uncanceled ORD-TUL flight after 11 pm, and then would be transfered at TUL to United for me to pick up. I filed my phone number and a description of the bag with both airlines, just in case.
At 5:30 -- 14 hours since my feet hit the floor, 13 since I left the hotel -- I walked into my own home, sans checked bag. We debated whether to go to church for the Good Friday Tenebrae service or to have some sort of devotional at home. We decided to have a quick meal -- the soup my wife had been cooking, plus some leftover hoagies -- and head to Christ Pres.
I grew up in a very non-liturgical church but came to appreciate the concept of the church year and in particular, Holy Week. After returning to Tulsa from college, I remember looking for special services to attend. I went to the Three Hours at St. John's Episcopal, Tenebrae at Immanuel Lutheran in Broken Arrow when it was on the hill, Easter Vigil at St Aidan's led by the beautiful baritone of Father Masud Syedullah. That may have been all in the same year, 1988. The following year I was in London on Good Friday, the last full day of a five-week work assignment there. I went to the Litany at St. Paul's Cathedral in the morning, the Three Hours at All Souls Langham Place in the afternoon. I flew home Saturday and went again to a Father Masud-less Easter Vigil at St. Aidan's. It wasn't the same.
So I'm happy to be a member of a church that holds special Holy Week services; all the more reason to forget my weariness and get everyone rounded up and in the car to go to church. We were wrong about the time -- we thought 7:15 instead of 7:30 -- so we were atypically on time.
Tenebrae is Latin for "shadows," and the service involves seven readings that lead from the light of the Last Supper, through the growing darkness of betrayal, abandonment, condemnation, crucifixion, and burial. After each reading, a candle is snuffed out, and at the end of the service the sanctuary is pitch black.
The candles were set in bowl-like holders, arranged on the communion table in the center of the platform. As we waited for the service to start, our associate pastor of 30 years noticed the candles flickering, so he got up from the front pew, shut the air vents that blow onto the platform, and the flames stood still. The associate pastor is a master of detail, and his knowledge of the physical plant pales in comparison to his knowledge of the church members, regular attenders, and even new visitors, and using that knowledge to help connect people with one another. He will be missed.
While we were sitting in the pew, accidentally early, the senior pastor approached to say that the first of seven readers backed out at the last minute and could I read in his place?
The service began with a hymn ("Jesus, Keep Me Near the Cross") and two passages from the Old Testament read by the pastor about the suffering of God's Anointed -- Isaiah 53 and Psalm 22. Another hymn ("Ah, Holy Jesus, How Hast Thou Offended"), and then I walked up to read the first lesson from John 13 where Jesus dips a morsel and hands it to Judas, telling him to do what he has to do quickly. I read slowly and somewhat dramatically, snuffed the first candle, then returned to our pew. As I sat, our five-year-old exclaimed, in an emphatic stage whisper: "Great... job... Dad!"
The five-year-old was not so excited at the end of the service, when all the lights were out and the pastor took the Christ candle to the back of the sanctuary, then led the congregation in "Were You There?" The five-year-old was a bit spooked by the darkness as we left the sanctuary in silence, but as he got into his car seat, he was singing, "Sometimes it causes me to tremble," over and over again.
As we pulled into the driveway, the garage door opener wouldn't work. Then we noticed that the porch light was off. In fact the power was out for our whole block.
We walked in to the darkened house and rounded up the lanterns and flashlights -- standard spring equipment for an Oklahoma household. The five-year-old said over and over again that he was scared. I held his hand and led him with a lantern in the other hand. I got him dressed for bed, gave him his allergy medicine (also standard spring equipment for Oklahoma), brushed his teeth, and tucked him into bed. His 10-yr-old big sister climbed into bed with him and read him a story by flashlight -- The Case of the Great Train Robbery, about a kid with a skunk for a pet.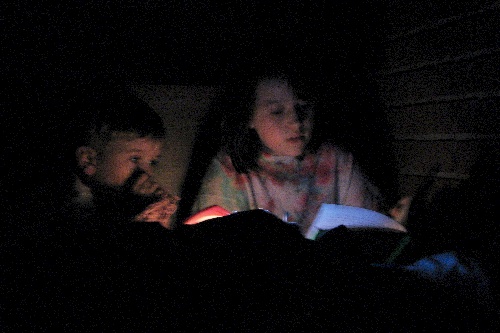 We found a rechargeable electric "candle" that he could use as a nightlight, and he had his sister's Hello Kitty lantern to turn on if he needed to get up. We said prayers. We couldn't turn on his usual CD, but the toads and frogs were singing in our backyard pond, and his big brother was out on the deck practicing his violin under the light reflecting off of the clouds, softly playing "Maiden's Prayer" and "Tamlin" and snippets of the classical pieces he's been learning.
Shortly after the five-year-old fell asleep, the lights came back on. I head to the airport. A while later, I headed to the airport in time for the arrival of the last AA flight from ORD, delayed by an hour or so. My bag came up on the carousel -- it never had been transferred to United -- so I grabbed it and headed home. My head hit the pillow approximately 24 hours after my feet had hit the floor that morning.
0 TrackBacks
Listed below are links to blogs that reference this entry: In tenebris.
TrackBack URL for this entry: http://www.batesline.com/cgi-bin/mt/mt-tb.cgi/5969