Special Tulsa election today: New, secretive ONG franchise agreement
Oklahoma Natural Gas is granted a franchise by the City of Tulsa to run its lines through the city's easements and rights-of-way. That franchise was last renewed in 1986 for a 25-year-term. The franchise renewal is on the ballot for a special election today, August 9, 2011. The proposed renewal period is for 15 years.
Today is also the first Tulsa County election under the new voter ID requirement approved by Oklahoma voters last November, so bring your drivers' license.
Here is the ballot text:
SHALL ORDINANCE NO. 22415, ADOPTED BY THE CITY COUNCIL AND APPROVED BY THE MAYOR OF THE CITY OF TULSA, OKLAHOMA, BE APPROVED BY THE PEOPLE, WHICH ORDINANCE GRANTS TO OKLAHOMA NATURAL GAS COMPANY (ONG), A DIVISION OF ONEOK, INC., A CORPORATION, ITS SUCCESSORS AND ASSIGNS, FOR A PERIOD OF FIFTEEN (15) YEARS, A NON-EXCLUSIVE FRANCHISE AND A RIGHT TO USE THE PUBLIC RIGHTS-OF-WAY FOR THE PURPOSE OF TRANSPORTING, DISTRIBUTING AND SELLING NATURAL GAS TO CONSUMERS AND THE GENERAL PUBLIC WITHIN THE CITY; DEFINES TERMS; REGULATES THE ASSIGNMENT, SALE OR LEASE OF THE FRANCHISE; GOVERNS THE USE AND REPAIR OF CITY RIGHTS-OF-WAY; ASSIGNS RESPONSIBILITY FOR THE ADMINISTRATION OF THE FRANCHISE; REQUIRES ONG TO OBTAIN RIGHTS-OF-WAY CONSTRUCTION PERMITS AND SETS FORTH THE REQUIREMENTS FOR SUCH PERMITS; ESTABLISHES AN APPEALS PROCESS; REGULATES ONG'S SERVICE; ESTABLISHES ENGINEERING STANDARDS; IMPOSES CERTAIN DUTIES TO REMOVE OR ALTER FACILITIES; REQUIRES INDEMNIFICATION OF THE CITY; ALLOWS ONG TO MAKE AND ENFORCE REASONABLE RULES AND REGULATIONS FOR THE CONDUCT OF ITS BUSINESS; REQUIRES ONG TO MAINTAIN RECORDS AND PERMITS THE CITY TO INSPECT THEM; REQUIRES ONG TO PAY A FRANCHISE FEE AND SETS OUT THE METHOD OF CALCULATING THAT FRANCHISE FEE; AUTHORIZES THE RIGHT TO RENEGOTIATE THE TERMS OF THE FRANCHISE IN CERTAIN CIRCUMSTANCES; PROVIDES THAT THE QUESTION OF APPROVAL OF THIS FRANCHISE SHALL BE SUBMITTED TO A VOTE OF THE PEOPLE AT A SPECIAL ELECTION; ALLOWS SEVERABILITY OF INVALID SECTIONS; PROVIDES FOR ONG'S ACCEPTANCE OF THE TERMS OF THIS FRANCHISE; REPEALS THE ORDINANCE GRANTING ONG ITS CURRENT FRANCHISE IN 1986; AND DECLARES AN EMERGENCY?
There is no mention of today's election on the home page of either cityoftulsa.org or tulsacouncil.org. The city elections page at cityoftulsa.org refers only to September's municipal primary and November's general. The proposed ordinance (No. 22415) doesn't show up in the list of ordinances passed since the ordinances were last codified, but that list does include ordinances higher in sequence number, as recent as June 23, 2011. No info about the election can be found on oklahomanaturalgas.com.
The TulsaCouncil.org website still lacks a keyword or free-text search option for its database of agendas. By searching one regular meeting agenda at a time, I was able to find the ordinance calling today's election, but not ordinance 22415, the legislation that the voters will approve or reject today.
I would like to tell you in detail about the pros and cons of this proposition, or even how the proposed franchise agreement differs from the current agreement, but I can't find those details where they should be, on a city government website. It's as if they want us to vote without knowing what we're voting on. Therefore I'm voting NO.
MORE:
Tom Quinn's ONGsucks.com, once advertised on a billboard on US 75 north of downtown, has been offline for a while, but here's the Wayback Machine's capture of Quinn's 2002 appeal to terminate ONG's franchise.
Tom Quinn's February 4, 2010, jeremiad against ONG
A PERSONAL NOTE:
In the early part of 2010, a SNAFU involving ONG's transition to a new online bill pay system nearly got our gas cut off. Although I had had automatic bill pay in place via choicepay.com for several years, suddenly nothing was getting paid. ONG would run a computer tape once a month of what everyone owed, and send it to choicepay. Apparently the tape was being run after my previous bill was paid but before ONG charged the next month's bill to my account. At that moment in time, I had a zero balance, so the automated payment plan took $0 out of my account, which meant my bill wasn't getting paid.
I assumed choicepay's system was broken, and when I went to ONG's website, I found that ONG had a new auto bill pay system, hosted on their own website, so I signed up for it, again assuming choicepay had been discontinued. The next month, I was double-billed -- choicepay's system started working again, and ONG's auto pay kicked in. Highest gas bill of the year, and they hit my checking account twice. It took another two months to straighten everything out between choicepay and ONG.
I'd like to tell you that ONG was helpful and efficient in solving the problem, but in fact they were clueless and slow. I went through six months of lengthy phone calls to both companies and several erroneous cutoff notices, all because I assumed automatic bill pay would automatically pay my bill.
UPDATE, 11 p.m.:
The ONG franchise renewal was approved by a three-to-one margin: 2,546 for and 864 against. 3,410 votes cast.
I finally found the ONG franchise ordinance itself attached as "backup documentation" to an item further down the May 19, 2011, agenda on the council website. But I was only able to find it once a reader sent me a copy he got from the City Clerk, with the date of approval on it -- there's no text or keyword search available, as there once was.
According to this budget document, opening all the polls in the City of Tulsa today cost $220,000, with the cost paid for by ONG (ultimately, no doubt, passed along to the ratepayers). Couldn't they have waited until the November general election?
After the jump, snapshots of city websites showing the absence of information about today's franchise election. (Clicking on thumbnails opens a pop-up with the full-sized image.)
Perhaps public notice laws should be changed to make this failure to post election information online cause for invalidating the election.
From the cityoftulsa.org home page. Note the absence of the ONG franchise election from the city's calendar of events:
From the cityoftulsa.org page on elections. Note the absence of any mention of the ONG franchise election: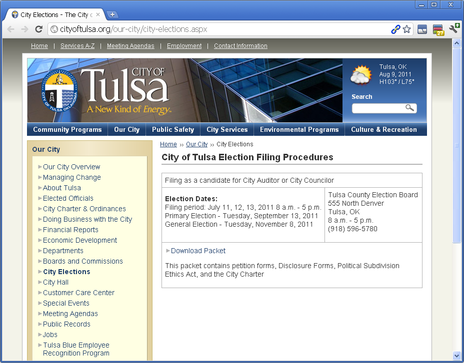 From the City of Tulsa's list of ordinances passed since the last codification in 2009. Note the absence of ordinance no. 22415, the ONG franchise ordinance, named in the ballot title, from the list: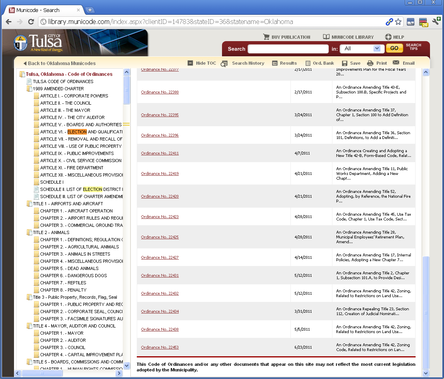 From the Tulsa Council home page. The city primary and general gets a mention, but not today's ONG franchise election: