Tulsa District 4: Get Rocky Frisco some wheels!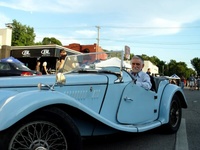 Legendary Tulsa musician Rocky Frisco, member of the Oklahoma Music Hall of Fame, who also happens to be a candidate for the Republican nomination in Tulsa City Council District 4, has been an involuntary pedestrian for the last several weeks, following the theft of his old, beat-up, but reliable Toyota Corolla. (Sadly, the beloved MG in the photo to the right is out of commission as well after an engine compartment fire and a paid-for repair that didn't happen. I suspect the lack of wheels may have been the reason he didn't make the Saturday morning endorsement forum of the Tulsa Area Republican Assembly, the conservative group that endorsed him in 2009.)
One of his fellow District 4 Republican candidates has decided to to help. Downtown restaurateur Blake Ewing is hosting a fundraiser and blues jam at his Back Alley Blues and BBQ, 116 S. Elgin in the Blue Dome District, tomorrow night, Friday, September 9, 2011.
Blake Ewing writes:
Come help Rocky get some new wheels this Friday night at Back Alley Blues and BBQ. Rocky Frisco's Toyota has been stolen and we're going to help him raise money for a new one. Come join local blues musicians for a night of great music and BBQ. We're donating a percentage of sales and taking up donations all night long. See ya there.
Rocky Frisco had this to say on Facebook:
ALL BLUES MUSICIANS AND BLUES FANS! BENEFIT AT BACK ALLEY BLUES AND BARBEQUE. Friday night, September 9th. It's an open jam, so bring your instruments. Blake Ewing is hosting this benefit to help me replace my stolen Toyota, even though we are opponents in the Tulsa City Council race. I think that's one of the coolest things I have ever heard about.
No cover charge, 10% of proceeds go to Rocky's car fund and donations will be collected, so bring money for barbecue and beer, and some extra for the fund.
MORE
I haven't campaigned very heavily, since I don't really have a strong desire to be in that office. I'm more of a volunteer candidate: I'm willing to serve my District and the city, but have no political ambition. Frankly, the idea of spending all that time with politicians is not attractive to me. I registered as a candidate only because the District deserves good representation and I think I'm a better choice than the others.
From his campaign website:
It is my sincere opinion that poison, firearms and politics should only be used in self-defense. ...

Government, by its very nature, produces this kind of obsessive control wherever it intrudes.

I am, by my own nature, strongly opposed to this kind of tyranny. Liberty succeeds; tyranny eventually fails. The Soviet Union fell because of this kind of obsessive micromanagement. ...

Politicians are experienced in politics, a game of lies, manipulation and the abuse of power. They make very lousy automotive engineers, sociologists, psychologists and peacemakers. Most of them know practically nothing about cabbages, but they do know how to make ever more complicated laws and rules. Very much of what ruins the world for people like us comes from this fact.

If you want at least one person on the Tulsa City Council who understands this and wants to try to combat this tendency, vote for me in the coming election....

"As soon as representatives start thinking of themselves as leaders, they start wanting to be rulers." -Rocky Frisco

"The people of my district are neither dogs nor sheep; they don't need leading; they need representation." -Rocky Frisco

In the past, it seemed as though the Tulsa City government had a goal of competing with other cities in the arena of civic pride, building immense sports and entertainment venues, building parks and civic monuments, while the streets deteriorated and bridges collapsed. I want Tulsa to compete with other cities in being the best place to work and enjoy life and raise a family. ...

I have heard that the BOK Center is good for Tulsa, since it generated a million dollars in tax revenue in one year. To me, it represents a giant sucking sound, as Tulsans pay high prices for tickets to performences by people who take the money home, away from Tulsa. If similar efforts were dedicated to exploiting and promoting Tulsa's own native talent, Tulsa would be counted among the world's greatest music cities, like Nashville and Austin and New York. Instead, magnificent musical and artistic talent vies for a very limited budget, while International Acts snorkle up the dollars at the BOK.

When the old ballpark was abandoned, I got a questionaire in the mail that asked what should be done with the property. I replied that it should be converted into a facility for the public execution of crooked politicians....

You know how Wile E. Coyote runs off the cliff and then hangs there for a brief moment before he looks down and then starts to fall? That's the situation with the United States economy right now. It's not a good time to be racking up debt for the city of Tulsa. The Powers That Be that have always run Tulsa, no matter who is in office, would have us perpetually in debt for their pet projects. Why not elect a representative of the people, instead of these special interests?

Rocky Frisco is the deepest thinker and the most eloquent writer running for City Council this year. Visit his campaign website and his personal website and see for yourself. Tulsa would be blessed to have him serving us on the City Council.
1 TrackBacks
This is the only election I get to vote in tomorrow, and I'm voting for entrepreneur Blake Ewing for the Republican nomination for Tulsa City Council District 4. In the 2009 primary, I endorsed legendary Tulsa musician Rocky Frisco in his race to unsea... Read More