Tulsa District 5: For Sam Roop
District 5 is a three-way race: Incumbent and first-term Councilor Chris Trail, former District 5 Councilor Sam Roop, and school district employee and PTA leader Karen Gilbert. No Democrats filed, so Tuesday's primary winner takes the seat.
Because of her conflicts of interest, because she is the consensus choice of the Cockroach Caucus, I oppose Karen Gilbert and strongly prefer either Chris Trail or Sam Roop to Gilbert. Several friends who have seen the District 5 candidates at various forums uniformly panned Gilbert's performance. One described her as "an empty pantsuit." To another, the establishment's support of Gilbert is emblematic of the Cockroach Caucus's desire for an easily manipulated and controlled City Council.
Chris Trail has been a better councilor than I expected. Trail got off to a bad start: He was Kathy Taylor's pawn in her successful effort to knock Bill Martinson off of the City Council. Trail moved into the district to run, his campaign was backed by money from Taylor's husband's business associates, and his campaign consultant was Karl Ahlgren. Having served Kathy Taylor's purposes as an instrument of vengeance, Trail has been discarded by many elements of the city establishment in favor of Gilbert. (Trail still seems to have fans in the developers' lobby -- $1,000 from BuildPAC, $449 from Joe Westervelt -- Kathy Taylor's husband gave him $500, and he got an endorsement and $2500 from TulsaBizPac). A direct experience of abandonment and betrayal by the powers-that-be often has a salutary effect; the victim learns some skepticism and gains an understanding of the high stakes and hidden agendas in and around city politics.
While Trail would be better than Gilbert, Sam Roop is by far the best option for District 5 Republicans. Roop spent nine years on the City Council then a year as the city's Chief Administrative Officer under Mayor Bill LaFortune. He's been through the budget process from both sides of the negotiation.
Roop first ran for Council with the aim of being a watchdog, and he was one of the first councilors who refused to be a rubber stamp. In 1996, as a freshman councilor, he was the lone voice objecting to the city directing Federal grant money to pro-abortion group Planned Parenthood for a sexuality education program. It was only in 1998, with two more pro-life councilors, that he was able to block further city-controlled funding to the abortion rights advocacy group. In 1997, he was one of three councilors to publicly oppose the proposed sales tax increase for a downtown arena.
In later years, I had some disappointments with Roop, including his support for It's Tulsa's Time and Vision 2025, the 2000 and 2003 efforts to raise sales taxes to fund an arena. Nevertheless, in 2004, I endorsed his re-election:
Sam Roop has taken some hits over the years for asking tough questions of the the administration, particularly on budget matters. He has been targeted for defeat time and again, and it was a close shave last time out. He has asserted the Council's role for oversight and insisted on the Council having the staff and resources to monitor the City's executive branch.

Sam Roop has generally been supportive of neighborhood concerns, including the recent controversies at 71st & Harvard and 41st & Harvard. He was one of three councilors (with Christiansen and Medlock) to accept the valid protest petition presented in the 71st & Harvard case. At Tuesday's Council committee hearing, Sam asked some good questions of Patrick Boulden about the Council's rights to amend a recommendation from TMAPC on a change to the zoning protest process.

I haven't always agreed with Sam. We were on opposite sides of the Tulsa Time and Vision 2025 issues, and we squared off in debates both times. I respect the way Sam conducted himself in those situations. At a time when the backers of Tulsa Time were dodging debates in an effort to prevent the opposition from making any headway, Sam Roop agreed to debate me on TV, the only televised debate of that election. Sam knows its possible to disagree without being disagreeable.
After his 2004 re-election, Sam Roop worked with four of his fellow councilors to block the new council chairman's attempted power grab.
Later that same year, however, Roop disappointed his council reform colleagues and many Tulsans by relenting, under heavy pressure, on the reappointment of two controversial water board members, a key battle in the struggle over whether the City of Tulsa should use its own resources for its own edification or instead (as the developers' lobby wished) to fuel suburban growth at Tulsa's expense. Shortly thereafter, Roop left the council to serve as Mayor Bill LaFortune's Chief Administrative Officer. In fairness, Roop had been out of work for over a year at the time, one of many Tulsa victims of the bursting of the telecom bubble in the early part of the last decade.
During his brief tenure, Roop consolidated IT functions at City Hall into a single IT department. As CAO, he oversaw seven departments: human resources, human rights, information technology, finance, municipal courts, equipment management, and the Tulsa Area Emergency Management Agency.
For three and a half years, until this June, Roop served as Technical Projects Manager at Spirit Bank. He's now working as a telecommunications consultant.
Sam Roop is the only District 5 candidate to accept the BatesLine campaign finance transparency challenge. All of his campaign funds are coming from his own pocket, and he has put $20,000 of his own money into the race. Roop has been endorsed by longtime District 5 conservative activists Greg and Susan Hill.
Sam Roop's roots go deep into District 5. He has owned and lived in the same house in the same District 5 neighborhood for 33 years. (Trail moved to the district just before the 2009 election and is not a homeowner.) Roop's knowledge of city government, of the often forgotten neighborhoods along the Mingo Valley, and of IT are all assets that will well serve his constituents and the city at large.
MORE: KOTV has video excerpts from a Tulsa Downtown Kiwanis Club debate featuring the District 5 candidates.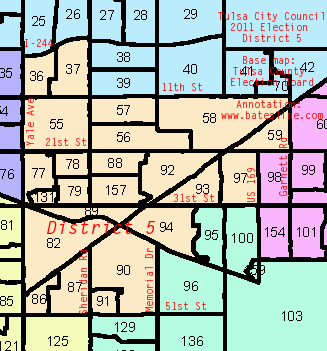 1 TrackBacks
Listed below are links to blogs that reference this entry: Tulsa District 5: For Sam Roop.
TrackBack URL for this entry: http://www.batesline.com/cgi-bin/mt/mt-tb.cgi/6125
Happy election day! Polls are open from 7 a.m. to 7 p.m. In two districts (1 and 5), the primary will determine a winner. In all districts, the primary will determine whether we'll have good representation or not-so-good representation at City Hall whe... Read More