Tulsa District 7: For Steven Roemerman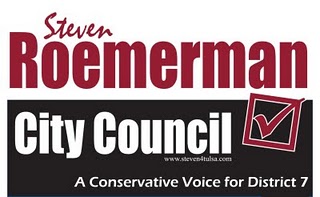 We begin the BatesLine roundup of the 2011 Tulsa City Council primary races with an easy choice. I'm proud to endorse my friend, Steven Roemerman, for District 7 councilor. This endorsement is for both the primary and general election. While the other men running seem to be good folks, Steven Roemerman is the only candidate on the ballot who brings to the table nearly a decade of passionate and principled conservative involvement in local issues.
Shortly after graduating college in 1998, Steven came to Tulsa, his new bride's hometown, and went to work as a computer programmer for Avis/Budget, still his employer 13 years later. Interested in government since college, he began paying close attention to local politics in his adopted hometown, working as a Republican precinct official and volunteering for campaigns.
I've known Steven for at least eight years, and what follows are my personal observations of his character, energy, intelligence, and devotion to public service.
As Steven became more involved in local politics, he started a blog in 2005, Roemerman on Record, commenting on local, state, and national news and items of interest in the world of technology. Often, Steven would provide first-hand coverage of local news events, with photos, videos, summaries and analysis of public meetings, events that mattered to many Tulsans, but which mainstream media seemed to consider too complicated or insignificant to cover.
It's a testament to Steven's intelligence, temperament, and character that, although he had campaigned for fellow Republican Jim Mautino's 2006 reelection, the man who beat Mautino, Democrat Dennis Troyer, appointed Steven to the city's sales tax overview committee (STOC) in 2007. Steven was reappointed to the committee by Republican District 7 Councilor John Eagleton. (Eagleton is not running for re-election.)
Steven Roemerman is a careful student of local issues, applying the same gifts of analysis and problem-solving that he uses every day in his job as a computer programmer. His time on the STOC has made him familiar with the city budget process, capital improvements, Open Meetings and Open Records acts -- the nuts and bolts of the way the City of Tulsa spends and is held accountable for our tax dollars. As an active observer of politics citywide, he's also encountered non-financial issues -- zoning and planning, charter amendments, and neighborhood inspections, to name a few -- and he's gotten to know public officials and neighborhood leaders from every district. Few first-time candidates are as well-prepared as Steven Roemerman to be a great councilor from his first day on the job.
You can see that breadth of understanding on the issues page of his website. A solid fiscal and social conservative, Roemerman believes Tulsans are Taxed Enough Already and will oppose proposals that would raise our combined sales tax rate above its current level. He opposes the use of eminent domain for private gain, and supports a zoning process that is transparent, clear, protecting property owners without over-regulating. Noting the council's role in approving mayoral appointments to authorities, boards, and commissions, Roemerman pledges to "ensure that Tulsans from all districts are represented on these authorities, boards and commissions and to provide independent judgment on all nominees to these important boards and commissions."
As an IT professional and thirty-something, Steven would help to diversify the council in age and life experience.
Steven has three children in Union Public Schools, where his wife Stacey serves as a homeroom mother. The Roemermans are residents of Hampton South neighborhood; Stacey serves on the homeowners' association's board. They are members of Carbondale Assembly of God, where Steven and Stacey volunteer with Kindergarten through 5th Grade boys in the church's Wednesday night program.
Steven Roemerman has been endorsed by the Tulsa Area Republican Assembly and by the FOP. The FOP's endorsement states:
Among Republicans running for District 7, Steven Roemerman has the independence, knowledge of public safety and city budget issues. He is the only candidate for District 7 with first-hand knowledge of City finances because of his service on the City's Sales Tax Oversight Committee. We believe this combination makes Steve the best Republican candidate for City Council, District 7.
I agree wholeheartedly. I'm proud to call him my friend, and I'm proud to endorse Steven Roemerman for Tulsa District 7 City Councilor.
MORE:
Urban Tulsa Weekly's feature story on the District 7 race
From 2002, my take on the qualities of a good City Councilor, and why the City Council matters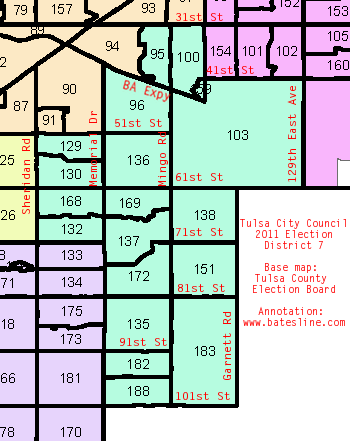 Roemerman has two opponents in the primary: Tom Mansur, a civil engineer with SAIC (formerly the Benham Group), and Elliott Parker Sr., a retired military officer and civil magistrate from Chesapeake, Va. I met them both for the first time at KRMG's Council-rama on Tuesday. Both seem like reasonable, intelligent people, but both only now appear to be paying attention to local issues.
Mansur has, sadly, fallen in with the wrong crowd; Karl Ahlgren is a consultant and Jim East, a staffer for former Democrat Mayor Susan Savage (and a former co-worker of Mansur's at Benham Group), is an adviser to his campaign; he's been endorsed by the council-suer and SOT member who are working with Ahlgren, and he's been endorsed and provided with $2,500 in funding by the Tulsa Metro Chamber. Mansur has an impressive resume in the field of water resources; he might make a good pick for the Tulsa Metropolitan Utility Authority, but he doesn't offer the breadth of knowledge of city issues or the track record of principled involvement that Steven Roemerman brings to the table.
Parker was a career Navy medic who also served as a court-certified mediator in Virginia before moving to Oklahoma in 2006. What brought him to Oklahoma? As a young man (one of 10 children), a childless Oklahoma couple "adopted" him, bringing him to the state for holidays and taking him along on their travels. When he was ready to retire and leave Virginia, he remembered Oklahoma and its people fondly. Parker seems like a sincere and devoted citizen, intelligent and well-spoken with a depth of life experience, but he's a novice when it comes to City of Tulsa issues.
Good men both, but not nearly as ready as Steven Roemerman is to be a great city councilor.
UPDATE: Tom Mansur is not such good guy after all. His campaign has sent out a smear postcard claiming that Roemerman's been endorsed by the AFL-CIO. The only city employee organization to endorse Roemerman is the Fraternal Order of Police. According to the FOP, Mansur also sought their endorsement, but the FOP was concerned by Mansur's choice of campaign consultant, Karl Ahlgren.
1 TrackBacks
Happy election day! Polls are open from 7 a.m. to 7 p.m. In two districts (1 and 5), the primary will determine a winner. In all districts, the primary will determine whether we'll have good representation or not-so-good representation at City Hall whe... Read More